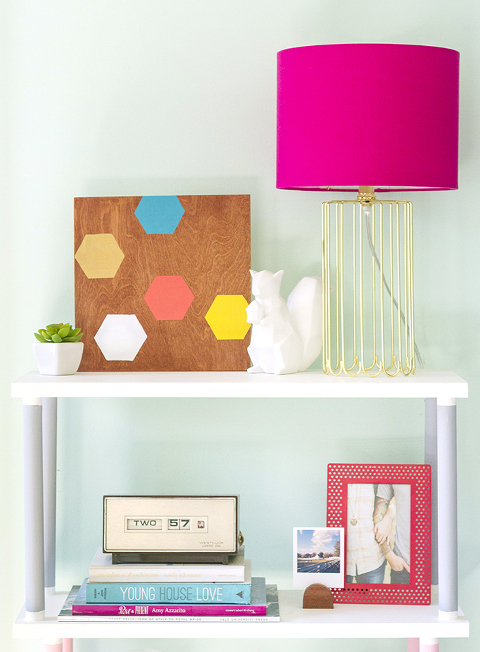 I am constantly blown away by all of the fabulous things my fellow bloggers and creative pals come up with. Case in point, my friend Sarah and her brand new Meet + Make box! In addition to her blog, Sarah Hearts, Sarah also has created an extension of her brand hosting Meet + Make workshops. Participants at the event are able to gather together and make one of Sarah's beautiful projects with in-person help from the crafter herself. And just last week, Sarah launched a brand new aspect to her workshop: the Meet + Make box.
The Meet + Make box was lovingly brought to life with the purpose of allowing people from all across the country to experience the Meet + Make event, and comes packed with all you'll need to make one particular project. I had the chance to dive into the first box, and could wait no longer to spill the beans. Read on for the instructions needed to make your own DIY geometric wall art, as crafted by Sarah, plus get a peek into the first ever Meet + Make box.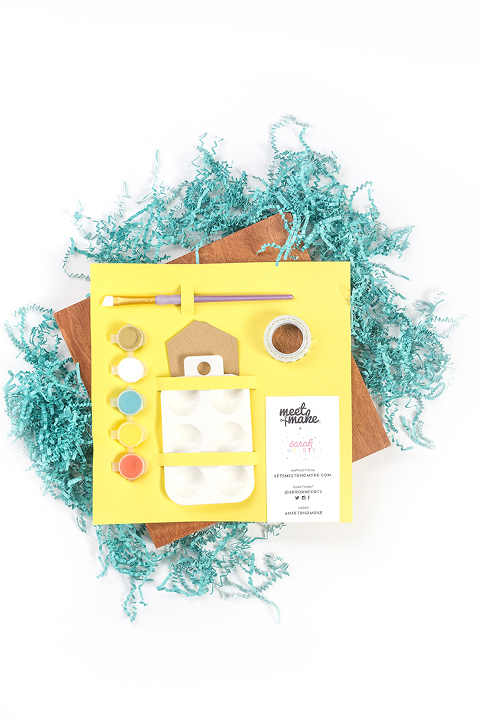 The Meet + Make box (order yours here)
Your creativity!
Happily, everything you'll need to make your own DIY geometric wall art is included in the Meet + Make box—there's paint, tape, a paint brush, plastic paint tray, stencils and even a pre-stained wood panel. Start by laying out the stencils on the wood panel wherever you'd like, and then attach them temporarily to the wood with a loop of tape from behind.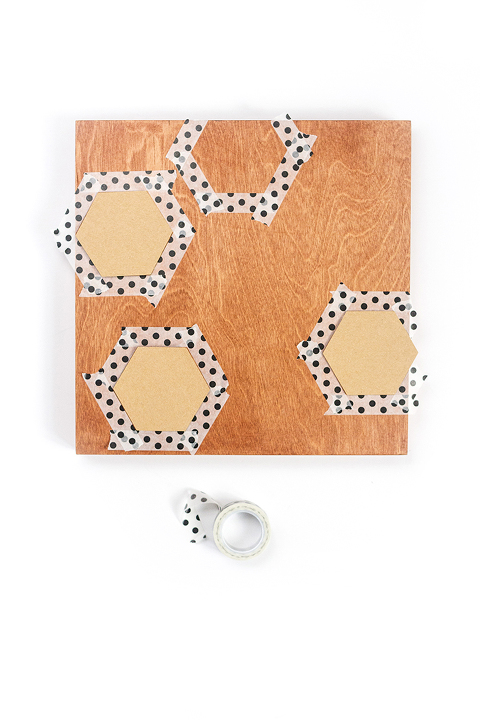 Next, peel and tear off six pieces of tape, roughly two inches in length, and lay them alongside the stencils on all six edges. Press the tape down firmly with your fingertip to eliminate any bubbles, which will help prevent paint bleeding through in the next step. Then, remove your stencil to reveal the masked shape, and re-attach the stencil to another area of the wood if you want to make multiple shapes. Repeat the steps until you're satisfied with the arrangement, then set the stencils aside.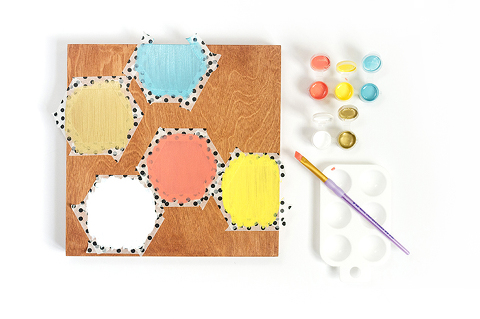 Open your paint and pour each color into your paint tray, each one to its own compartment. Then, dip your paint brush into the paint and begin painting out each of the masked shapes. Make sure to paint away from the tape to avoid getting paint under the edge. Allow your first coat to dry for 20 minutes, and then add another coat of paint. Repeat the steps until the colors are super saturated and you can't see the wood underneath, peel off the tape and then let the painted geometric shapes dry for two hours before handling. To finish, simply hang (or prop up on a shelf) and enjoy!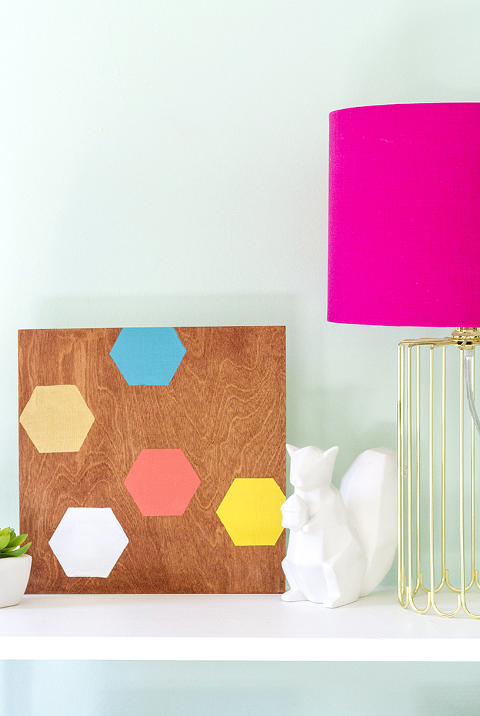 Congratulations again to Sarah on the launch of this fun new extension of her brand! For more information on the box, click through to Sarah Hearts, and order your first box right here.