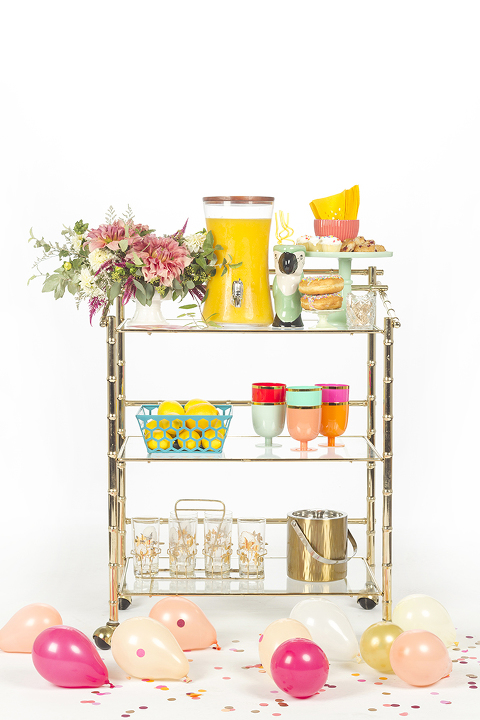 Happy Monday, and welcome to a brand new week! Why am I so chipper today, you ask? Well, it could be due to the fact that I'm finally getting to unveil a concept that I've had on my mind since March of this year. Yes, that's nearly six solid months of mulling and scheming to bring this vision to life. Without further adieu, let's get down to the details.
Whether we want to admit it or not, we've officially begun inching our way towards the holiday season. So, it's time to start thinking about entertaining and how to make the most of these whirlwind months of events and parties to come. To get you on your way (and to help you round out what's left of the summer party season), I partnered with The Flair Exchange and Petal Flower Co. to put together an easy-to-replicate example of how you can style your bar cart to pull double duty as both a drink station and a buffet. Read on for the details and tons of photos from my styled bar cart buffet shoot at Lynchburg Photospace.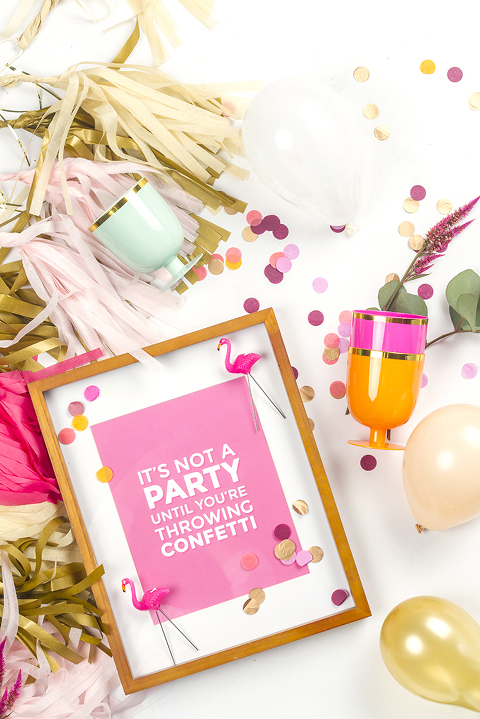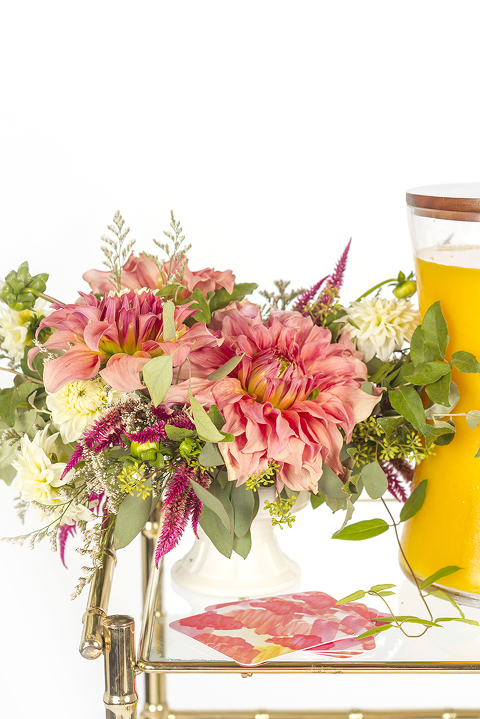 Bar cart (mine was a lucky vintage score, but places like Target and IKEA both have budget-friendly options for sale)
Cake stands of various heights
Finger foods
Cups
Plastic straws (bonus points for the curlicue kind!)
Drink dispenser filled with juice or punch
Ice bucket
The details for this shoot, of course, all revolve around the idea of versatility in a small space. How do you manage to feed your guests and give them a tasty drink option, too—all within a tiny amount of square footage? My solution is to put our bar cart to extra good use with a number of key accessories in a thoughtful arrangement that guests can grab from with ease.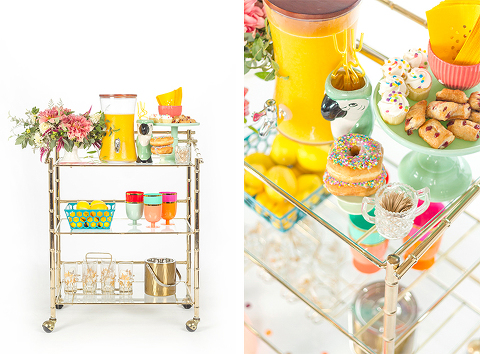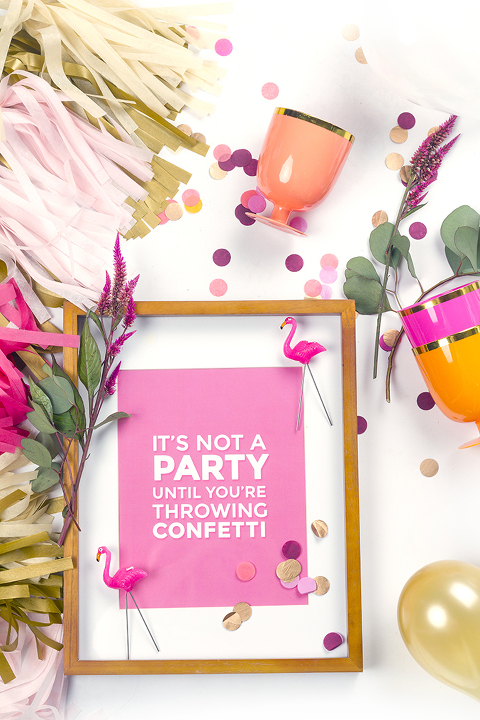 If, like ours, your bar cart boasts a tri-level silhouette, plan to make the most of those storage and display possibilities. Pack the top tier with the most obvious elements—things like a drink dispenser filled with punch or juice, layered cake stands topped with finger foods, and a small cup of toothpicks and napkins (to act as plates and hors d'oeuvres spears).
Don't forget a vase of fresh flowers! These from Petal Flower Co. were intentionally arranged to overflow the edge of the bar cart because otherwise, the whole set up would have felt very up-and-down and cold. The ultra soft, colorful petals and sweeping leaves establish a whimsical, natural vibe, and help to combat the harder elements on top of the bar cart.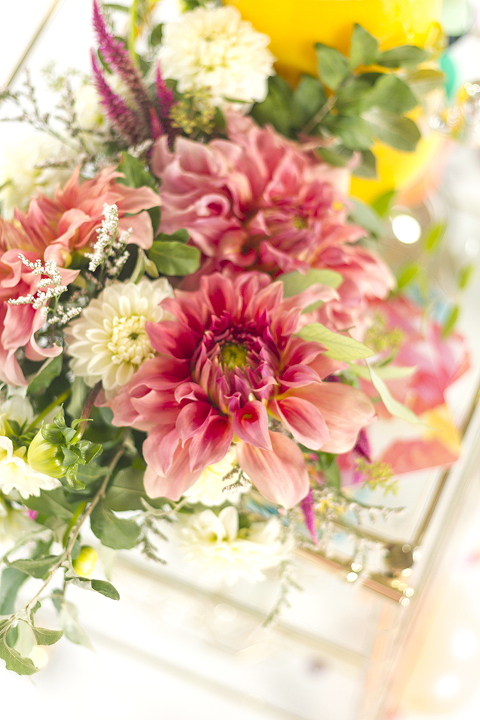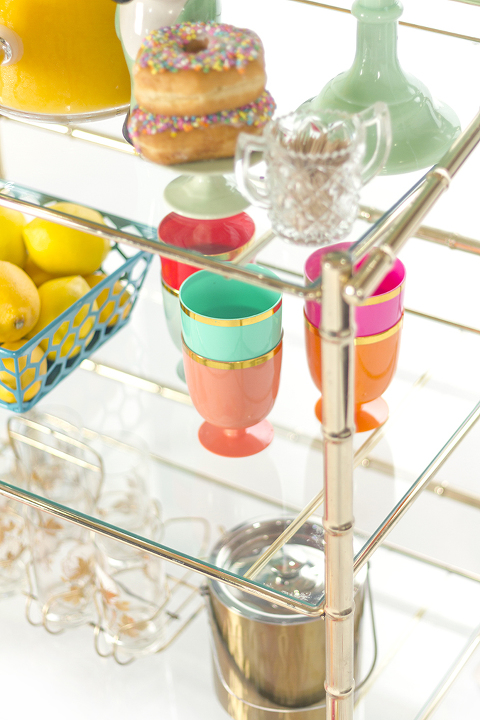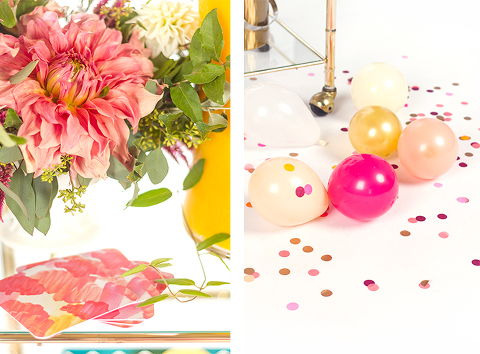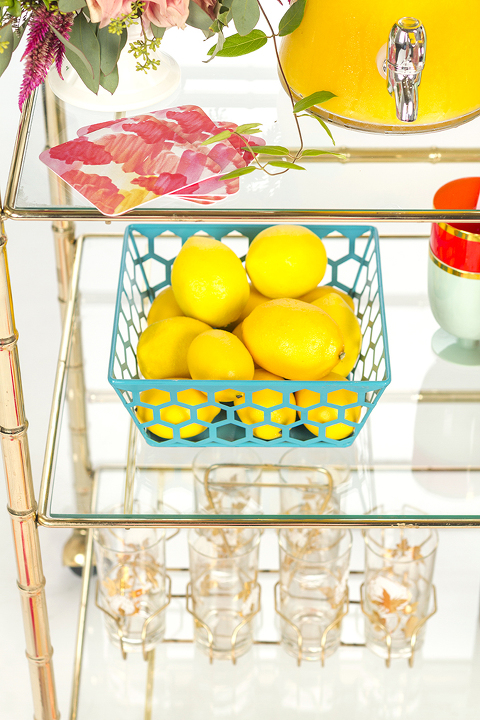 Now that the top of the cart is fully outfitted with those easy-to-access goodies, turn your attention to the lower shelves of the buffet. Fill those with things like cups, a bowl of lemons (for color and garnish), and an ice bucket. Since the top shelf on my cart was packed pretty close together with items, I kept the lower shelves a bit on the sparse side so as not to overwhelm the look. This also makes it easier for guests to grab their cups and ice without the risk of tipping things over in the process.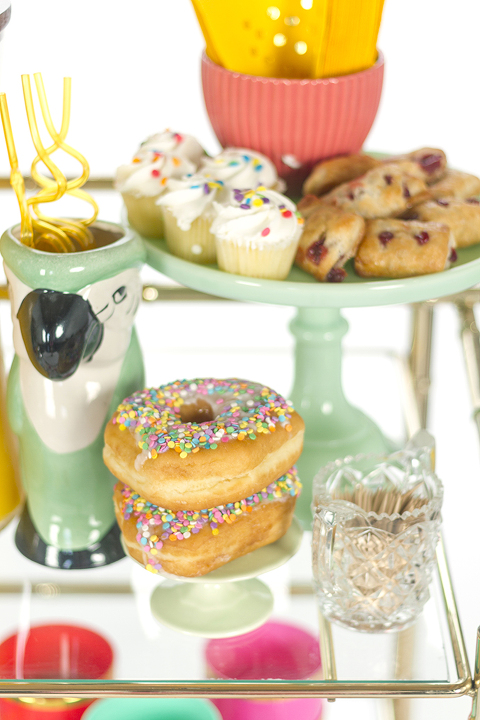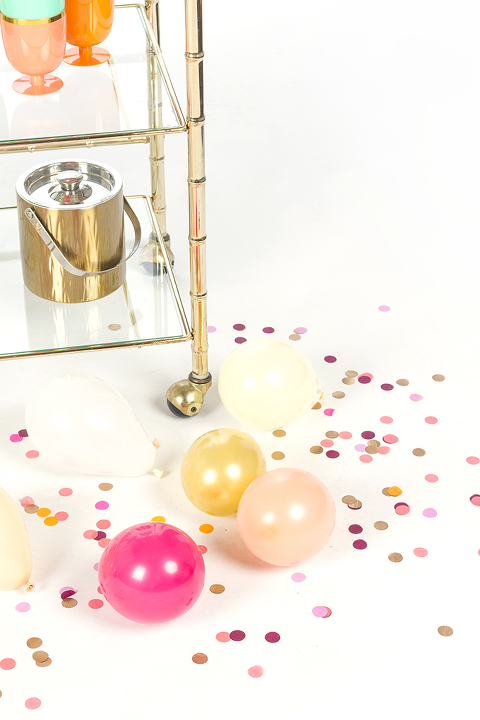 To finish, consider setting the scene with a few handfuls of confetti and blown mini balloons. As I was playing around with my own bar cart, I stepped back and felt like a little something was missing. But then I threw the balloons and confetti on the floor, and the entire thing finally felt complete and ready for a celebration.
For a little bonus double-take on your party styling, try turning a fun framed print into a passed hors d'oeuvres tray! If you can find a frame with thin, tall edges, you can hold it from either end and top the glass with punch-filled party cups—done and done. Now to get that special celebration on the calendar and start collecting your own toast-worthy bar cart accessories!