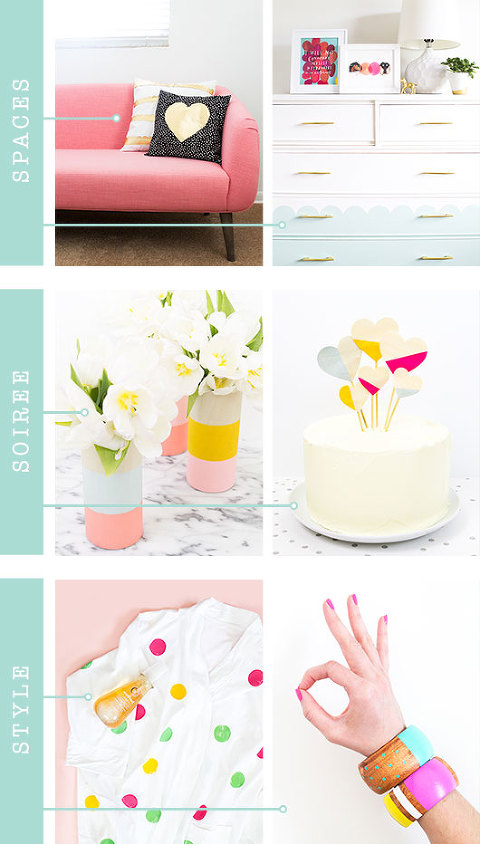 Spaces: Gold Heart and Scalloped DIY Pillows | Mid-Century Modern Tallboy Dresser Makeover
Soirée: DIY Color Blocked Wood Vases | DIY Color Blocked Wood Heart Cake Toppers
Style: DIY Polka Dot Bathrobe | DIY Painted Wood Bangle Bracelets
Today, I thought I'd mix things up with my running Spaces + Soirée + Style series. All throughout the month of September, I'll be profiling some of my favorite bloggers, calling out six of their most stellar projects as they relate back to the three categories in this column: home, parties, and fashion.
Although it was super tough to narrow down to just four bloggers since I'm a big, big fan of so many (you included if you're a blogger yourself!), I'm excited to give the love back to these four from now till the end of September. Who knows! If you guys love the new format, maybe it will become a running tradition. To kick things off, I'm bragging on Sarah's blog, Sarah Hearts. Click through to her archives, and be prepared to find inspiration with every single click.
Get more inspiration on Sarah Hearts
P.S. It's your very last chance to snag a spot at this season's Hello Sessions workshop in Portland on October 9th! Joy and Melissa are closing ticket sales on September 15th at midnight so that they can finalize their head count for the space, and trust me when I saw that you aren't going to want to miss out. Get 10% off your ticket with code "LASTCHANCE" at check out.
P.P.S. Don't forget to enter the $100 Pinhole Press giveaway! Contest details this way.