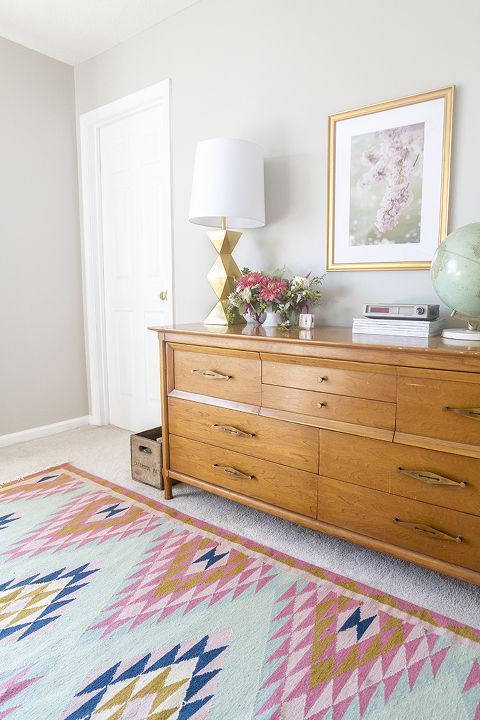 It's no secret that I'm a big fan of fall and the year-end holiday season. Heck, I was talking about Christmas in Wednesday's blog post, and today is only September 4th! Suffice it to say, my love for pumpkins, PSLs, crunchy leaves, boots, sweaters, Thanksgiving dinner, greeting cards, twinkle lights, and Christmas shopping knows absolutely no bounds. But I'm well aware that not all of you feel the same way. In case summer steals your heart year after year, this post is especially for you.
Today, I'm taking you through some tips and suggestions for making the sweltering, sunny goodness of these tropical mid-year months last from January to December. I'm actually spilling the full shebang over on domino this morning, but I wanted to make sure that I saved a few nuggets of advice just for you.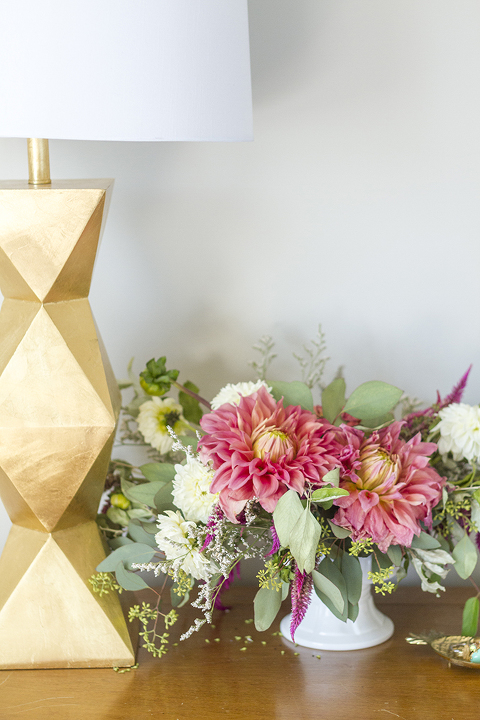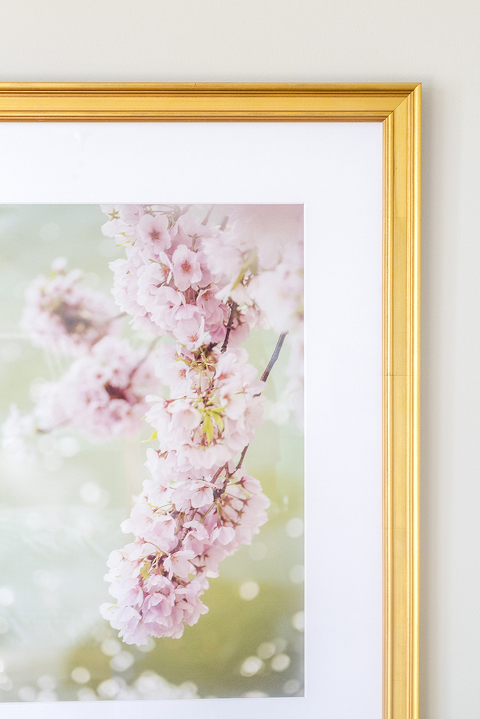 First of all flowers. Flowers, flowers everywhere. In the domino feature, I talk about incorporating natural elements, and I just had to reiterate it here. Blooming fresh flowers (mine seen here are from Petal Flower Co.) breathe so much vitality into a space, and they are the perfect detail to establish that summer vibe. If you aren't able to splurge on fresh flowers every week—I only do it about once a month, but even that can get kind of pricey—try working in accessories that feature that flowering shape or silhouette without the required maintenance that real flowers need.
For example, hang framed photography featuring flowers as the main subject (like this piece by artist Catherine McDonald, care of Artfully Walls), or think about taking the silk road with faux flowers. If you aren't quite convinced that faux flowers can be cool, check out this post of yore, which shows you the art of DIY Faux Flower Arranging through my novice eyes. You may even find a professional florist who is willing to put together a well thought out arrangement of silk flowers. It's worth the investment to know that your faux flowers will stand the test of time (i.e. eternity).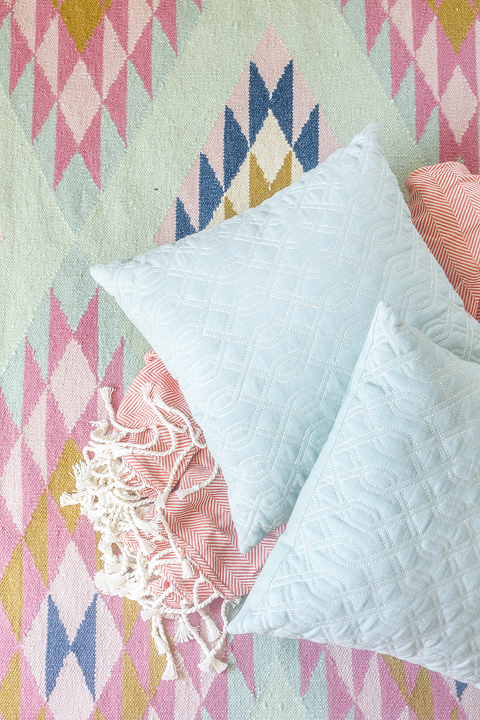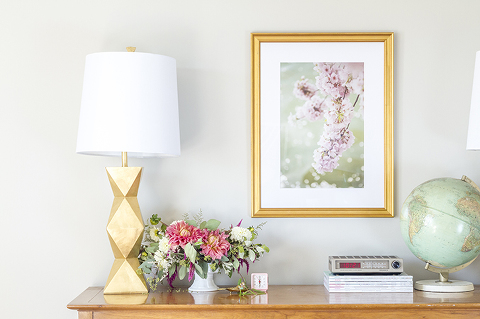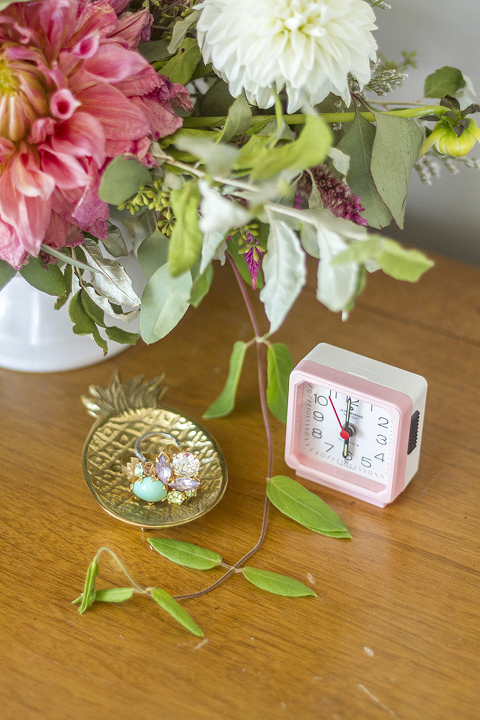 I think it's safe to say that we all know just how powerful a room's color scheme can be, but it bears repeating. If you want to enjoy an eternal summer all year long in your house, avoid those traditionally warm colors—things like deep red, saturated brown, and even yellow and orange if you put them all together in a space. I think it's okay to use one of those warm earth tones to infuse your summer space with your personal aesthetic, but instead of putting it up against other earth tones, try working in cool tones instead. Colors like bright blue, minty green, pale pink, gray, and white all feel refreshing in a sunny, summery way.
Almost all of the colors for our mini master bedroom update came from our new Elodie Rug, a collaboration between Lulu & Georgia and Glitter Guide. The pastel palette inspired everything about the color scheme throughout the rest of the space, including the gold toned lighting and framed art, to the addition of a vintage mint globe and dainty retro pink clock. If you're struggling to find a color palette in your own room, don't think "big picture" quite yet. Instead, start with one eye-catching piece (like a rug, draperies, a fun table lamp, or piece of art), and then pull colors from that single piece. The rest of your eternal summer space will fall together in no time.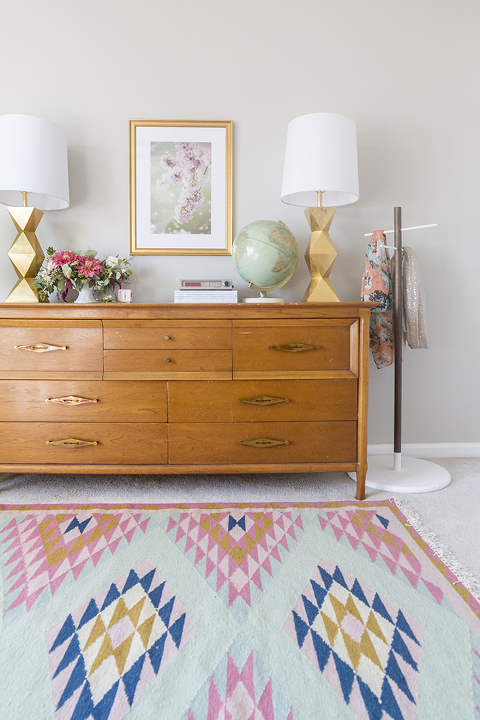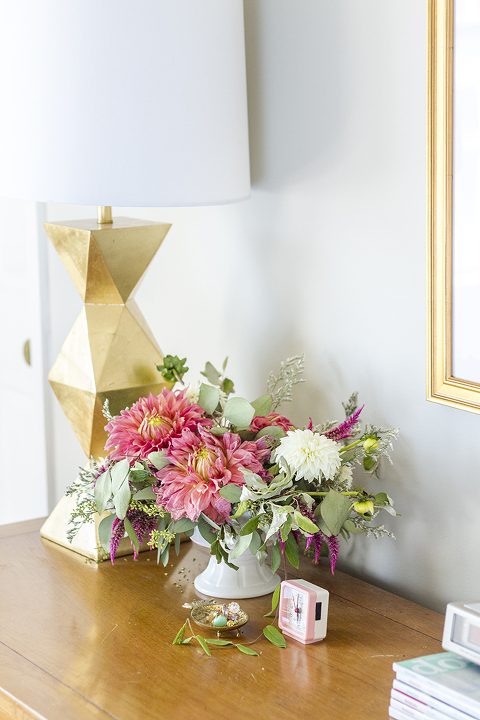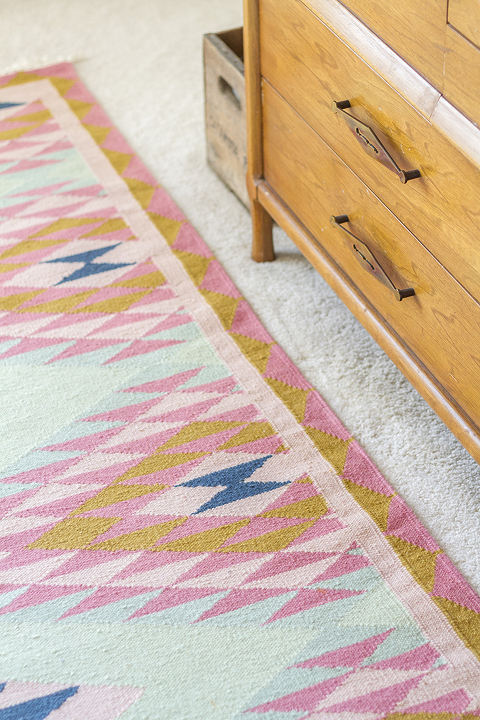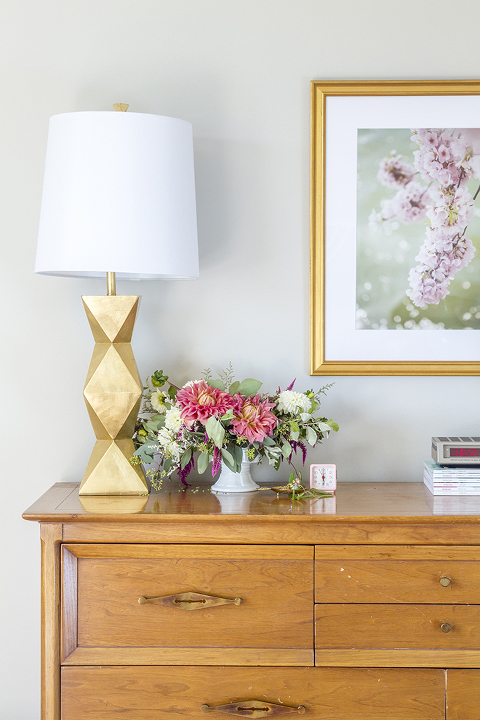 For more summer saving ideas, head over to domino where I'm breaking it down into five easy steps. In the feature, I also link to all of the shoppable furniture and accessories, so you can truly get the look in your home if this set up speaks to you. From the herringbone blanket and bedding set, to the lamps and throw pillows, it can all be found over on domino today.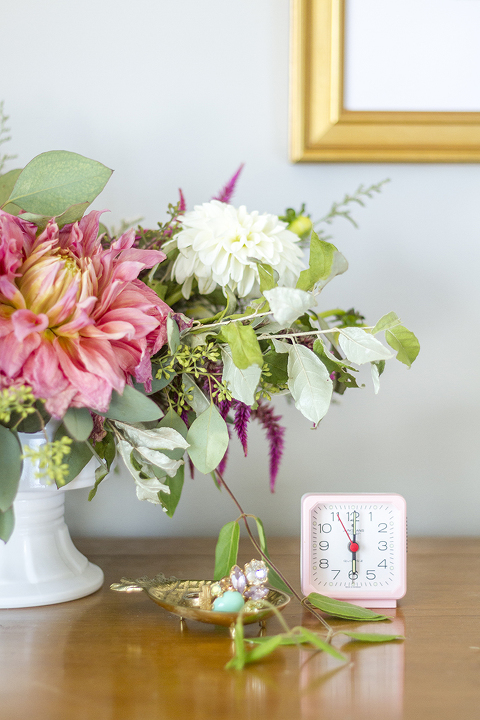 P.S. If you haven't entered yet, there's still time to get your name in the hat to win $100 to Pinhole Press. Contest this way!