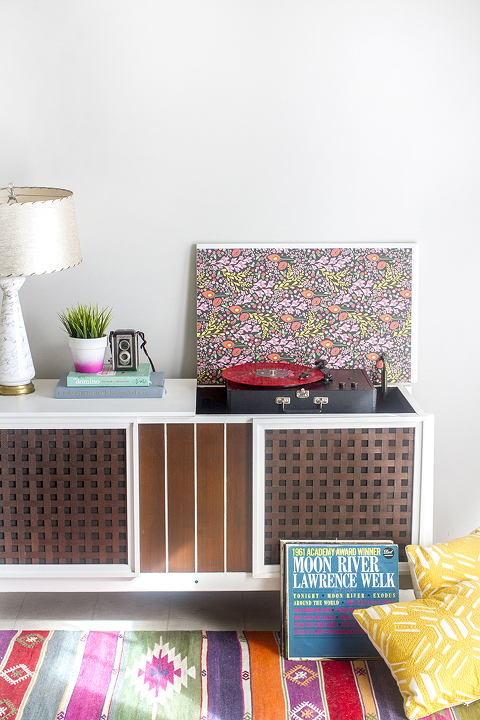 I'll go ahead and start with the bad news, which is that I'm officially on lockdown from purchasing any new-to-me vintage pieces until we sell our home and move into the next one. The good news though is that my job as a DIY blogger sometimes requires me to make vintage purchases in order to give you—my dear, darling readers—a jolt of inspiration and maker motivation. So, when Glidden® reached out with a challenge to put their High Endurance Grab-N-Go interior paint to the test, I couldn't say yes fast enough knowing that it put vintage furniture back in the "go" zone for a painterly makeover.
My latest mid-century furniture redo? An old, stripped down record cabinet that John and I picked up from our local Habitat For Humanity Restore. This piece—which you can see in its original state below—cost us just $25, but was worth its weight in gold when you take that cool wooden lattice work and sleek shape into consideration. Although John was admittedly skeptical (and none too pleased to add an extra piece of furniture to our inventory), he also couldn't deny the cool factor. So, into the Subaru it went and home with us it came.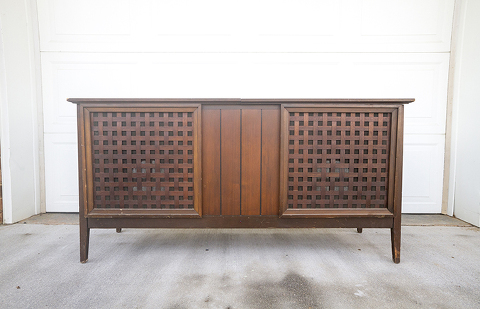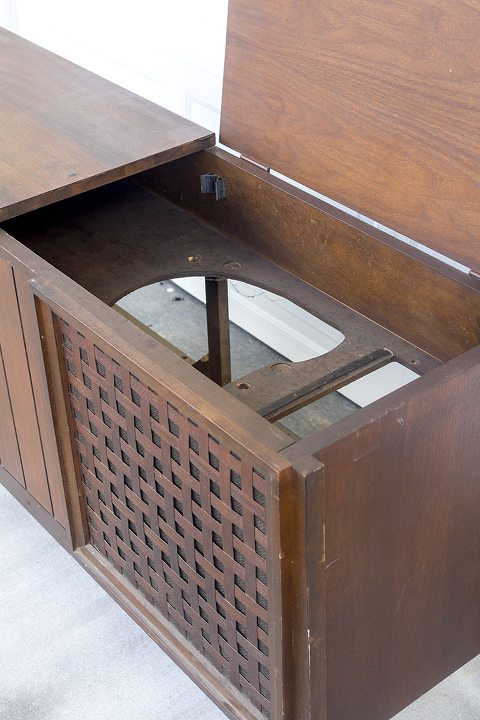 As you can see above, the piece came completely bare bones. All of the inner workings and speakers had been yanked out, leaving the cabinet sad and unfunctional. All of that is destined to change though in due time. Despite the fact that you'll see it in this post decked out with our portable tabletop turntable, we have plans to eventually outfit the cabinet with a proper record player that fits the interior space. Speakers also will be ordered and set into place behind the lattice, but for now, it sits in wait in our basement, just begging for a new house and new room dedicated to record playing.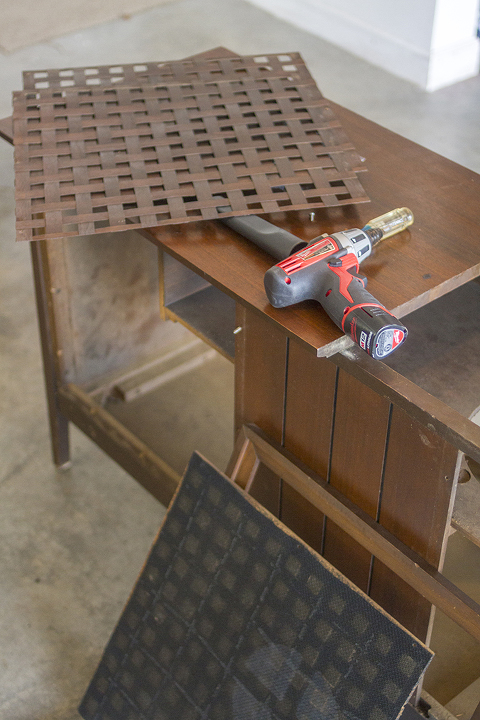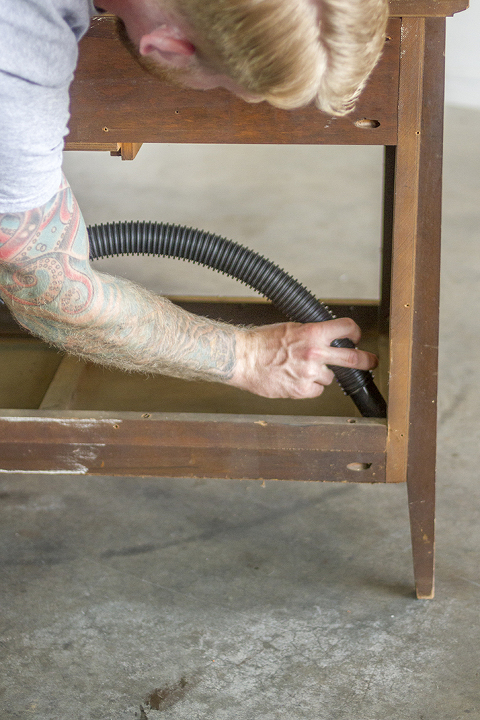 But let's back up to the beginning of this before and after process. First, we needed to give the cabinet a thorough cleaning, so John and I took our time removing the 6,000 screws (that's almost not an exaggeration), and he used his shop vacuum to get rid of all the cobwebs and dust circa 1950. Next, came the all-too-important sanding step.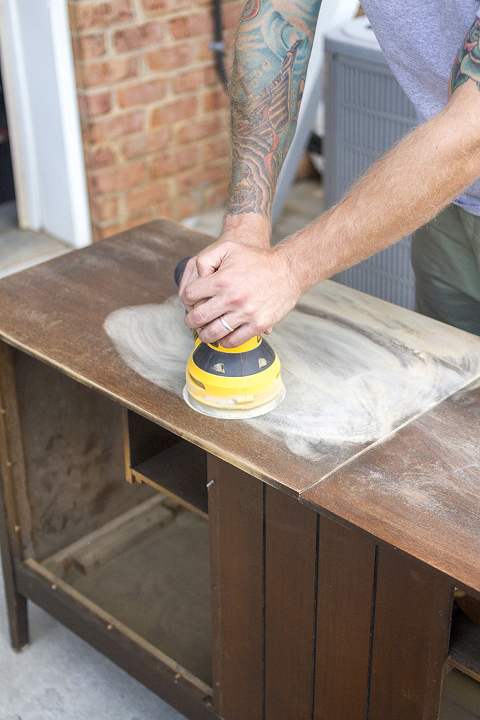 We started with a rough sandpaper on our Dewalt hand sander, and then moved on to a finer grit. Since my plan was to paint just a few areas of the cabinet (namely, the top, the legs, the lattice frames, and a few key sections of the front of the cabinet), we localized our sanding to those areas only.
Because we were in a bit of a hurry with a looming deadline and an already-planned trip out of town for me, we skipped the sanding of a few areas, and we paid the price later on. I hesitate to admit this mishap to you, but at the same time I want you to be able to learn from my mistakes. Make sure to thoroughly sand all of the areas of your own cabinet where you plan to paint, otherwise your paint won't properly grip the surface. We made out okay in the end, but our finish might not be quite as long-lasting as it would have been had we taken our time. Lesson learned!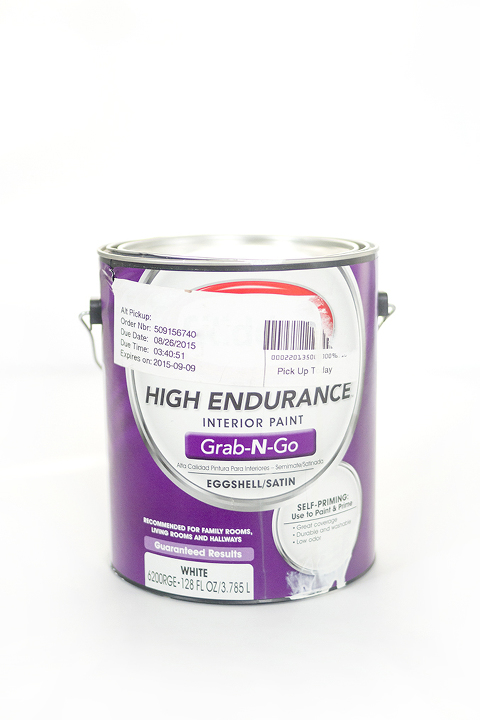 Of course, for the painting step, we were thrilled to test out a can of Glidden's High Endurance Grab-N-Go paint in white, picked up at Walmart. The self-priming formula made it a cinch to knock out this phase of the project, and the color was (no joke) spot on from the very first stroke. I specifically wanted to use a bright, crisp white to act as a high contrast counterpart to the existing dark wood finish of the cabinet, and Glidden's Grab-N-Go paint ended up being the ideal complement.
John and I worked in tandem to paint the legs and front of our retro record cabinet—he brushed on the paint around the lattice frames and legs, and I rolled out the top and edges. We waited about three hours between each coat and finished with a fourth for good measure. Since we chose to add color to just a few surfaces of the cabinet, it only took about 20 minutes per coat. We had it knocked out in record time (pun intended), and gave the fourth and final coat a full 24 hours to dry.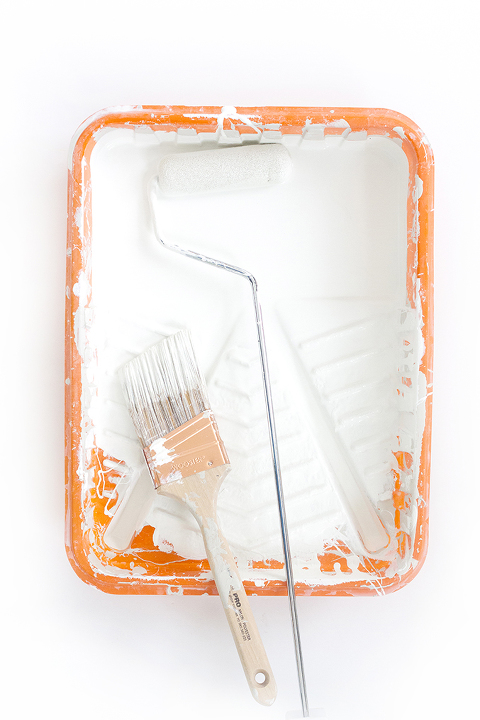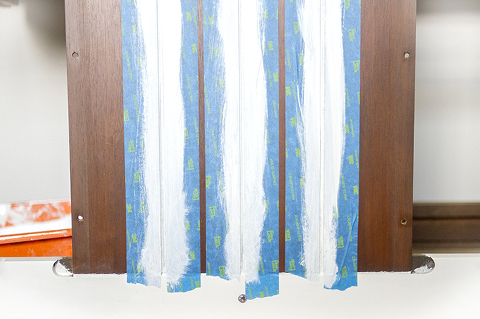 With the major areas painted out, we brought the cabinet upstairs and I lined the outside edges of the gaps in the paneling on the front of the cabinet with painter's tape. Then, I brushed on four more lightening fast coats of white paint. This detail, though quick to execute, easily makes the entire piece. Those three little streaks of white add so much contrast and dimension to the cabinet, and I'm so happy we decided to go for it.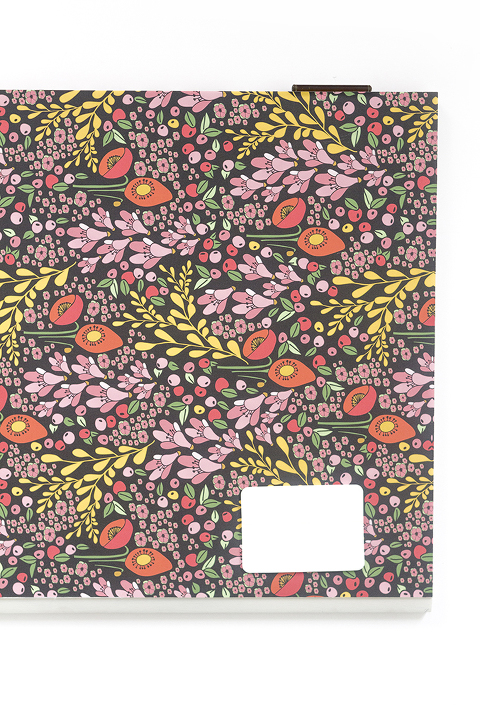 Another spontaneous design feature was the wallpapered panel. My friend Audrey—the blogger behind This Little Street—just launched her very own collection of wallpaper and fabric patterns in partnership with Spoonflower, and I can't get enough of the colorful, graphic motifs she came up with. Audrey's Blooms pattern had just enough retro edge to match the look I was going for with my retro cabinet, so I measured, cut, and stuck it to the back of the lift-up panel on the top of the piece for an added element of surprise. It's now my favorite part of the entire project, and I don't think I'll ever put the top back down again to hide it.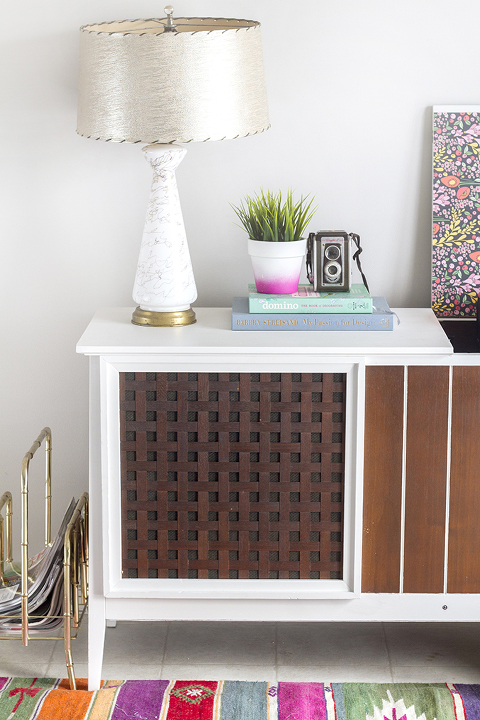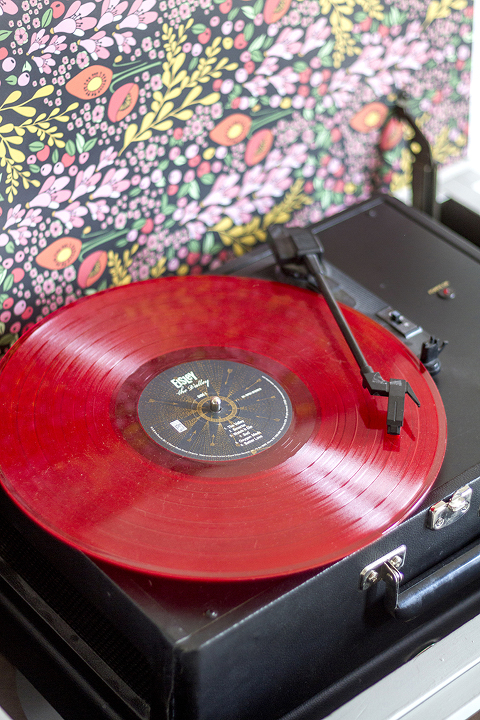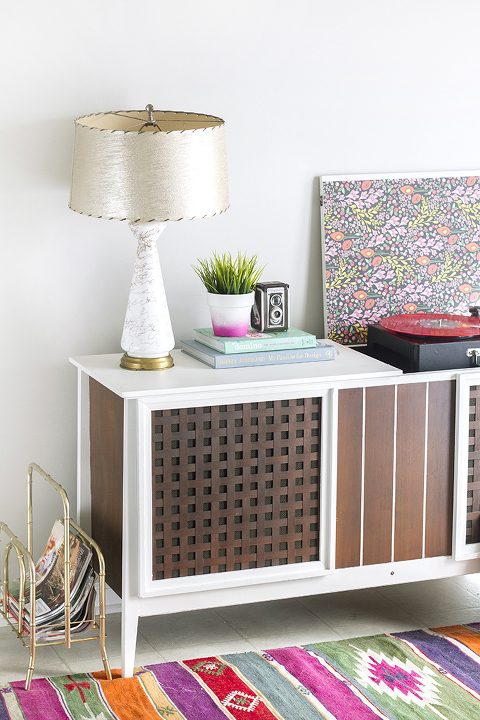 I am such a big, big fan of high contrast painted details on mid-century pieces. I think it's just enough pizazz to give retro pieces contemporary edge, and it's my way of compromising with the two dueling sides of my personality—the part that wants to leave wood untouched, and the other part that wants to go bold with color or contrast. Now I'm off to search for the perfect system to really bring our redone retro record cabinet back to life.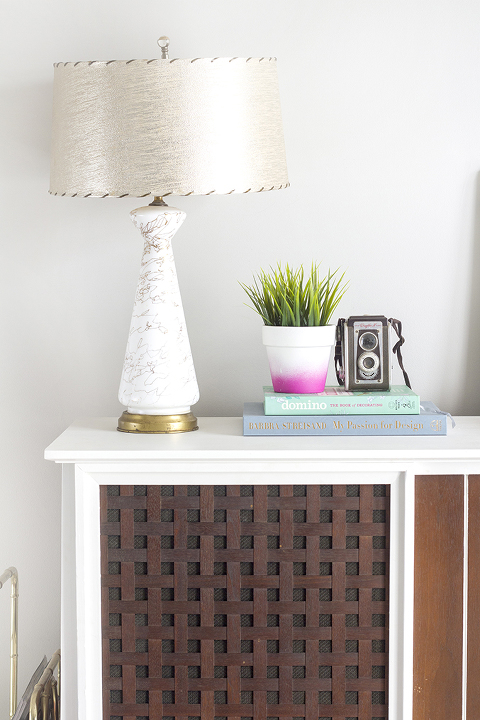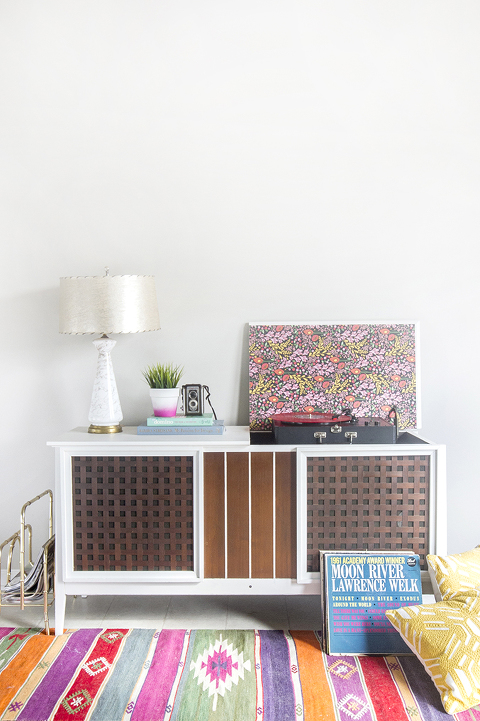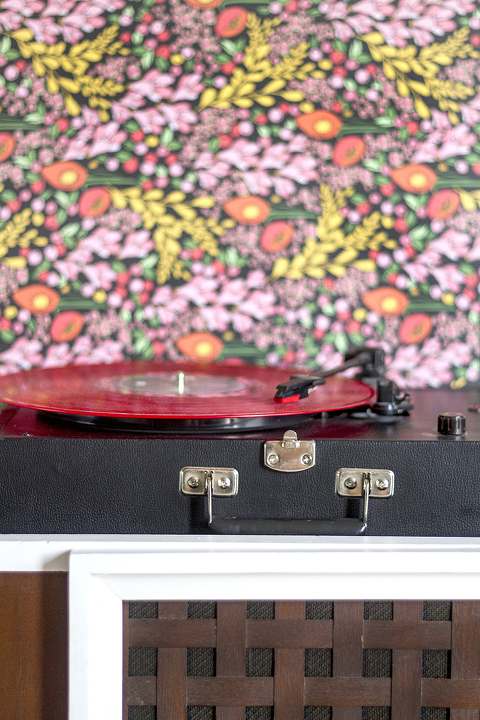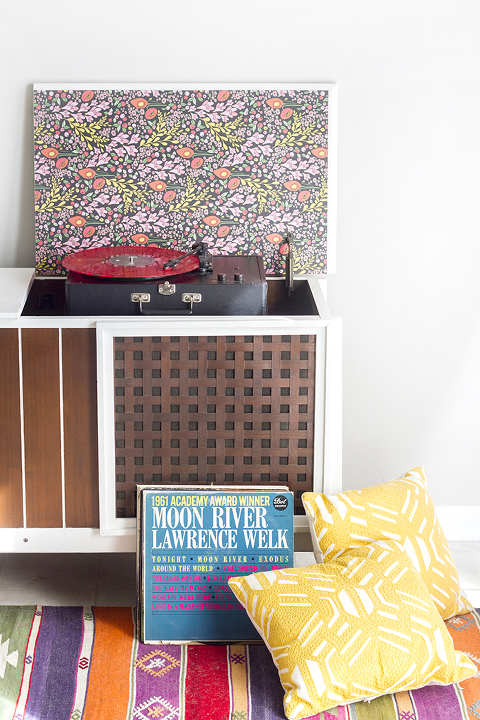 To see my review of the High Endurance Grab-N-Go interior paint with even more thorough of a breakdown, click through here—and be sure to check out the other reviews if you're not quite sold on taking my word for it.
As a bonus, Glidden® also is giving one of you a $50 gift card to Walmart so that you can put your own dreams of a furniture or room makeover to life. To enter, use the Rafflecopter widget below, and for an additional entry, write your own review on Glidden.com and then leave a comment here saying that you did to confirm. Contest ends September 16th at midnight, so don't delay and good luck!