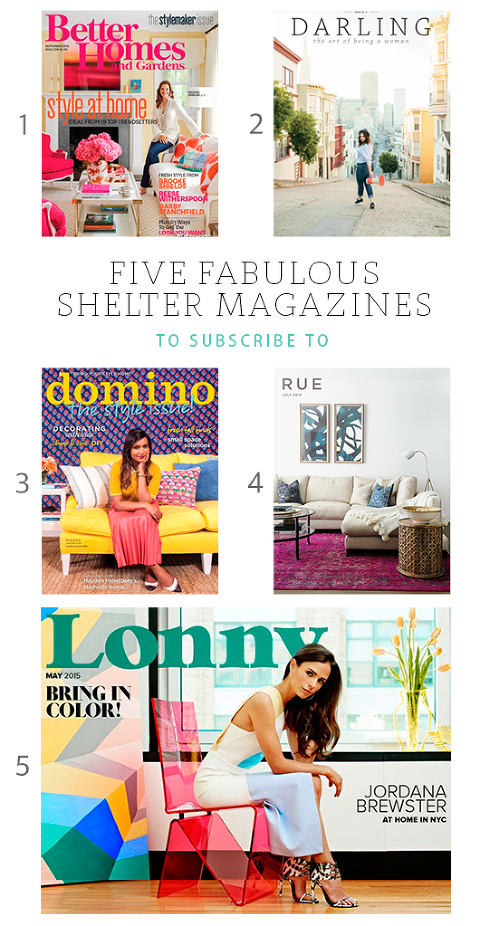 Better Homes and Gardens | Darling Magazine
domino | Rue Magazine
Lonny
Here's hoping that your Labor Day was full of rest, relaxation, and the chance to kick back with a favorite magazine or two! I worked on several projects throughout my own long weekend because I can't afford to get behind this month (more on that news very soon), but it was a pretty fabulous weekend all around. I did manage to put my feet up on Saturday to pour through the brand new issue of domino that came out last week, and it inspired me to chat about my five favorite shelter magazines in case you're looking for something new to flip through this season.
Better Homes And Gardens
Like most women, Better Homes and Gardens has been a part of my life for, well, just about forever! It's a sophisticated staple in the magazine world, and never fails to be chock full of relatable stories on homemaking, cooking, gardening, style, and health. I also personally love the blogger community that the BHG team has worked so hard to create in the last five years—I can't get enough of all the familiar faces I see as I flip through each issue.
Darling Magazine
I first picked up Darling Magazine at Anthropologie on a complete whim last year. I had never heard of it before, but the cover caught my eye (I'm notorious for judging books and magazines by that front page), and I'm glad I chose to take a risk. The sturdy matte finish pages are a dream to flip through, and the photos and copy are really beyond dreamy. If you haven't picked it up before, trust me—it's worth a spontaneous splurge!
Domino
Truth be told, I wasn't on the domino train the first time around. But when it folded, it caused such an uproar that I took notice. Now that it's back on newsstands, I'm a hard core convert, and always look forward to its arrival in our mailbox. The stories are so well composed, the photos are always awe-inspiring, and I'm obsessed with the quality of its extra thick pages. Fingers crossed it won't leave us again any time soon.
Rue Magazine
Rue Magazine has been a favorite of mine for several years now, and I just can't get enough of the on-point content within its digital pages. The editors of this magazine have impeccable taste, and I always feel as though the stories and features were almost written just for me. Although there are some magazines that I have to push myself to get all the way through, I fly through Rue without trouble, soaking up every word and tidbit in the process.
Lonny
I'm actually a newbie to Lonny, but my sister has been a long-time fan, and her taste is one I trust without question. This is another one of those magazines that always seems to nail it with the angles and tone of their stories, too. They're cheeky, but on-trend, and the photos are not to be missed. The next holiday weekend I get, you better believe that I'll be diving deeper into this digital shelter magazine to see what type of inspiration I can glean from its virtual visuals.
Do you have any favorites of your own that you don't see listed here? Do tell in the comments! And in case you haven't put your name in the hat yet, you have until midnight tonight to enter to win the big $100 Pinhole Press giveaway, so don't delay. Jump to the contest by clicking here.