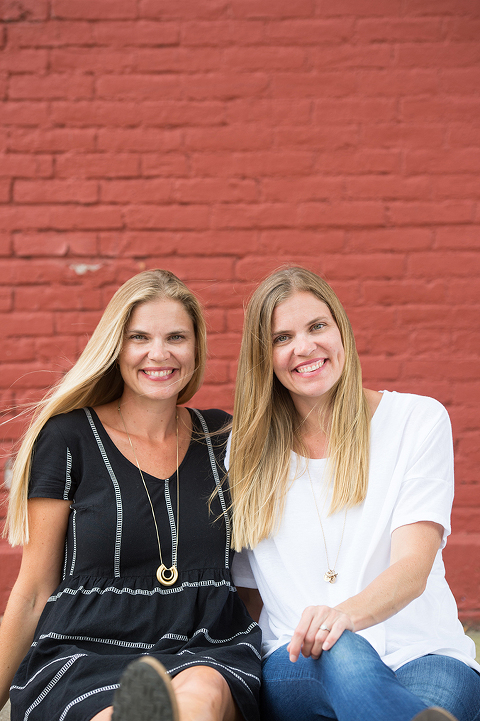 Happy Wednesday everyone! While John and I hustle behind the scenes with our move out of town, I invited Sara and Melissa, the talented twin bloggers behind Alice & Lois to talk shop. Below, the two women chat about what they wish they'd known just starting out as DIY bloggers, about where they get their inspiration, and their number one go-to craft supply. Take it away ladies!
Tell us how you got started. When and why did you decide to launch Alice & Lois?
Sara: Our first business we started together was an Etsy shop where we made and sold girls' clothing and graphic design products. While we enjoyed having a handmade shop together, our goal was to launch a blog. We've always been excited about digital publishing with our backgrounds in journalism and corporate communication. Getting our feet wet as a sister team with our Etsy shop was a great way to dip our toes in the water of running a creative business. But being able to try different creative projects each week—rather than cranking out product—is a dream come true for us.
Where do you get your inspiration?
Melissa: It may sound cliché, but we find inspiration everyway. Sara and I live in very different places—she's in the heart of San Francisco and I live in a gorgeous little ski town, Crested Butte, Colorado. Sara finds inspiration on walks through the city, hikes by the coast or in shops in the city's neighborhoods. I find inspiration on hikes, while out skiing or on a trip to the library with my girls.
How do the two of you divvy up responsibilities? Have you always worked well together as a team?
Sara: We split responsibilities based on our skill sets. We also divvy up projects based on our bandwidth. Melissa works more on the design side of our business, as well as manages our editorial calendar. This makes sense with her background in newspaper editing and publishing. I gravitate towards running the business and strategic planning side. Honestly though, we are so lucky to share the same goals, aesthetics and mission for this business. Working together is a dream. We support each other—that's our number one goal. If one of us is having a hectic week at home between running the blog and raising our kids, we're honest about it and nine times out of ten, the other one can pick up the slack that week.

What is your favorite DIY project to-date?
Melissa: I've always loved the little bunny bowls I made of air dry clay. They were just so darn cute. It was one of those projects that I hadn't set out to make. I was making little jewelry bowls out of the clay and I just looked down at them and thought if I stuck some ears on them, they'd be the sweetest little bunnies.
Sara: Our Shibori Indigo Dye projects are for sure a favorite. It is so addicting to create and dye patterned fabrics. We have made handmade pillow cases, wall art and dish towels. We have a new shibori project coming up soon as well.
What do you wish you had known when you were just starting out as a DIY blogger?
Sara: I wish I knew that there would be projects that you go into thinking it's a slam-dunk, when in reality it's a bust. But we've both learned that this is inevitable.
Any advice that you wish you could go back and give yourselves?
Melissa: I'd tell myself to be as organized and prepared as possible before starting a project. Take the time to get all of your supplies together the day before a shoot. It sounds like a simple step, but there are times I'm prepared and then scrambling to find a crucial supply.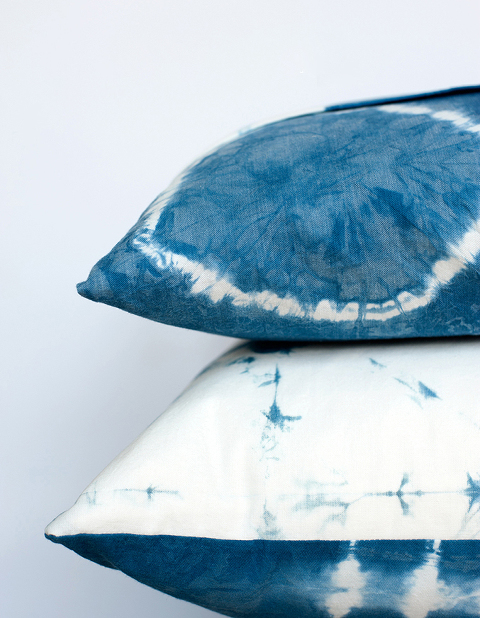 How do you manage to overcome creative "writer's block"? Or, if you don't experience it, how do you manage to stay consistently inspired?
Sara: We plan a night each week to do a call where we just brainstorm ideas with each other. We both come to the call with several ideas. Once we start rattling them off, the list expands into new ideas.
What is your favorite social media outlet, and why?
Melissa: We're huge fans of Instagram. I love the creativity of it, but also the simplicity of it. I'm a huge fan of photography and this is the best social media outlet for that. Instagram is also such a great place for exploration. It's an inspiring place.
All-time favorite craft supply…go!
We would have to say, the infamous hot glue gun. There is nothing a hot glue gun can't do!
Visit Alice & Lois daily to keep up with Sara and Melissa and their creative projects!