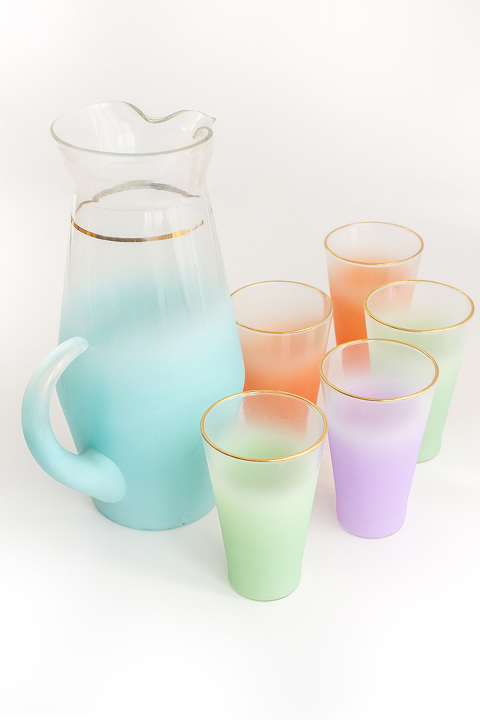 First of all, on this beautiful Monday morning, I have a question for you. What are your strategies for hunting down Thrift Store Scores? For me, it's all about keeping one single idea in mind—or really, one single question: What would Emily Henderson do?
If you've been reading this blog for any amount of time, chances are good that you've picked up on my obsession with basically anything and everything this designer / blogger / stylist does. Emily's aesthetic immediately spoke to me when I caught her on HGTV's Secrets From A Stylist, and I've been hooked ever since. So, now whenever I'm wandering through a thrift store or estate sale, I tend to consider pieces as though seeing them through her eyes. Of course, my own inclinations inevitably work their way into the decision, but Emily's retro inspiration tends to keep me on track so that my purchases feel natural and intentional.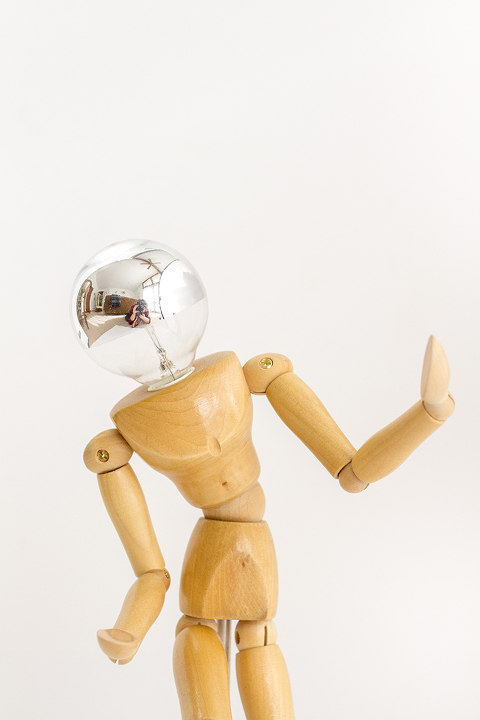 All this to say, that my most recent trips to the thrift store have proved especially fruitful because of my need for more quirky conversation pieces à la Emily H. First up is my new light-up artist's Manikin. By the way, apparently that is the proper term/spelling for these little wooden models—I Googled it more than once to confirm. I guess I should know this, what with all those hours spent in the drawing studio in art school, but I never did soak up that particular nugget of knowledge.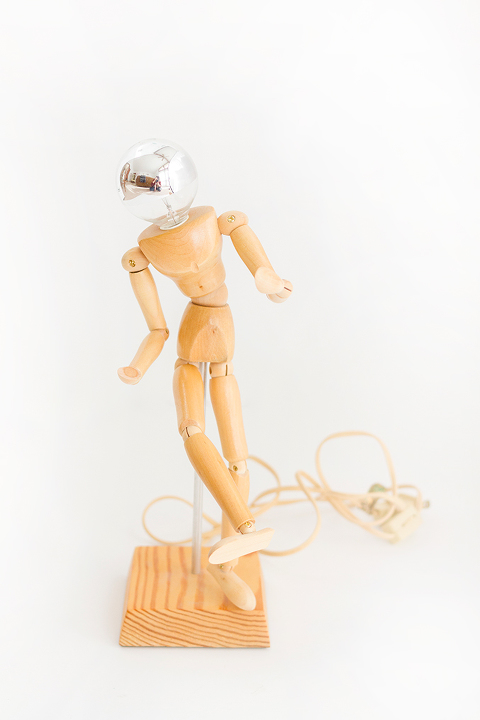 But I digress. At any rate, I couldn't let this little guy go. I saw him at Circa in Charlottesville, Virginia, on one trip, and actually went back for him a week later because I couldn't get him out of my mind. At $18, it wasn't a steal, but it turns out that this handmade table lamp—made by a local designer, Ray Alderman, who seems to have sadly gone out of business—retails for much more. Although John made fun of me all the way home for purchasing the lamp, I couldn't be more in love with it, and see it styled on a bookshelf or end table.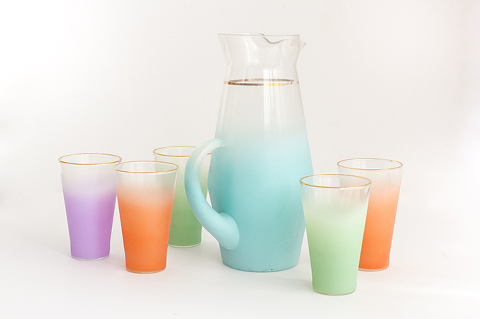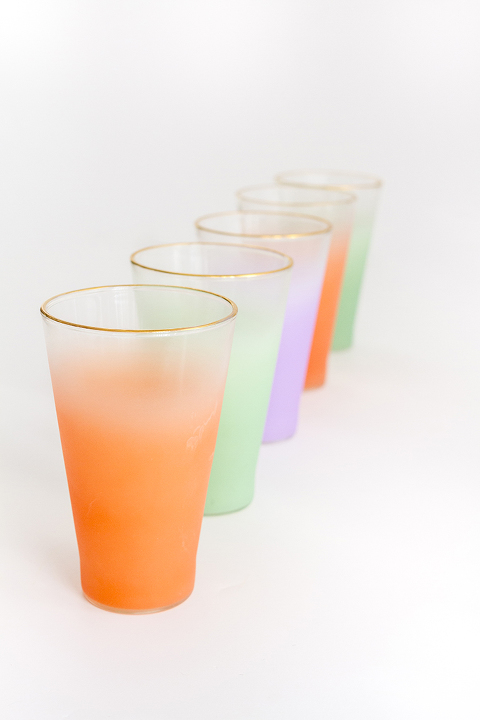 These pastel Blendo glasses also have a funny story. About two months ago, I purchased a pricey set of nearly identical pastel bowls from—you guessed it—Emily Henderson care of her Flea shop. Not a day later though, I got a very nice email from someone on her team that the collection had actually already been sold to someone else and that the shop hadn't updated properly.
My money was refunded, and I immediately hopped onto eBay to track down a similar set. By way of comparison, the set from Emily cost over $100, and the set I found on eBay cost $45. As fate would have it though, I lost the auction to someone else, and dropped the search thinking it was doomed. Then, while visiting my sister in Williamsburg, Virginia, I happened upon the pitcher and glasses pictured here for…WAIT FOR IT…$7. Yes, seriously. $7. I guess sometimes it does pay to be patient.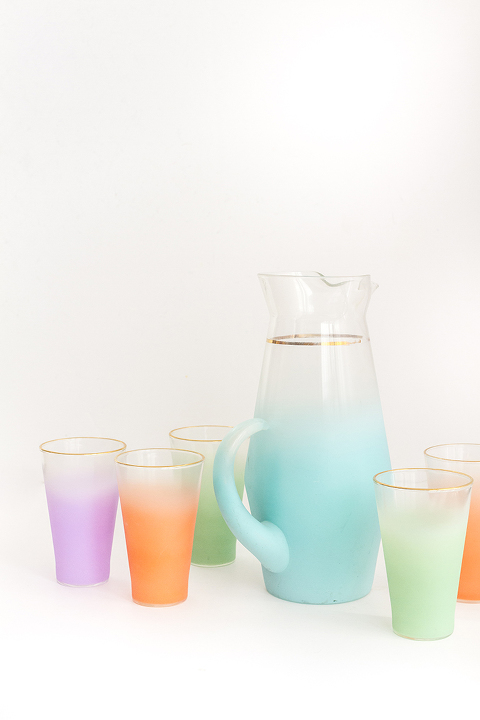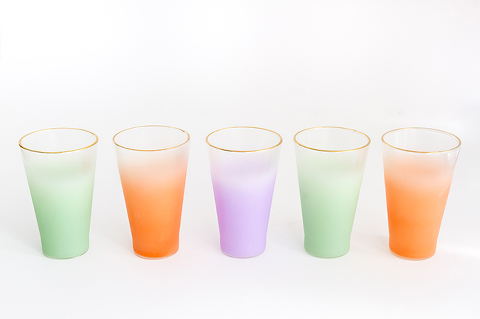 And rounding out this Emily Henderson-themed collection of Thrift Store Scores is my brand-new-to-me clay bust portrait. This little 6-inch sculpture was a splurge at $50, but I love the shelf styling possibilities. I first caught sight of it on Emily's blog in this post about styling a mantel, and clicked through to the Etsy source she had listed, never thinking that the one-of-a-kind piece from Sawdust Gideon would still be available. But it was, and I couldn't stop myself from bagging it for myself.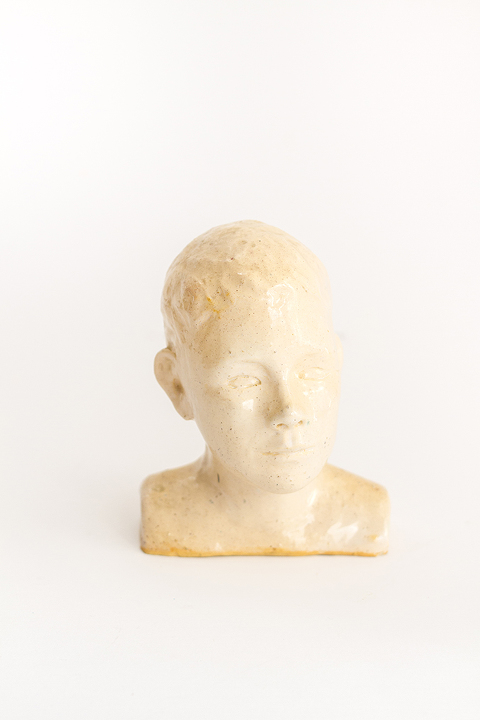 It's actually quite beautiful in person from all angles, with lots of pretty (yet subtle) texture and tiny markings on the surface of the clay. The piece is also super lifelike, which I love. Although I didn't take many 3D design classes while in art school, I always appreciated it the most—particularly figure sculpture. This might just be my new favorite thing.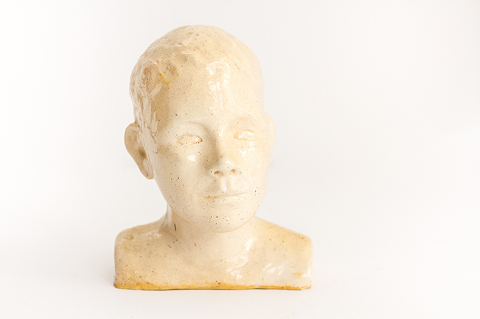 And I now feel the (jovial) need to ask that you refrain from judging me too hard for my over-the-top fan girling this morning—we've all got our designer crushes! Do you have a designer or style that you always keep in mind while hunting for Thrift Store Scores? What has been your proudest treasure this year? And if you're local to the Waynesboro or Charlottesville area, where should we go next for secondhand goodies?