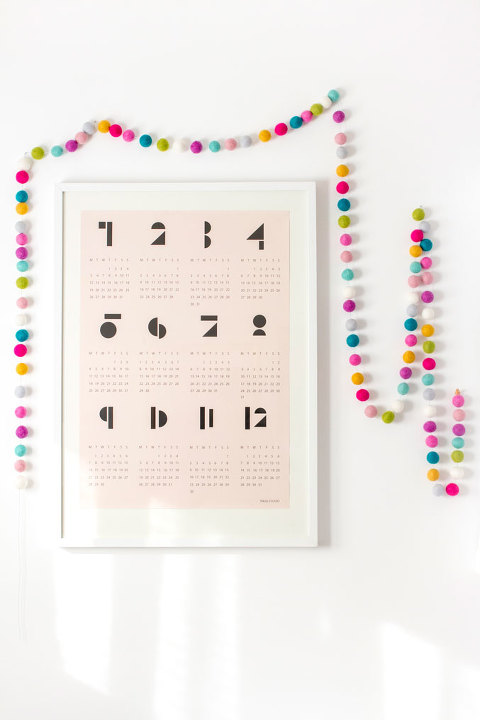 One of the things I was particularly anxious to do right off the bat in 2016 was get my office in completely working condition. Ever since moving in back in October, the space had been functional, but not at all inspiring. After about a month of living with the set up post-move, I actually decided to do something a little drastic and switched the two smaller bedrooms in our house—the back bedroom that started out as our guest room is now home to my desk and craft supplies, and the side bedroom that used to be my office has since been transformed into a cozy guest room.
Despite the fact that the furniture had been switched for about three weeks, I hadn't done much beyond that. The walls in my office were still the yellow color they were when we first moved in, and the art was stacked in a corner waiting to be properly hung. Over the holidays though, I managed to tackle both to-dos—the room is now a bright, bright white, and the art is finally up on the walls where it belongs. I'll post a full reveal once I have time to get all of the tinier details into place, but for now I wanted to share a simple embellishment that I managed to craft right before I said sayonara for the holidays: a DIY felt ball garland.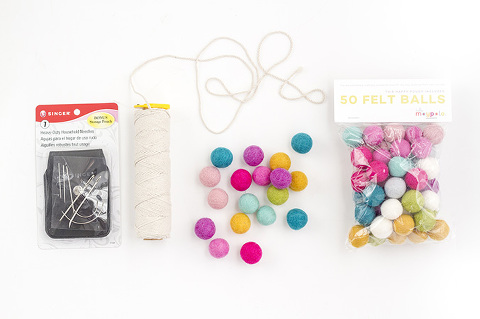 Felt balls (I ordered two bags of Seamstress Felt Balls from Hello Maypole; this style is currently sold out, but it's coming back soon)
Thin string or chording
Thick needle
Scissors
Although you can certainly make your own felt balls for this project to save a little bit of money, I decided to prioritize my time instead and bought pre-made balls from Hello Maypole. I've made felt balls by hand before, and although it's a fine process for a handful of balls, I needed about 100 for this project. It was well worth the small investment to order felt balls from Hello Maypole, plus I was able to support a small business at the same time! Win, win.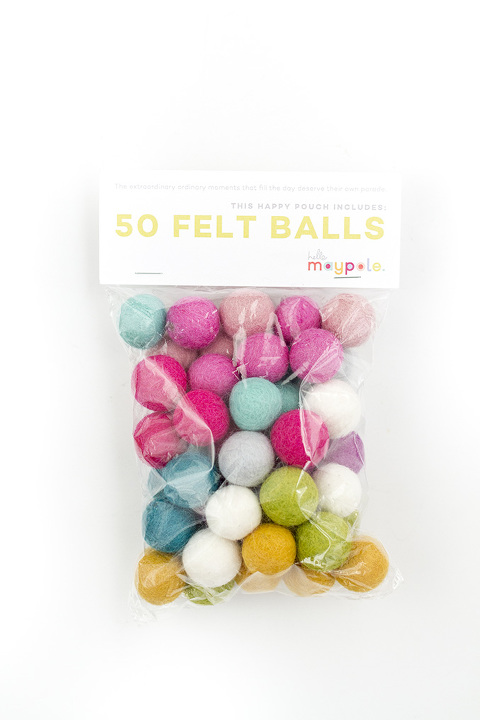 To make your own felt ball garland, first string your thick needle onto the end of a piece of string or chording. Below, you'll see pictured a length of string attached to my needle, but the string ended up being too thick for my felt balls to easily string onto, so I opted for thin gray chord instead.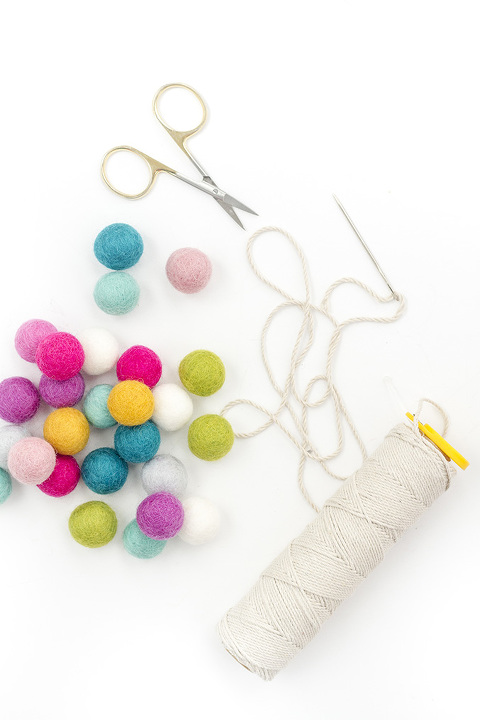 Once you have your needle and chord ready to go, begin by holding the first felt ball in between your thumb and index and middle fingers, then wiggle the tip of the needle into the ball. Push the needle out through the other end of the felt ball and pull it onto the string. Continue working your way in this manner through the pile of felt balls with the needle and chord.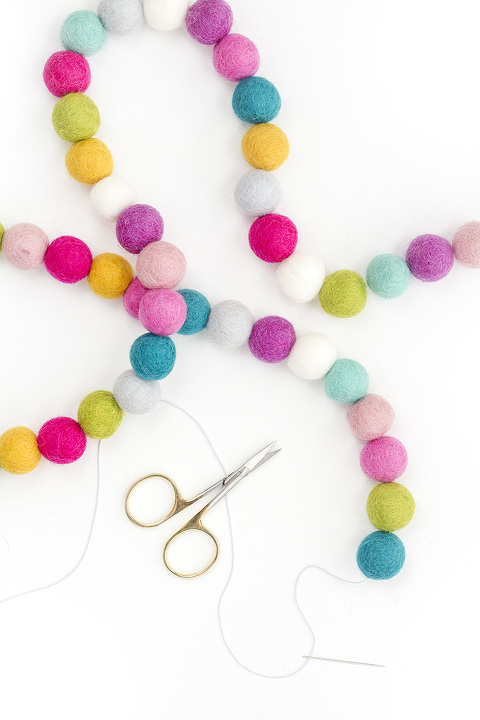 Because the felt balls tend to be pretty stout, you may need to grip the head of the needle between your fingers and "stir" it around the end of the felt ball. This circular motion will help widen the hole so that the chord can slip easily through the felt ball.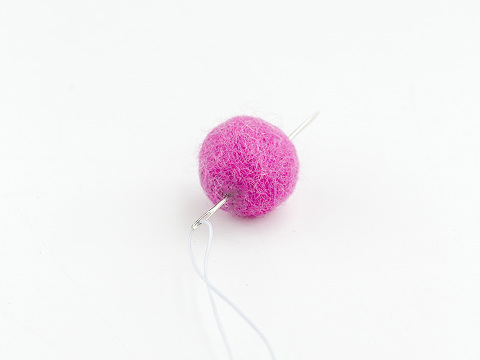 After you're finished stringing all of the felt balls onto the chord, unfurl an extra foot or two of chord and cut it free with scissors. Since I wasn't quite sure how I wanted to arrange the balls (butted up against each other, a gap between them, etc.), I wanted to leave as much extra string as I could so that I had room to play around.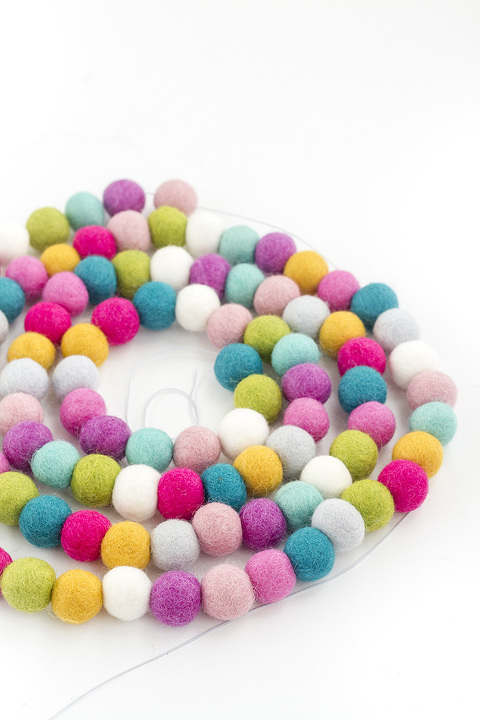 In the end, I decided on a half-inch gap between the felt balls to make the garland a little longer, plus this allowed the garland to drape a little bit easier on my wall. As for the color scheme, I could have easily chosen a uniform pattern of colors, but decided to throw caution to the wind and instead went with a randomly arranged color scheme. I like the eclectic feel of the completed garland, and promptly hung it right over the calendar behind my desk as a creative reminder to seek bold color in all that I do each day.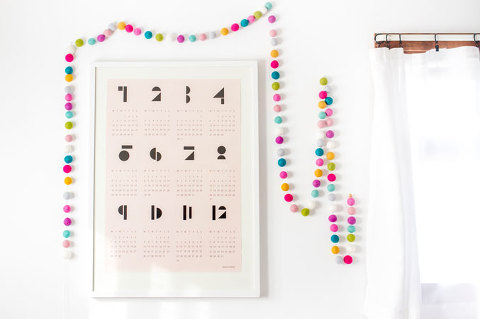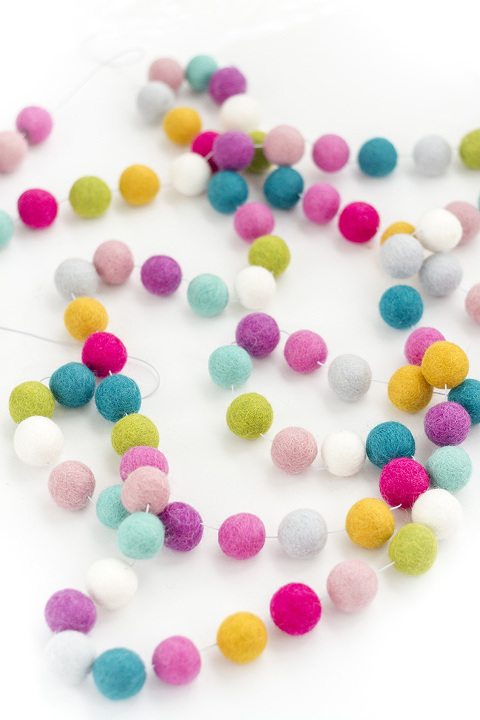 Stay tuned for the the full reveal of both the newly decked out office and guest room! What are you looking forward to tackling first in 2016?