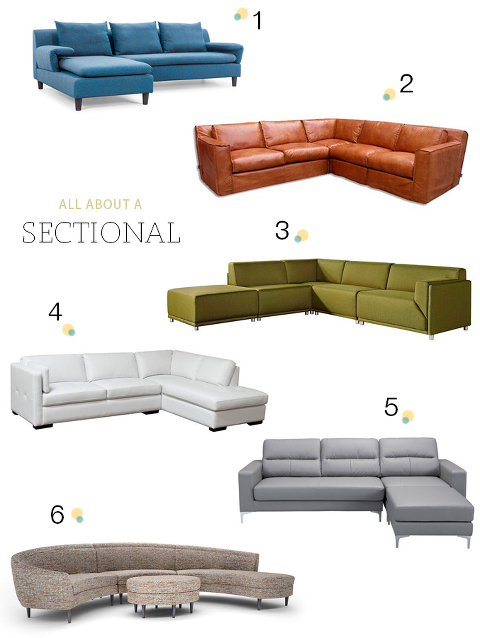 1. Axiom Sectional | 2. Fabri Sectional Sofa | 3. Moderna 5 pc Collection
4. Urban White Sectional | 5. Versa Sectional | 6. Capri Sectional & Ottoman
I don't mind admitting that one of the most fabulous perks of moving into our new house has been the additional square footage. By way of a reminder, our previous home was a two story townhouse with two bedrooms and two bathrooms, a living room, eat-in kitchen and tiny finished basement. Our new house, on the other hand, boasts three bedrooms, two bathrooms, a formal dining room and TWO living rooms (one upstairs and one downstairs). I say "boast" with love, because although our new-to-us house sports those extra rooms, they all come with more then their fair share of 1960's character in need of updating.
Why We Need A Sectional
While we work night and day to update those less-than-charming details that need updating, we've also been on the hunt for a few new pieces of furniture to fill the excess space. John and I decided that we wanted to invest in a sectional even before putting our old house on the market. You see, we're "sprawlers" when it comes to relaxing and TV viewing, so we needed a sofa that offered that extra square footage for lanky legs and any number of our four pets, too.
Spoiler Alert:
We found the ideal, budget-friendly configuration perfect for our family of six, and the bonus news is that it's vintage and one-of-a-kind! But before that, I had been salivating over the fabulous line of sectional options from Scout & Nimble. Above you'll see my top six options (which served as inspiration for our final choice), and stay tuned in the coming weeks for a reveal of our vintage compromise. Which sectional sofa is your favorite from above? I personally can't decide between the Fabri Sectional and Capri Sectional.