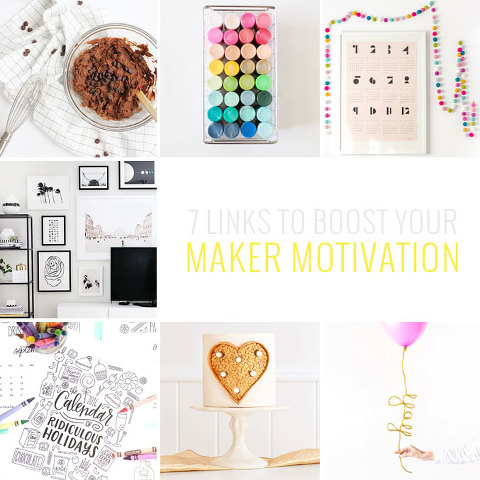 Have you guys had a tough week, too? Although I've been sticking to my resolution of waking up before 7:00 a.m. each morning, it has still been a rough go of things around here. I start off the day strong, raring to go, only to end up feeling pretty overwhelmed and dejected by 4:00 p.m. There just aren't enough hours in the day! I'm sure my less-than-bubbly attitude is largely due to the fact that the holidays are over, so I'm hoping to be out of my "rut" and back to my creative, optimistic self come Monday.
I don't know about you, but we actually have big plans this weekend. My dad is driving into town to help us install a kitchen backsplash (a first for me!), and I can't wait to have all of the big projects in our kitchen crossed off the list. Remove wallpaper? Check! Paint walls white? Check! New countertops? Check! New faucet and sink? Check, check! The last piece is that backsplash, and then all of the fun, final details can fall into place. In case you're looking to jump start a project of your own this weekend, here's a list below of the fun ones that have caught MY eye this week.
7 DIY Links To Boost Your Maker Motivation
And in case you missed some of the fun content that went live right here on DGD since Christmas, click back to see why we decided to paint every room in our house white, a quick DIY felt ball kabob cocktail stirrer, our top six sectional sofas from Scout & Nimble, and a DIY Christmas lights spool to help you get that lingering holiday décor put away in style. Got a fun link of your own to share? Drop it in the comments!
Get daily maker inspiration on Pinterest