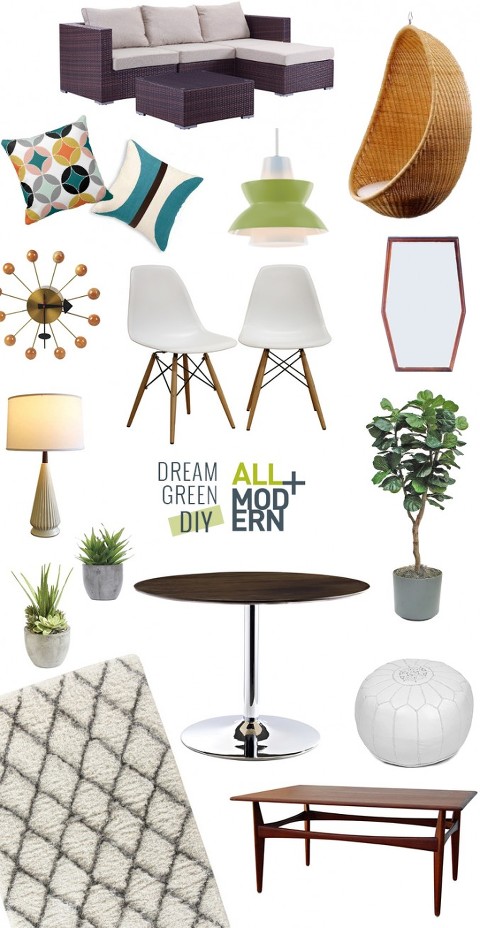 Oh, boy! Oh, boy! OH, BOY! I am so beyond excited to finally share the first completed room in our house with you this week. We have been working like crazy every day, night and weekend on our new home since we moved in back in October to bring it to life, and the sunroom was one of those spaces that seemed like a natural place to start. Today, I'm going to let you in on the inspiration behind the space and tomorrow, I'll invite you into the completely transformed room with gorgeous photos by Andrea Pesce.
The Space:
You may be wondering why we decided to start in the sunroom since we are in the midst of a chilly winter season. Although the space is unheated and technically just a three-seasons porch, the room gets enough direct afternoon light that it feels comfortable—even now with the 30-degree weather we've been having. And although I continue to fall head over heels in love with every nook and cranny inside our dream home, I often feel a little overwhelmed looking around at all the things we need to do. But that's not the case in the sunroom. This space off the side of the house is ready to go, with a pretty slate floor, super cool lighting, exposed brick, and wall-to-wall windows. All it needed was furniture to bring it to life and call it "done!"
The Inspiration:
My vision for this ultra laid-back room was to fill it with lots of greenery, vintage accents, new furniture, and super luxurious textiles to soften the slate and brick foundation. The goal was to create a slightly bohemian, unmistakably mid-century hang out that offered John and I and our guests a little retreat to sneak away to when bigger projects inside—not to mention, the hustle and bustle of real life—got us down. Happily, now that all is said and done, that's exactly what this room is to us: a casual and cozy oasis filled with all of our favorite things.
The Collaboration:
Speaking of "things," this project wouldn't have gotten off the ground had it not been for the fine folks over at AllModern. I was thrilled to team up with the cool, creative team behind this home accessories and furniture brand, and can't wait to show you how our collaboration turned out since going from the mocked-up mood board you see above to real life. Be sure to check back in tomorrow to see how I was able to mix mid-century details with millennial furniture to create the picture-perfect retreat.
(Sources: sectional, molded plastic chairs, wood and chrome dining table, area rug)