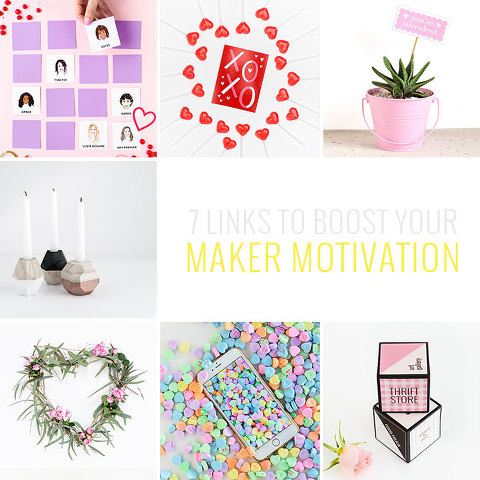 Happy Friday! Here's hoping that your February started off with an extra fabulous reason to celebrate this year. I am currently in the middle of painting our brick fireplace a bright, bright white, and am loving the results. This is my first time painting brick (stay tuned for the DIY tutorial, coming soon to eHow), and it's actually going a lot easier than I expected. Sure, we're on coat #3, but the smaller surface area makes things go quickly, and I just CAN'T WAIT to show you how much brightness and lightness it has added to our basement living room.
What types of projects are you guys working on this weekend? I actually have friends coming into town to visit the new house for the first time, so I'm going to be taking it easy after we finish up the fireplace today—but here are seven links to inspire you in case you're planning on a productive one. I'm sensing a printable theme…
7 DIY Links To Boost Your Maker Motivation
Famous Besties + Couples Memory Game (Free Printable!), via Studio DIY
DIY Valentine's Day Postcards + Free Printables, via The Crafted Life
DIY Valentine Planters With Free Printable, via Vitamini Handmade
DIY Geometric Candle Holders, via Homey Oh My!
DIY Eucalyptus Heart Wreath, via A Bubbly Life
Conversation Hearts Wallpaper Download, via PROPER
DIY Date Night Dice, via Oleander and Palm
And in case you missed some of the fun content that went live right here on DGD, click back to see my cheeky DIY Felt 'Bartlet' Presidential Pennant Flag, a quick DIY Upcycled Rolodex Recipe Card Organization System project, plus my review of the book Modern Pastoral. Got a fun link of your own to share? Drop it in the comments!
Get daily maker inspiration on Pinterest