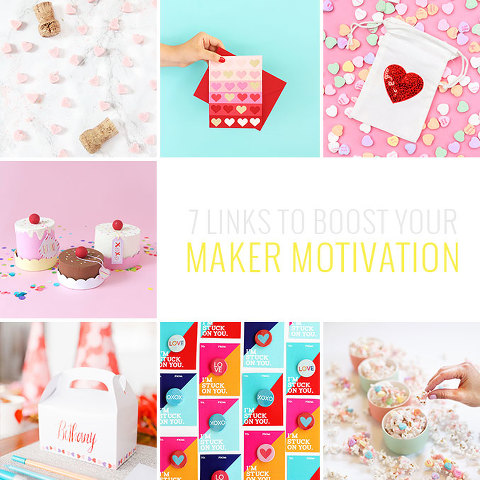 Well, we've sadly reached the end of this ultra-fun and girlie "Week Of Pink"…But the good news is that I will never stop using pink in almost everything that I do around these parts, so it's certainly not the last you'll see of the pretty pastel hue. By the way, have you enjoyed the themed content this week? Let me know in the comments if you like having a consistent over-arching theme, because that could be a fun new pattern to partake in here on the blog.
Anyway, Valentine's Day is finally happening for real this weekend, and thankfully you've got tons (and tons!) of inspiration to boost your holiday activities on or before Sunday. Here are some of the awesome pinkish projects that I've personally come across and couldn't help but swoon over this week:
7 DIY Links To Boost Your Maker Motivation
And in case you missed anything from my "Week Of Pink," here's a quick Valentine's Day Gift Starter Guide, my tips for hosting an adult girls-night-in coloring party with Oriental Trading, a Printable 'Girl Crush' Stitched Valentine's Day Card, my DIY Blush Pink Mid-Century Side Chair Makeover, and, finally, this morning's "So I Married a Blogger" spouse Q&A with John. Got a fun link of your own to share? Drop it in the comments!
Get daily maker inspiration on Pinterest