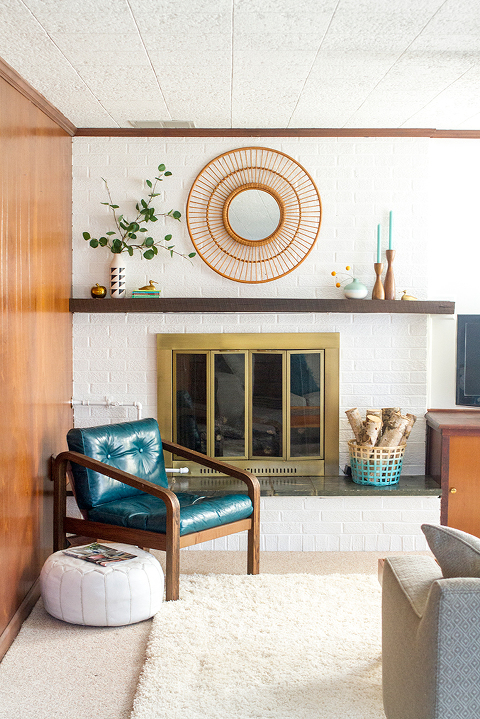 When it comes to designing a home, there's so much you have to weigh before diving head-first into a project—especially when you happen to be designing a house that's home to more than one person. Take our mid-century fixer-upper, for example. Since John and I both live under this A-frame roof, we have to make sure that each and every choice is decided on together. As you learned last week in his mini "So I Married A Blogger" interview, John typically feels comfortable deferring to my creative direction, but I recently learned that when he's not so sure, he's not very likely to speak up.
You see, soon after moving into our house, I made the announcement to John and to my family that I wanted to paint our brick fireplace white. Although nearly everyone nodded their head in approval and I was given the go-ahead for the project, it turned out that everyone (from John to my mom) thought it was a bad idea. I had no clue! Happily, now that all is said and done, the freshly painted, bright white fireplace has been given a hearty seal of approval—from both John and my mom. Although it turned out okay in the end, I'm making a mental note for the future to probe my family just a little harder for their real reactions to my design declarations.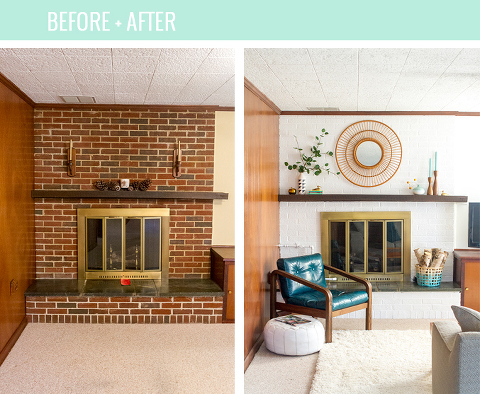 If you've been considering a brick fireplace makeover of your own, hop on over to eHow where I'm explaining how to properly paint brick, complete with a supply list and lots of horrible before and progress photos to get your inspiration churning. In my opinion, it's all about taking things on a case by case basis, and in the case of our dated brick fireplace, I can't help but think that paint was the way to go!