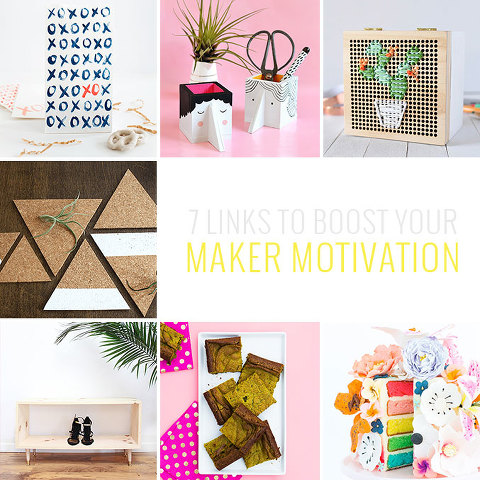 What a weird week! We started off on Monday with a pretty major snow and ice storm that left my sister stranded with us and travel out of the question, so we all played hookie and enjoyed the President's Day holiday off. Then, I had a dentist appointment planned mid-week back at home almost two hours away since I still haven't taken the time to research and choose a dentist here in Waynesboro. I ended up making the most of the trip and enjoyed a lunch date with my friend Liz and a quick overnight stay with my parents.
Suffice it to say that not a whole heck of a lot got done, and I'm sure that I'll be paying for it next week. Happily, for now, I'm going to bask in the fact that it's Friday and I can get back into my typically productive routine come Monday. That said, since I will probably be doing some crafting over the next couple of days "off," I thought I'd offer some inspiration to help get us both through a project-focused weekend. My favorite links from the week are below!
7 DIY Links To Boost Your Maker Motivation
DIY xo Treat Bags, via Idle Hands Awake
Mini Face Storage Boxes, via Make and Tell
Simple Cacti Embroidery Box, via Delineate Your Dwelling
Cork Board Triangle Trivets, via Shrimp Salad Circus
DIY Wooden Shoe Rack, via A Bubbly Life
Matcha Green Tea Brownies, via Sarah Hearts (see the cool how-to video here!)
DIY Sugar Flower Cake, via Sugar & Cloth
And in case you missed some of the fun content that went live right here on DGD, click back to see the reveal of our mid-century kitchen renovation, a breakdown of our subway tile backsplash install, two of my most recent thrift store scores, and a tutorial for how to properly paint a brick fireplace bright white. Got a fun link of your own to share? Drop it in the comments!
Get daily maker inspiration on Pinterest