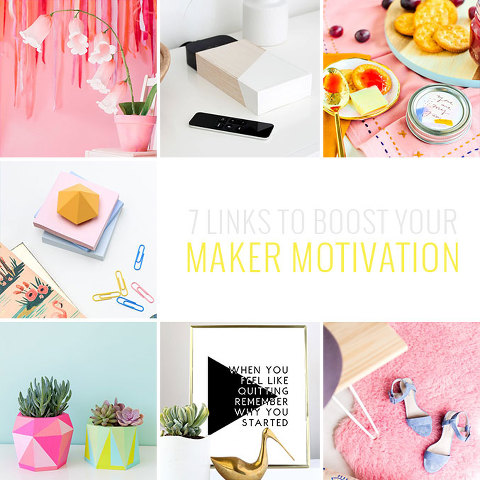 I can't remember if I've mentioned it before now, but I am headed out on two big trips throughout the month of May—first for a family vacation, and the second is a work trip. We leave for the beach in just two weeks, and then I'll be home for about a week and a half before jet setting off on my work trip to Florida for another week. I hate to seem ungrateful for all this time spent on the sunny coastline, but the two near-back-to-back trips are making my head spin!
I've got tons of content to put together before I leave and will be playing major catch up the handful of days in May that I WILL be in the office, so I'm basically pulling my hair out trying to plan ahead. This is why I question even taking a vacation just about every year—running a business all on your own is no joke, especially when you have to step away for a bit. 
Since my project to-do list for the next 13 days is about a mile long right now (no, really), I need all of the Maker Motivation I can get. If you're in the same boat, here are seven links that caught my creative eye this week. Oh, and don't forget to enter the $75 Mixbook giveaway right here!
7 DIY Links To Boost Your Maker Motivation
And in case you missed some of the fun content that went live right here on DGD, click back to see How To Put Together A Pet Emergency Supply Kit this spring cleaning/organizing season, a quick breakdown of the 6 Steps To The Perfect Birthday Party, and my DIY Painted Mid-Century Inspired Birdhouses for Oriental Trading Company. Got a fun link of your own to share? Drop it in the comments below!
Get daily maker inspiration on Pinterest