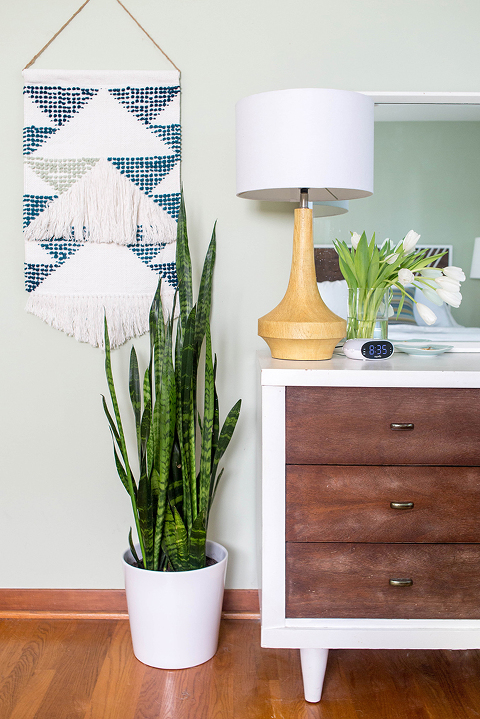 Although you all know that I am pretty hellbent on painting every single room in our house bright white, my hubby, John, has decided to throw a roadblock in my path: he has announced that I am not allowed to paint our master bedroom. He adores the soft olive-blue color that was already up on the walls when we moved in, and has practically pleaded with me to leave it as is. It's pretty much impossible to say no to his big blue puppy dog eyes, so I have succumbed to the fact that this room will be the only exception to my white paint rule in the house. Oh, the things we do for love!
At any rate, I have made it my mission over the past six months to find a way to make the existing color work. Happily, it really is a beautiful color, and it's probably the exact shade I would have chosen had I decided to paint the walls a color other than white, so this challenge has been a pretty painless one. I teamed up with Natural Area Rugs to tackle what I'm calling "Phase One" of our master bedroom makeover, and you'll find every nook and cranny pictured below.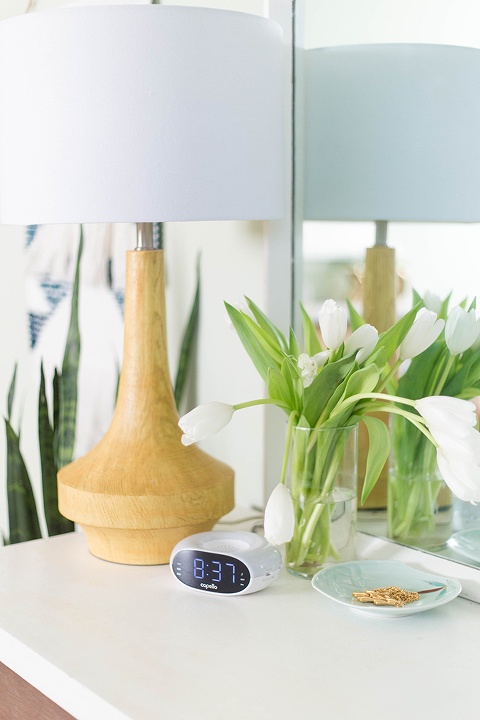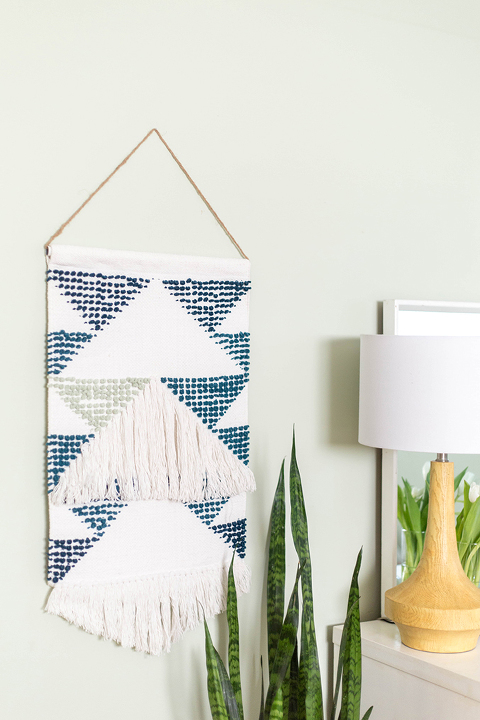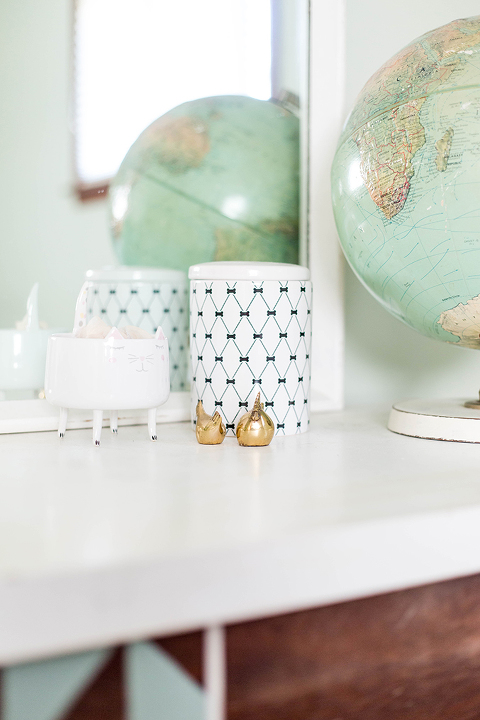 In order to go with the flow and design around the existing wall color, I decided to limit the palette of the space as a whole to just a few shades of green and blue, plus a whole bunch of wood tones thrown in for dimension. So far, I love how the aqua scheme is unfolding, and it has been a great practice in selectivity as I refrain from bringing in the bold pink, orange and saturated turquoise colors that I am naturally drawn to.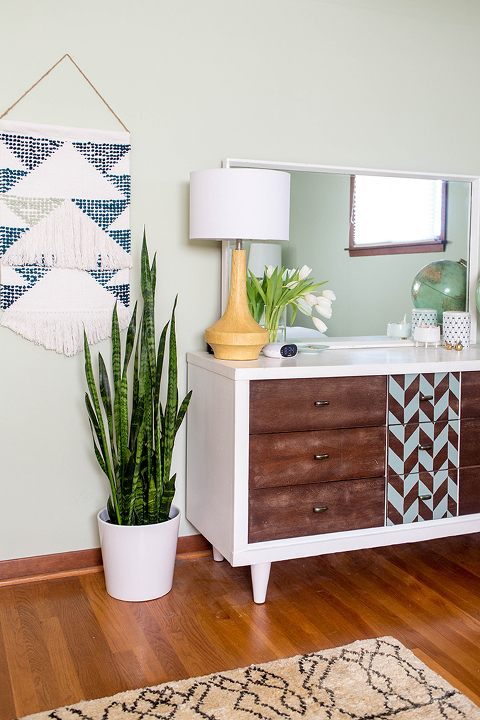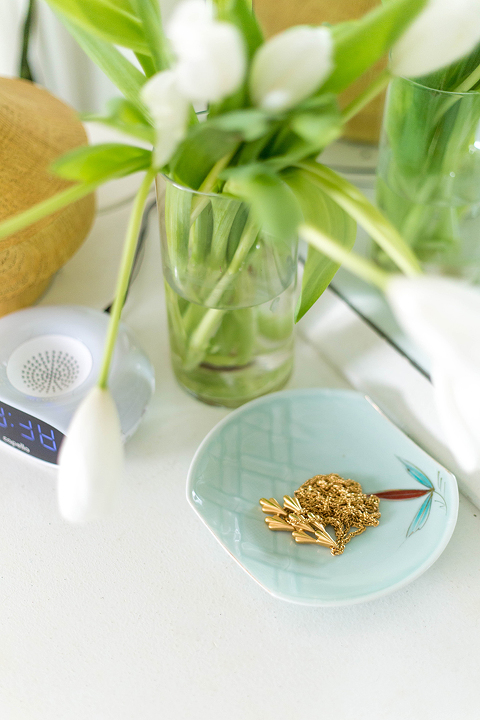 I've discovered (the hard way as you'll see from our last home's over-the-top styling) that limiting your color palette down to just a few hues is the secret to creating a cohesive space, and I can't help but think that our master retreat is shaping up to be the perfect complement to our mostly-green-and-blue bohemian basement. The other good news is that the Moonwalk Jute Area Rug that I chose to layer in from Natural Area Rugs doesn't detract one bit from the muted color scheme. In fact, I think the soft, sandy color of the rug and the charcoal linear pattern offers the perfect foundation for the room as a whole.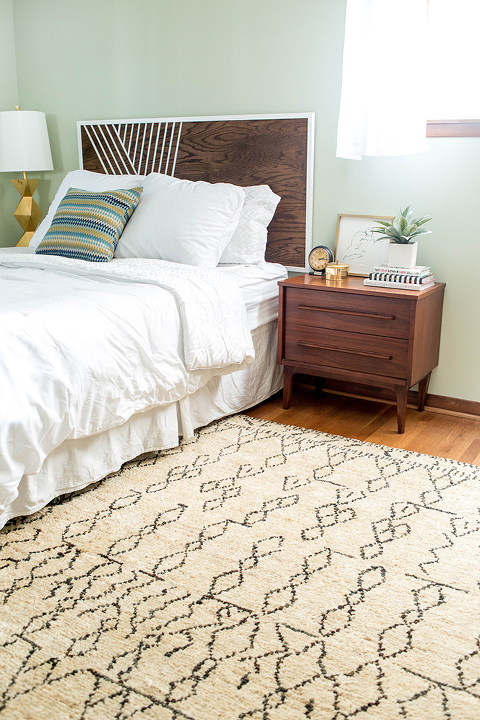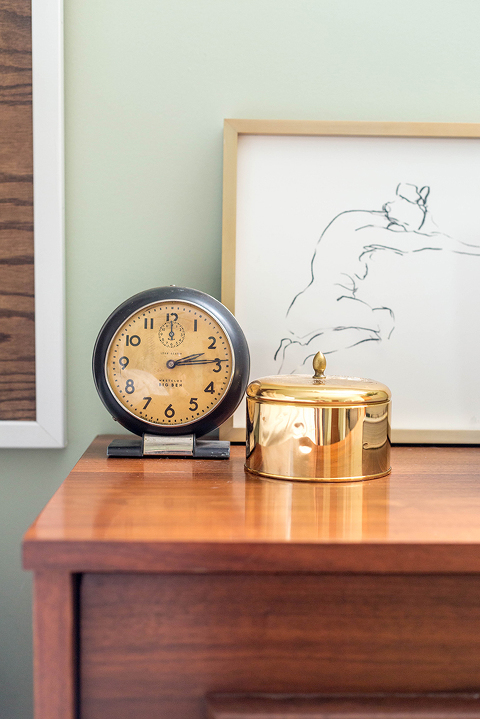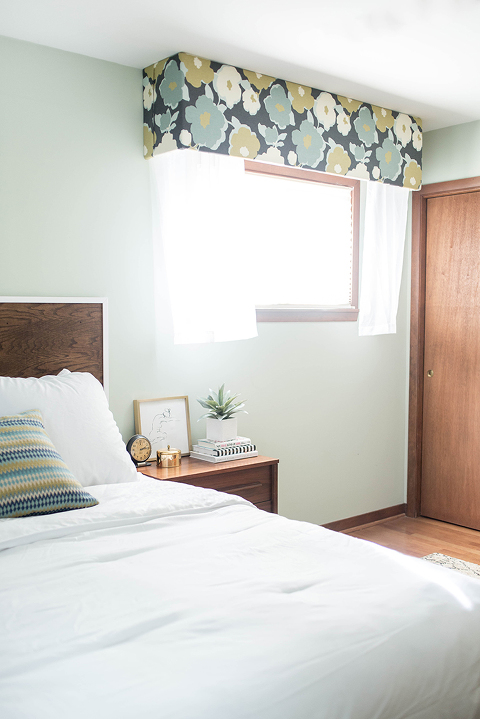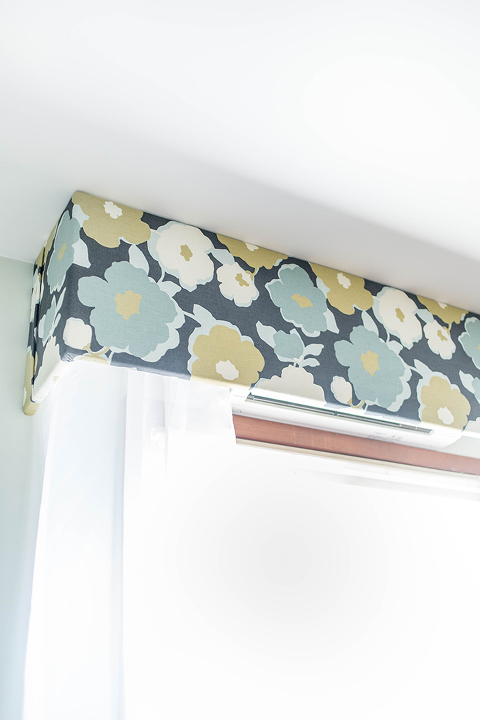 Wanna know a little secret? Our house doesn't have air conditioning, but we do have a couple of wall-mounted A.C. units that the previous owners left behind. They work really well, and despite a couple of 80-degree days this week, we've been comfortable and cool. That said, they aren't the prettiest things in the world (you can see the unit peeking out above the window in the photo above).
So, I made them work by covering the A.C. units with oversized DIY cornice boards wrapped in a delicious retro floral pattern that mimics the room's blue and green scheme. To learn how to make your own cornice boards (A.C. unit or no), click through to eHow here. The before and after is pretty striking, and I couldn't be more in love with our peek-a-boo results.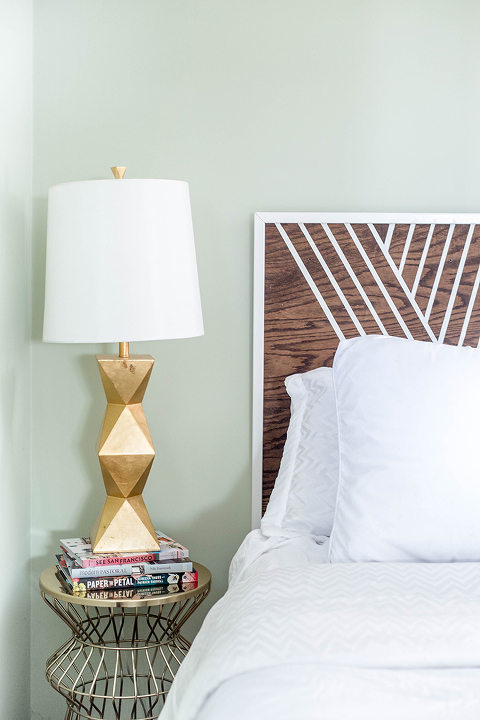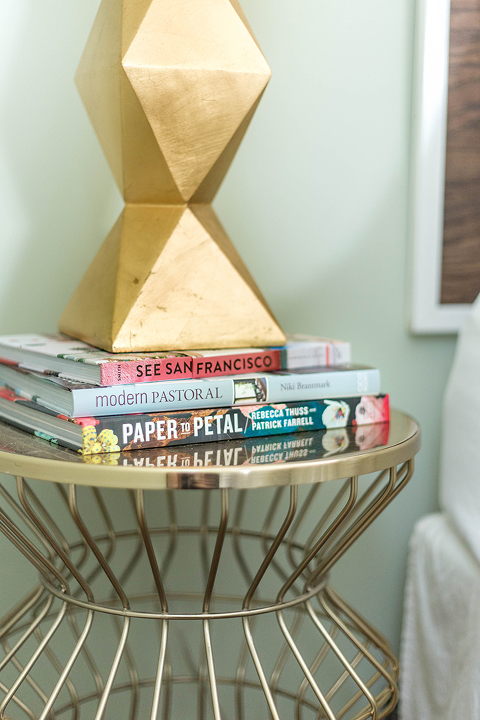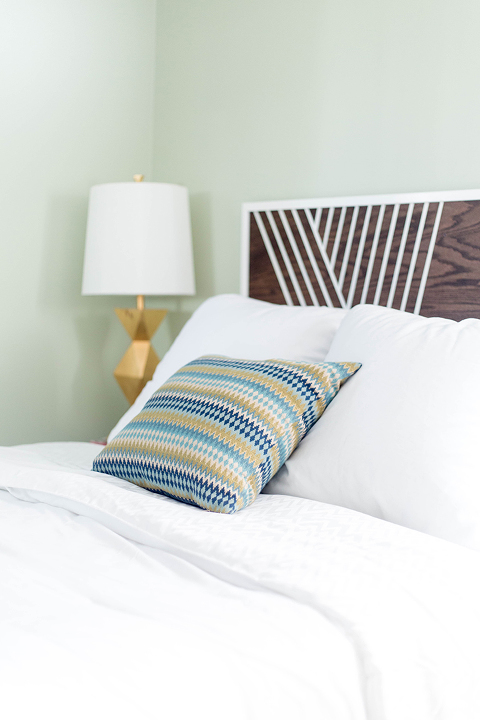 We also went ahead and added new linens to our bed, and this was where I ultimately got my way. A brand new bright white comforter and set of shams care of T.J.Maxx did the trick for me, and gives the room a  stress-free, spa-like feeling. Although I've had to learn to wash my face every night before bed so that I don't stain the sheets with my eye liner, it has been so worth it to luxuriate in all that perfect white color.
The fun zig zag throw pillow and white potted faux plant on the nightstand were also budget-friendly T.J.Maxx scores, and fit in just perfectly with the rest of the scheme. Doesn't it seem like it was all just meant to be.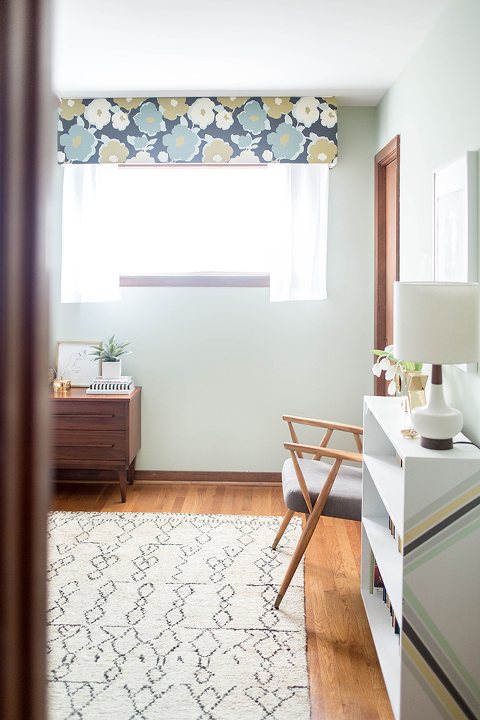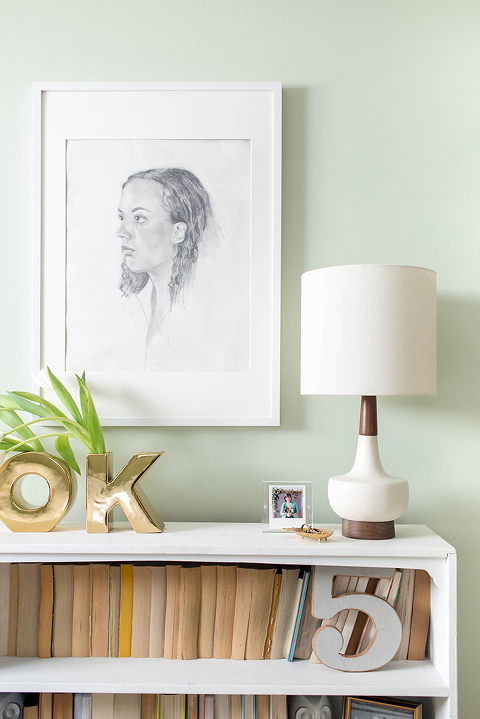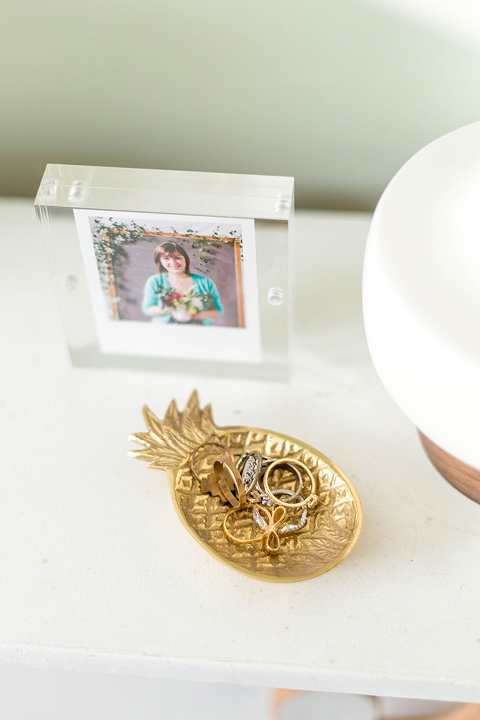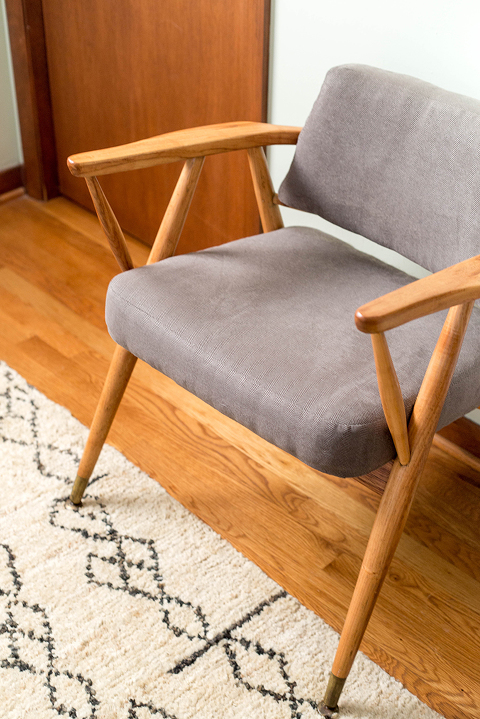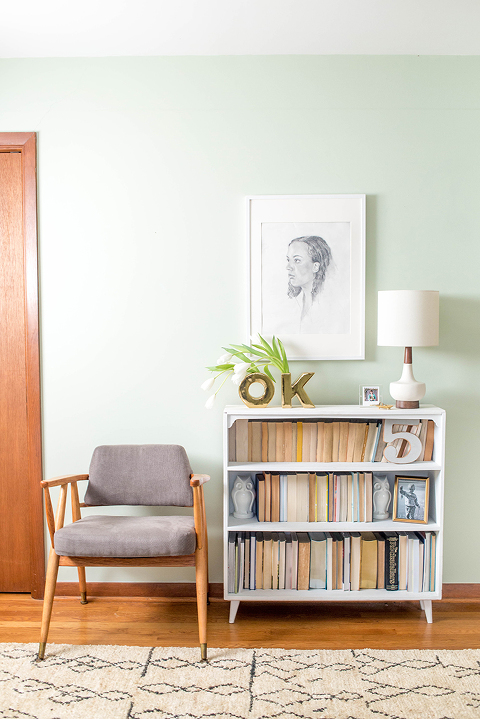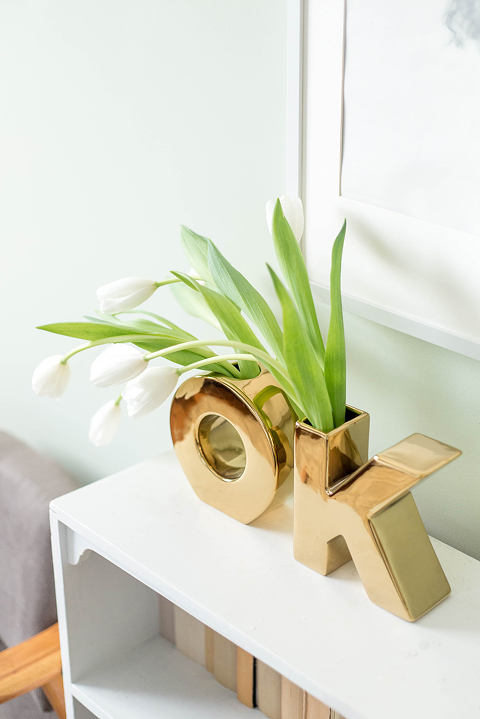 All in all, the process of making the existing color palette work wasn't quite as difficult as I thought it would be, and I feel like John was right. The wall color is a beautiful one, and makes sense as a foundation for our new white bedding, bohemian textiles, and personal mementos. Who knows. Maybe "Phase One" will actually be the final phase after all. Big thanks to Natural Area Rugs for helping this design process along, and now I'm off to start planning my next big makeover—here's looking at you, guest room!