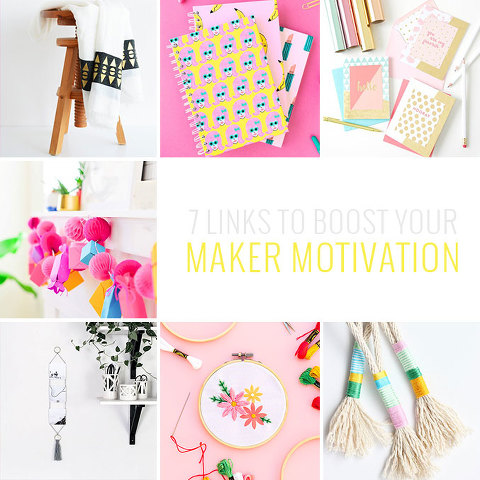 Please don't hate me, but I just can't help but be extra thrilled to be in the homestretch of heading to the beach with my family! By this time next week, I'll be on my way to my sister's house, and from there, it's off to the coastline. I can't wait to lounge by the pool and ocean, cocktail in hand, and my feet kicked way, way up. This year has been an exceptionally busy one, and I don't feel like I've had the time to really relax since January. Woa.
Alas, I will be hustling like mad right up until next Friday, so you won't find these feet anywhere but planted firmly on the ground, moving double time to complete projects, get organized and packed, and uploading posts for DGD (and for Glitter Guide, too). The good news is that I have an armload of fun ideas and projects to share in the next month, so stay tuned and be prepared to soak up lots of creative motivation—at least I hope you will! In the meantime, here are seven of the DIY links that caught my eye in the last week or two. Which one do you hope to try first? I'm all about those embroidered/printed flowers!
7 DIY Links To Boost Your Maker Motivation
And in case you missed some of the fun content that went live right here on DGD, click back to see a list of the 30 things I hope to accomplish in my 30's, my DIY printable Thank You cards collection, our master bedroom makeover, and another printable collection, this time for Mother's Day cake toppers. I also was honored to share a tour of our townhouse (from last year before we moved) over on Wayfair! You can see the tour, plus read my interview over on the Wayfair site now. Got a fun link of your own to share? Drop it in the comments!
Get daily maker inspiration on Pinterest