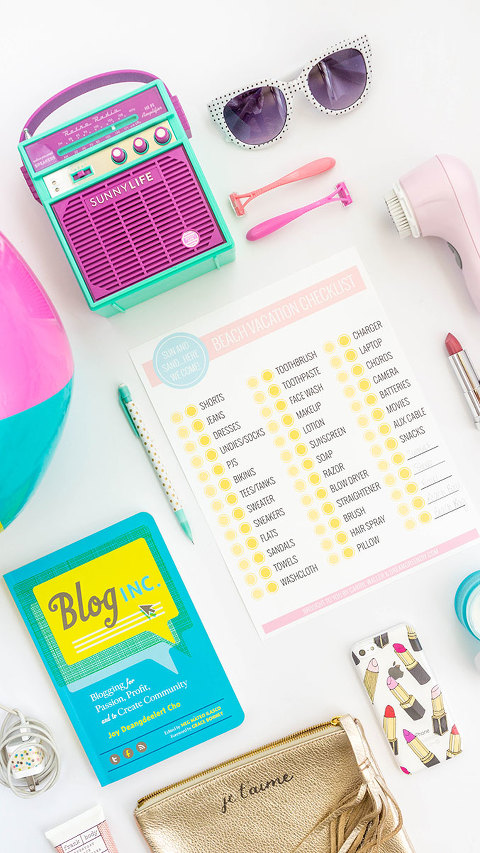 First of all, thank you all SO much for the sweet support on the rebranded website! In case you missed the announcement over the weekend, hop back to yesterday's post, which explains everything. I can't thank you all enough for making this dream come true, and hope you love the new website!
As I mentioned ahead of the weekend, my family and I are heading off to the beach at the end of the week. I can't wait to revisit all of our favorite seaside restaurants and shops, and am considering deleting the apps off my phone entirely so that I truly disconnect and enjoy life free of obligation. But before I do, I need to get organized and packed!
To make sure that I have all of my ducks in a row and all of the absolute necessesities packed and ready for my vacation, I created a quick and colorful beach vacation packing checklist. And since I know I'm not the only one headed to the coast this season, I thought I'd offer the download to you guys, too, so that you can avoid forgetting a thing. All you have to do is download my Printable Beach Vacation Packing Checklist, print it onto cardstock, and then get to packing.
You'll notice that I included two columns of check boxes. I like to actually check off when I pack an item before I leave home, and then add another check mark as I pack items before leaving the beach and hitting the road for home. That way, I know I won't leave anything behind in our rental house either. Bringing more than one pair of shorts? Instead of a check mark, write the quantity of each item that you're packing in the little circle so that you know exactly how much of each thing you're tucking away for your trip. And there are even a few blank lines for you to write in something that I missed.
So, now that packing is taken care of, I want to know—where are you headed on vacation this year?!