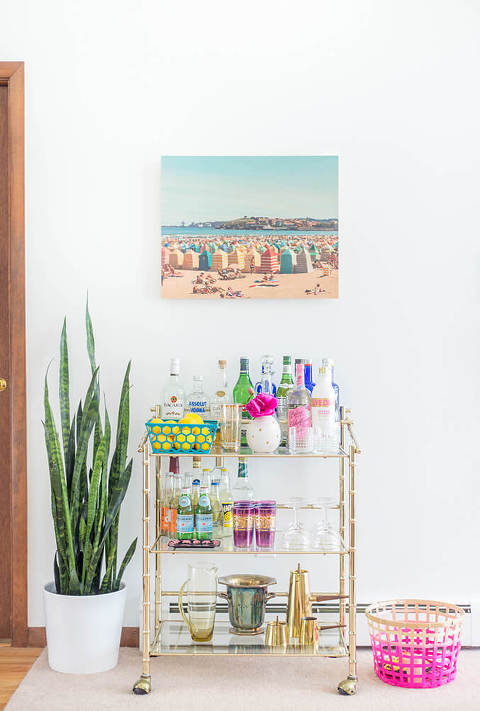 With two coastal beach trips behind me as of this past Tuesday, I am feeling ultra inspired by all things sunny, sandy, and surfy. So my plan for the rest of the summer is to fill our home with as much beach inspired color and texture as I can to make the most out of our down time here in central Virginia.
I've made leaps and bounds in my quest by adding a whole jungle's worth of potted trees to our space (more on that very soon!), and by infusing every room with light and breezy textures that feel like they belong in a tropical treehouse—but it needed something more. Enter: brand new beach art.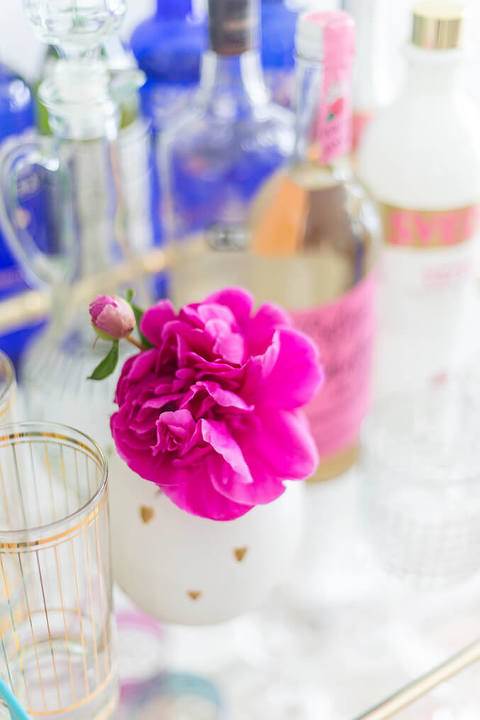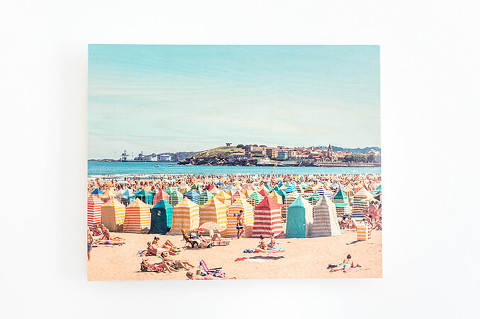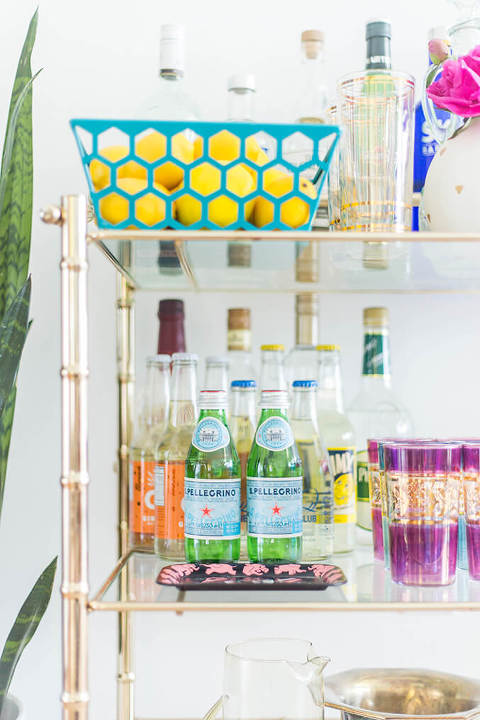 Truth be told, I unconsciously started a coastal photographs collection a few years back, and the obsession has only grown in strength. Now I've amassed enough pieces to the point that I can no longer hide the pattern, so it's time to show them off with pride all together in our living and dining room.
Our latest beach photo to join the group? A print by Roc Canals Photography called "People relaxing on Gijón Beach," care of Photos.com. I chose to have our brightly colored, multi-patterned photograph printed on a piece of birchwood for added intrigue, and couldn't be more in love with the finished product, which is now hung over our summertime styled bar cart. Speaking of which, in case you're looking to get the same look in your own home, scroll on for a few of my go-to tips!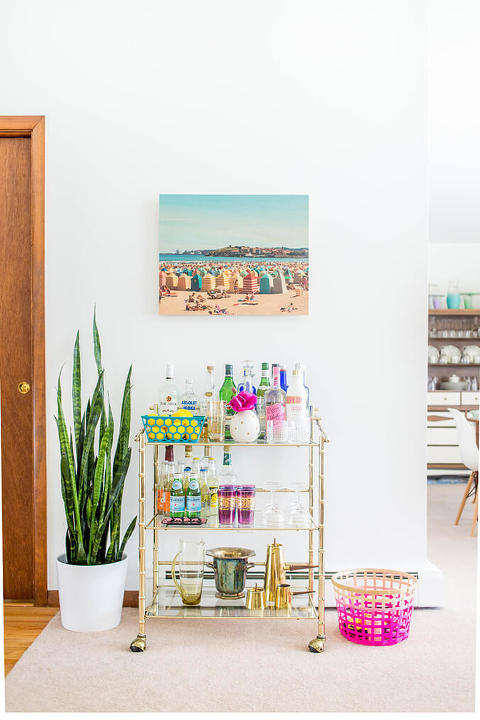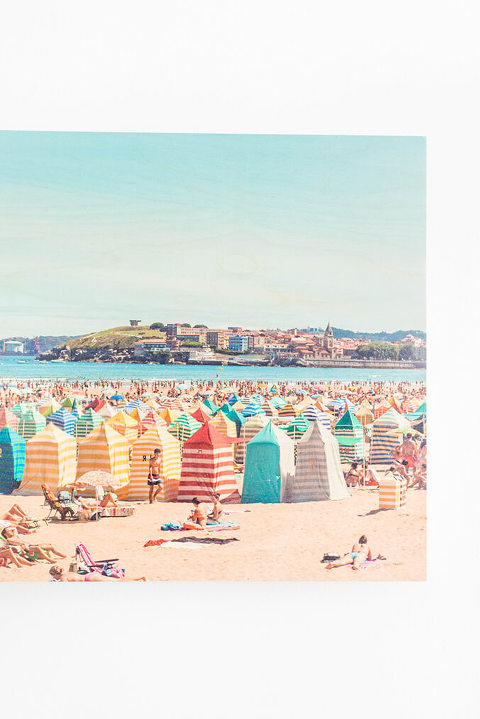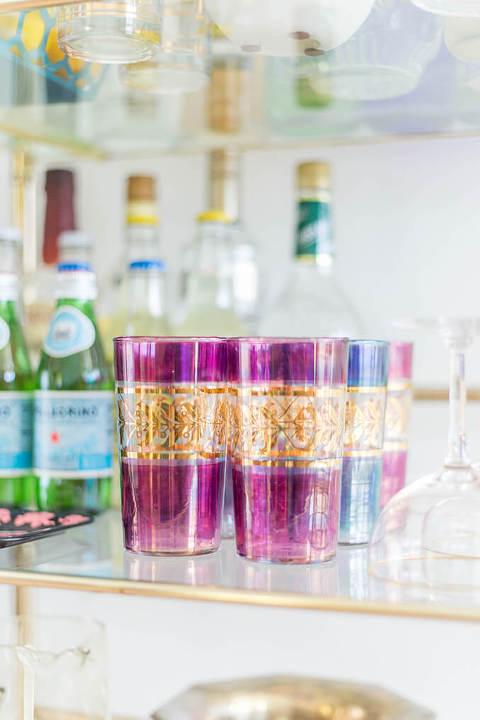 How To Style Your Summer Bar Cart
First things first! Outfit your bar cart with usable liquors and mixers that suit a warm season palette. Make sure to include lots of fruity rum and vodka so that you have them on hand to add to a chilled tumbler or martini glass. With these at the ready, you'll be relaxing in laid back style all summer long.
Anchor the set up with a piece of art that sports lots of summer specific colors. Think: bright pink, jewel-toned blue, and lots of sunny yellow. Anything from a beach photograph like we chose, to a funky fish portrait will do.
Gather a collection of unique vintage glasses to layer amongst the bottles. Pretty mid-century glasses not only ease up your drink-making routine, but they also look great while out on display. Score them for cheap at your local thrift store.
Don't forget to add a vase full of fresh flowers! Whether you're having company over, or just kicking back on your own with a good book this summer, nothing adds style and sophistication to a summer bar cart faster than fresh flowers.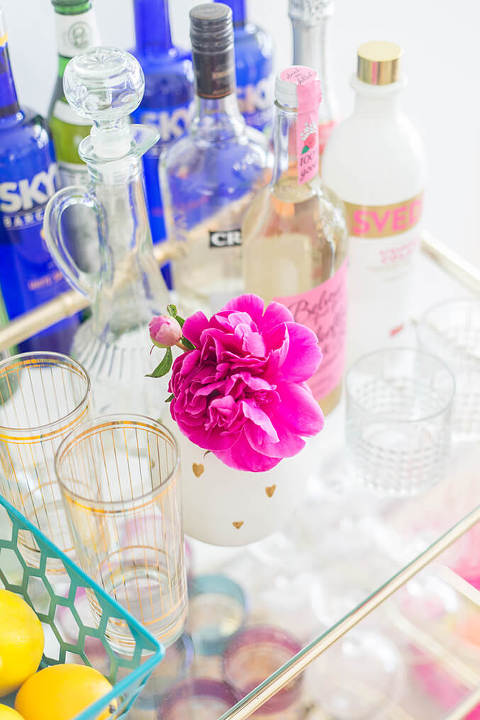 So, now I want to know! How do you bring the beach home with you post-vacation? What are your favorite types of coastal artwork to hang in your home? Or are you more of a cityscape kinda guy or gal? I'm always looking for new ideas, so shout them out in the comments, and keep up with my art obsession over on Pinterest.