It might surprise you to know, but I actually don't ever drink anything carbonated. Yup! That's right. No soda, no champagne, no beer, or bubbly wine. Even as a kid, carbonation has been a major deterrent for me and I just never got a taste for it. I remember one time when my friends in high school switched my water for Sprite at the table while I went to the restroom. I got back, took a big gulp, and promptly spit it out all over the table. Suffice it to say that they never tried to trick me again!
So, although I probably won't get to personally appreciate these DIY Monstera Leaf Drink Sleeves that I made for the team over at Oriental Trading Company, you better believe that I'm going to continue gazing at them happily from afar! They are the perfect accessory to go along with your favorite summertime beverage, whether that's an ice cold beer or fruity flavored soda—and they also work for cozying up to cans, too.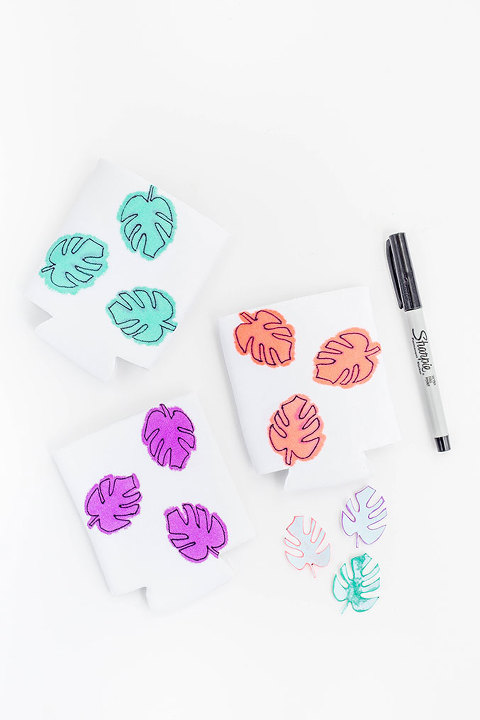 Snag the super simple 30-minute tutorial and free monstera leaf printable template, by hopping over to the Oriental Trading blog here. Now I want to know: what's your favorite summer season bottled drink? Are you a beer guy or gal? Or is it soda all the way for you? I love these cool, retro inspired soda bottles, and (truth be told) have had them on our bar cart just for photogenic moments like these for the past year now. I guess I'll just have to live vicariously through all of you bubbly lovers out there…Cheers!