You might not know it, but creating and photographing a simple craft project for this blog takes far longer than just the time it takes to say…knot some rope onto a dowel rod and finish it off with pretty beads.
In order to share the best possible photos I can, I need to wait for a day with good sunshine, I have to haul out my white board, reflector, and diffuser, I need to arrange each material just so before photographing it from above, and then I need to think through the final styled image of the project so you can easily visualize it in your own home. In reality, this entire process can take anywhere from 3-10 hours depending on the scope of the project.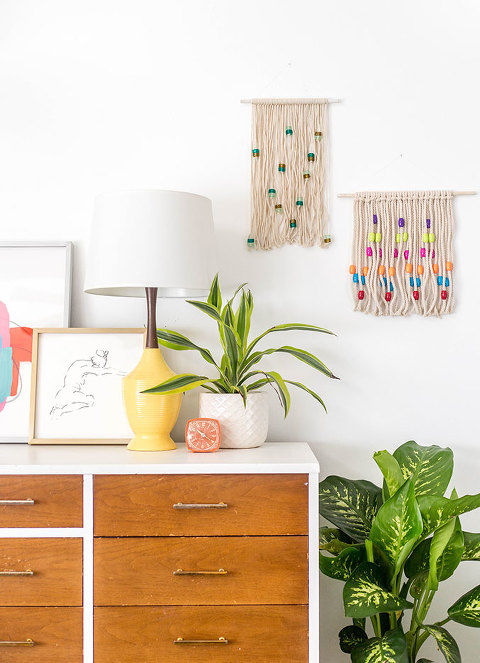 Don't get me wrong. I love what I do, and find probably too much satisfaction in laying and twisting out a piece of baker's twine on my white board, but it's definitely a process. In case you're looking to up your own styling or photography game (whether for your own blog, or even just your Instagram feed), I'm taking you through my 6-part thought process for getting from Point A to Point B for a DIY I recently shot—full project tutorial coming soon, by the way.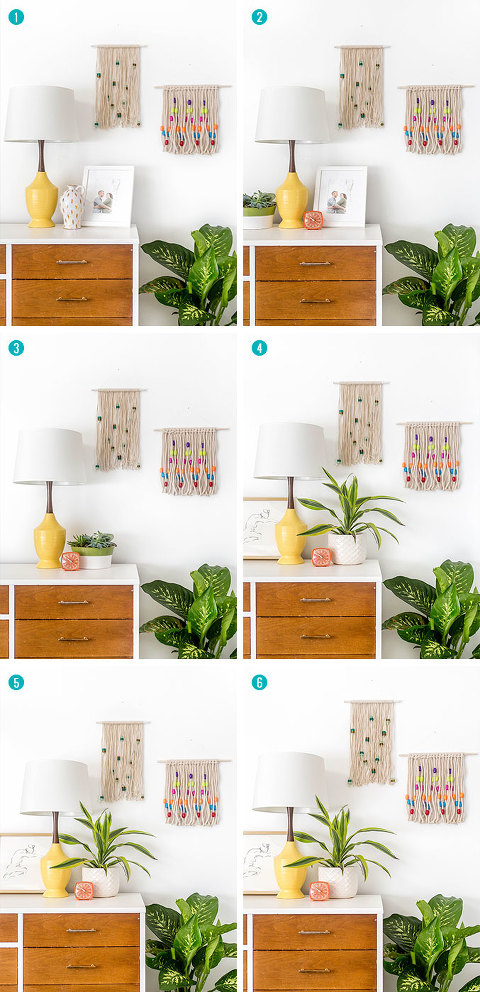 Image 1
Although I liked the correlation between the three pieces on the console table (the lamp, the jug, and the picture frame), there just wasn't enough color in the vignette to complement the wall hangings. Boring!
Image 2
Situating a low pot of succulents off to the left of the console surface helped add some much-needed color. The succulents also specifically played off of the greenery in the lower righthand corner, allowing the two greens to sort of play off each other and bookend the photo. It was definitely starting to feel nice and balanced, but I still didn't love it.
Image 3
Next, I removed the picture frame and jug, thinking that maybe the vignette was getting too busy and that it was starting to encroach too much on the wall hangings. Alas, the dish of succulents was just too low, and there was too much space between the vignette and wall art. It felt disjointed.
Image 4
So, I switched out the low plant for a taller, leafier one, and also added in a neutral framed line drawing off to the left. Cutting the art out of frame makes the image feel more natural and organic, like I just peeked around the corner with my camera rather than spending 20 minutes tweaking every last detail for a single shot (I'm making fun of myself here in case that's not clear).
Image 5
The objects now felt spot on, but a little too spread out. I scootched the floor plant closer to the console table and the leafy potted plant closer to the lamp. Again, this helped make everything feel more organic.
Image 6
To finish everything off, I moved the lefthand wall hanging a little higher and to the right so that it felt cozier with the righthand hanging. I also pulled the strands with beads to the forefront to show off that detail.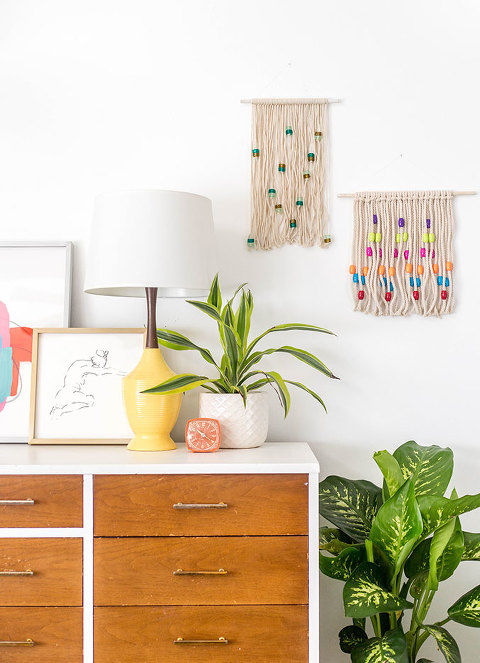 All done! I know it seems like a lot to get the shot, but when you're trying to show off a project or area in your house, you have to put in a little bit of effort to get it just right. If I had used "Image 1" as my lead photo for this project, it just wouldn't have had the same wow factor that the final tweaked image does.
Are you a blogger guilty of spending too long styling your images to a "T"? Or maybe you're just Instagram-obsessed and work extra hard to show off your cup of coffee, office desktop, or living room artwork? Whatever the case, you won't find judgement here. I hope you found this helpful in some way—let me know in the comments if you'd like to see more stories and progress animations like this one!