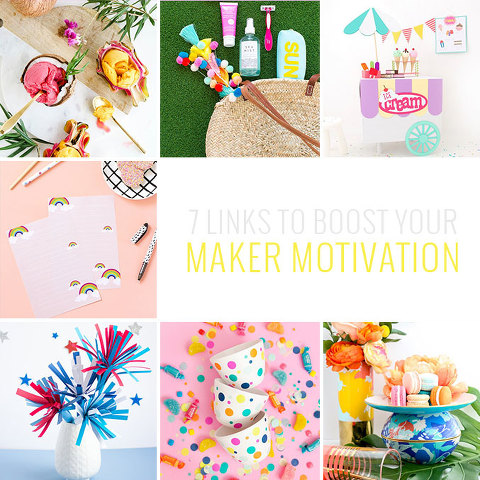 Thank God it's Friday—am I right?! This week sort of sped by for me, which I'm kind of okay with because it won't be long now before I'm shutting down my email and tipping back a hearty glass of Sauvignon Blanc. I'm actually headed out for a fun girl's day with my in-laws tomorrow, and am looking forward to some quality family time spent shopping and catching up over lunch out.
What's on your to-do list this weekend? After visiting with family, I've got a mini date with our garden and electric trimmer, but I might also crack open a few craft supplies on Sunday if I'm feeling extra adventurous. One of these seven cool craft projects and printables below could be fun to try my hand at if I can squeeze the time in! Which do you have your eye on?
7 DIY Links To Boost Your Maker Motivation
Assorted Fruit Bowls For Frozen Treats, via PROPER
DIY Pom Pom Tassel Circle Pool Bag, via Sugar & Cloth
DIY Cardboard Box Ice Cream Cart

, via Damask Love

Printable Rainbow Letter Paper, via Make and Tell
DIY Paper Fireworks Centerpiece

, via Design Improvised

DIY Confetti Candy Bowls, via Tell Love And Party
DIY Patterned Orb Vases and Cake Plates

, via A Kailo Chic Life
And in case you missed some of the fun content that went live right here on DGD, click back to see the DIY Iron-On Fourth Of July 1776 Baseball T-shirt that John and I made, a quick tutorial I put together for eHow about how to make your own DIY Printable Art Canvases, my Rose Quartz-Inspired Office Makeover Reveal on Glitter Guide and Better Homes and Gardens, and my 6-part breakdown of the Anatomy Of A Styled Interior Design Photo. Got a fun link of your own to share? Drop it in the comments!
Get daily maker inspiration on Pinterest