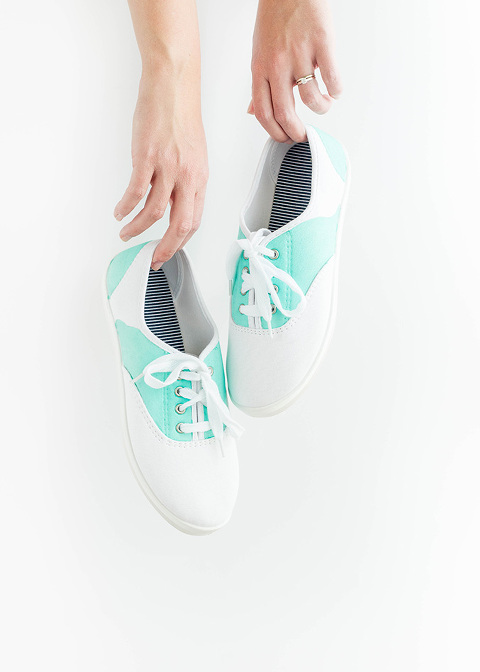 It's time for a brand new painted shoe makeover! I love putting these projects together because the sky really is the limit in terms of the colors and patterns you can create, plus the craft couldn't be more affordable. I always purchase my plain white sneakers from Walmart for about $6, and use paint that I have on hand, so the craft is cheap as can be—my favorite kind of project! Read on to see how to make your own version of my minty fresh DIY saddle shoes.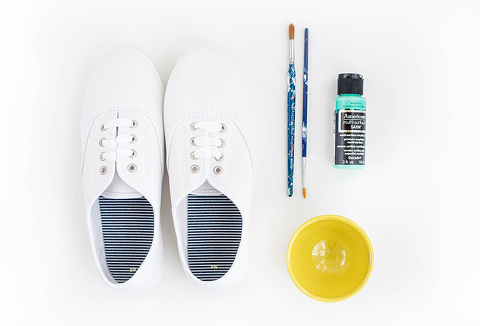 White canvas sneakers
Paint brushes, large and small
Dish for paint
Acrylic paint in your single color of choice
Shake your acrylic paint and then squeeze a hearty dollop of the pigment into a dish or bowl (you'll need more paint than you think!). Then, load up your large round bristle brush with paint and paint the big side panels and the backs of your canvas shoes. If you need some inspiration or a reminder of what the colored sections of saddle shoes look like, just Google them!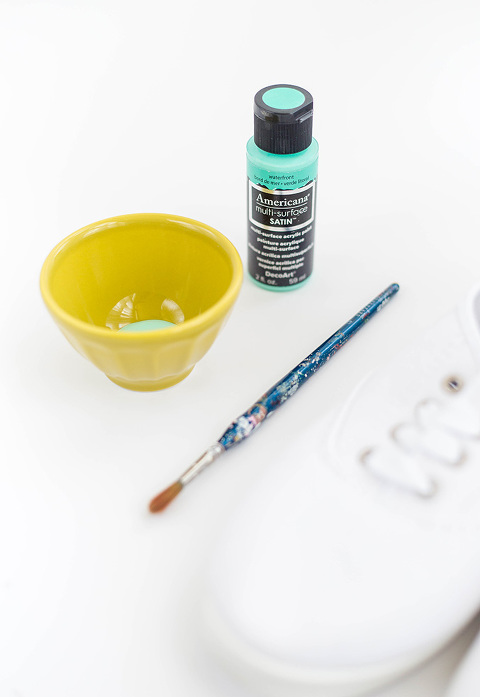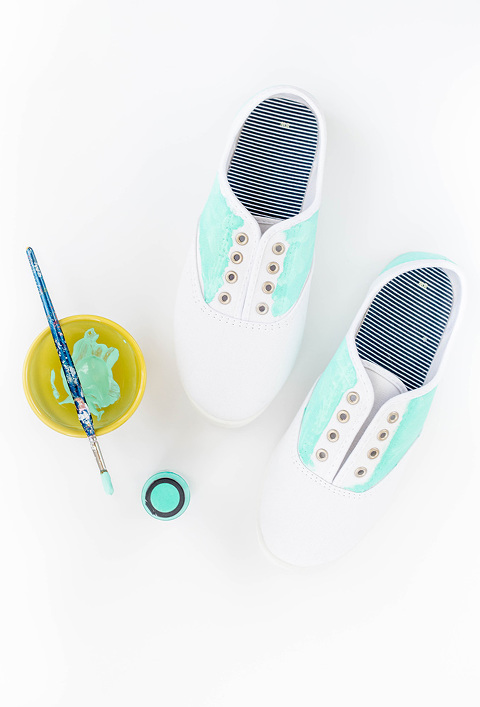 Avoid painting right up to the edge of the seams and metal shoe lace grommets if your brush is too large to get an even line. For those details, use a smaller round detail paintbrush. In the end, you can either spend 10 minutes using the detail brush to carefully paint around the silver lace grommets, or you can paint over them and spend 10 minutes scraping the paint off the metal with your finger nail. I actually did the latter, and they came out perfectly.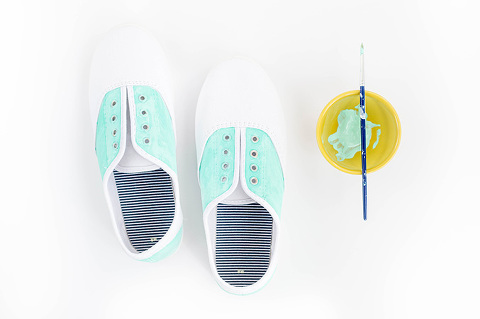 Allow the paint from the first coat to dry for 30 minutes, and then go back over the painted sections with a second and third coat if needed with another 30 minutes of drying time in between. Finally, allow the paint to cure for 2-3 hours and add your shoe laces back through the grommets. You're done!
If mint isn't your jam, the good news is that you can paint your DIY saddle shoes any color you want. Wouldn't they be just darling in pink, yellow, or lavender? I'm officially addicted, and think these are the perfect summer shoes to wear with a T-shirt and shorts or a sundress.