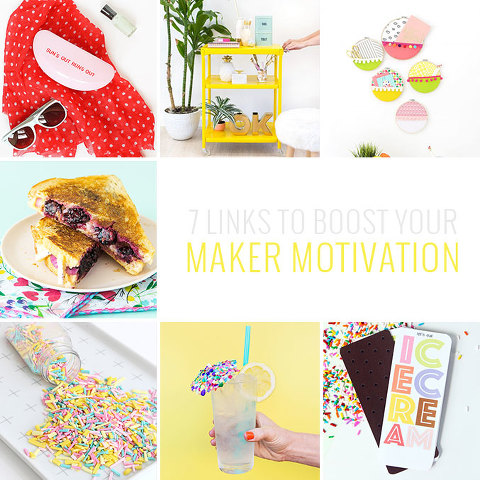 Today is a particularly thrilling Friday because it means that tomorrow is the kick off of Galaxie Modern's big warehouse sale! We are making the 1.5 hour trek back home to Lynchburg, Virginia, bright and early tomorrow morning in the hopes that we can snag some new mid-century furniture, art, and accessories for our home. Do we particularly need any more furniture? Nope! But I couldn't possibly skip the event after the owners promised that housewares will be starting at $1. If you're in the area, I hesitate to encourage you to go only because I'm afraid you'll scoop up all the good stuff—but, really, you should definitely go. Maybe I'll see you there!
In case you're looking to save rather than spend your pennies on new things, here are seven crafts that encourage you to put your creativity to use right in your own home. Which would you try first? I'm kind of all about those fun drink umbrellas.
7 DIY Links To Boost Your Maker Motivation
And in case you missed some of the fun content that went live right here on DGD, click back to see DIY Bohemian Beaded Knots Wall Hanging, a quick Book Review of Habitat by Lauren Liess, and my new DIY Mint & White Painted Saddle Shoes. Got a fun link of your own to share? Drop it in the comments!
Get daily maker inspiration on Pinterest