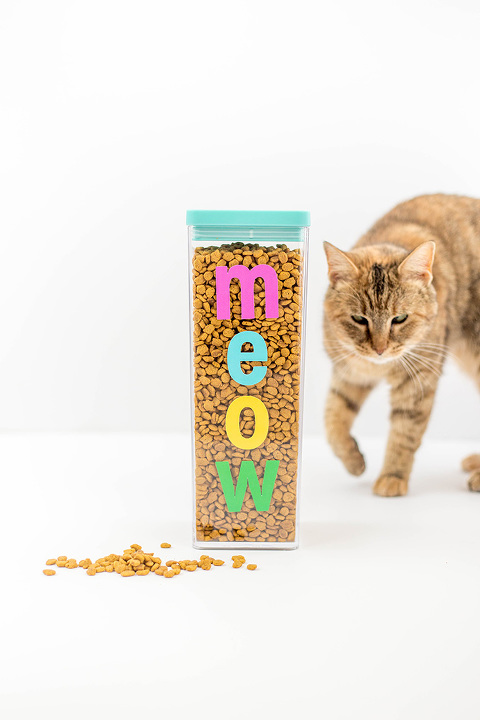 Welcome to the Purina® Cat Chow® "Nutrition to Build Better Lives" Virtual Party! If you're popping over to Dream Green DIY care of the other blogs in the campaign (full list of links are at the end of the post!) then an extra special welcome to you.
In case you didn't know, I'm a certifiable cat lady having three felines to my name (and a hound dog who's so influenced by his sisters that he might as well be a cat). I just recently found out that my hubby prefers to lie when asked about his furry brood, admitting only to two of the three cats, but I don't mind shouting it from the rooftops because our trio of cats bring more joy to our lives then just about anything else. I'm sure my fellow Cat Ladies (and Cat Men) can relate—am I right?!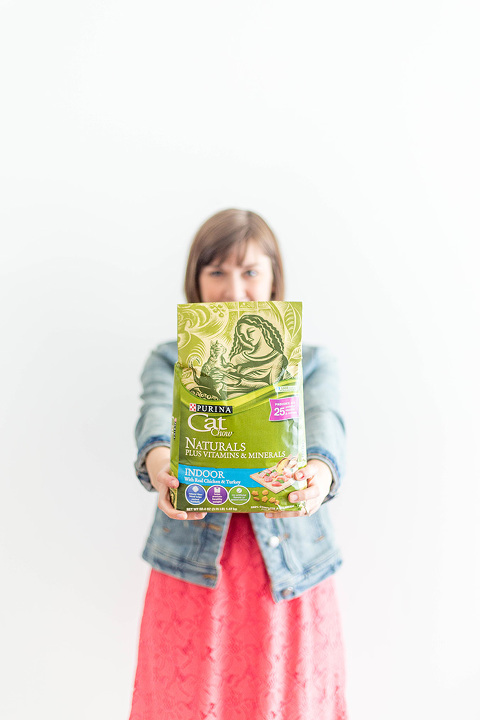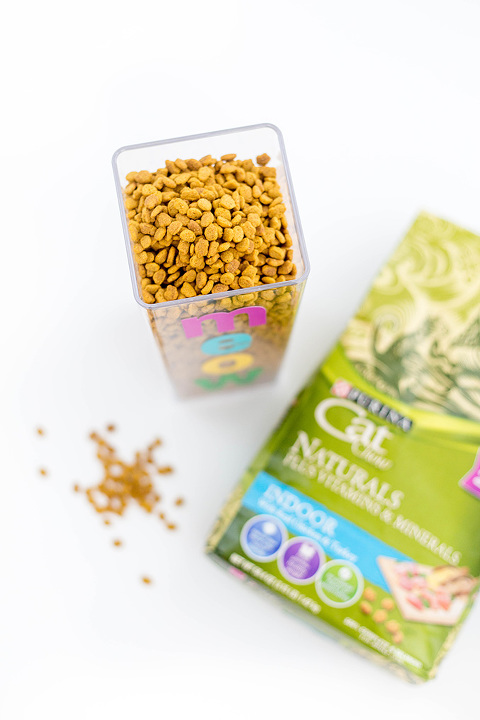 Anyway, I'm so excited to be partnering with a whole slew of crafty, clever bloggers and the folks behind Purina today to celebrate the brand's "Nutrition to Build Better Lives" program. Throughout the month of July, each purchase of Purina® Cat Chow® brand cat food will go right towards Purina's promise to deliver much-needed nourishment to animal welfare organizations across the nation. Healthy, well-fed kitties equals more adoptions, so let's work together to add to those sweet adoption stories!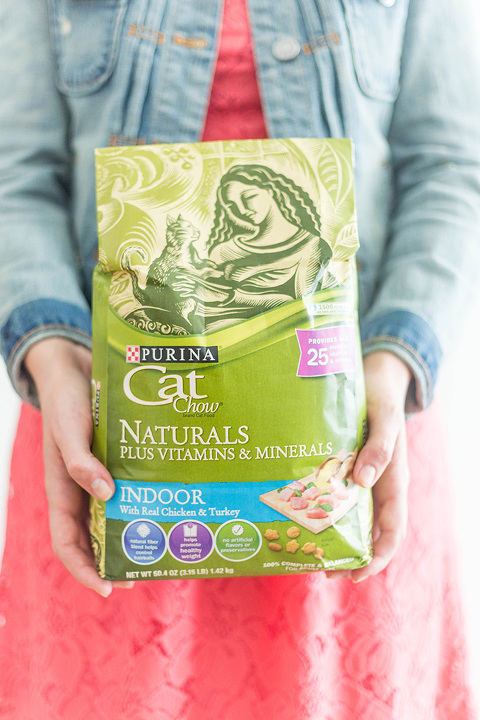 To help support Purina's initiative, I'm kicking off a virtual party alongside 22 other bloggers to encourage you to help us go "meal for meal." We're working towards a collective five million meal donation goal, and you can help simply by purchasing any size bag of Purina Cat Chow now through July 31—when you do, a meal will be donated to a shelter cat in need.
And since I know a lot of you are color-loving, tidiness-obsessed freaks like me, I put together a simple DIY Colorful "Meow" Cat Food Container to help add a little creativity to your cat's meal time. Details on how to make your own are below.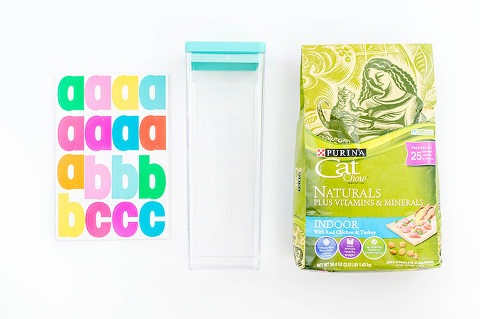 Air-tight plastic or glass container (mine came from Target)
Oversized alphabet stickers (mine came from Michael's)
Truth be told, this can hardly be called a DIY tutorial since it's done in about three seconds, but you know I'm nothing if not long-winded! Start by washing your container inside and out with warm soapy water, and then dry it completely with a towel or microfiber cloth.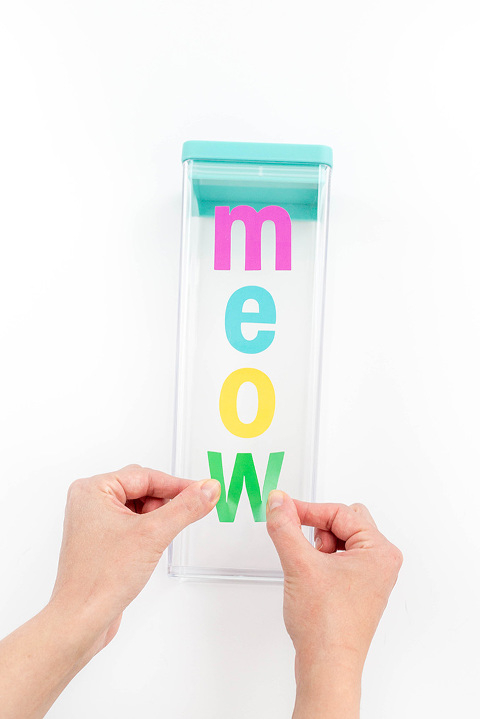 Next, lay your container on a flat surface and peel off your letter stickers, placing them one by one on the side of the container. Feel free to measure and mark your letter locations to ensure a perfectly even finish, but I just eye-balled it. Press firmly along the sticker edges with your fingertips, and you're done.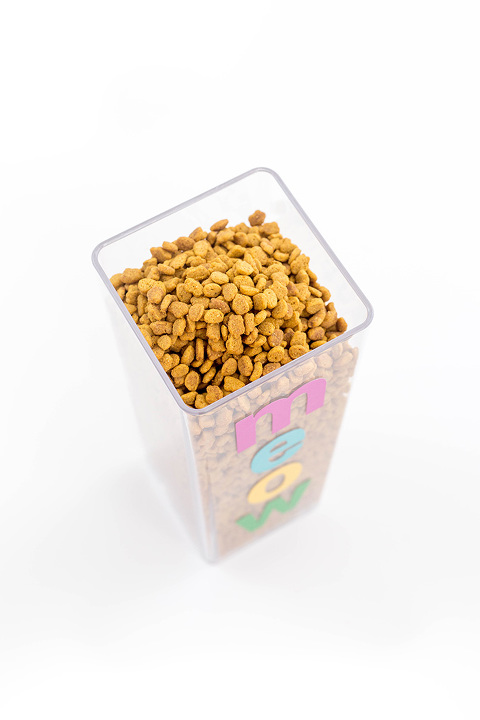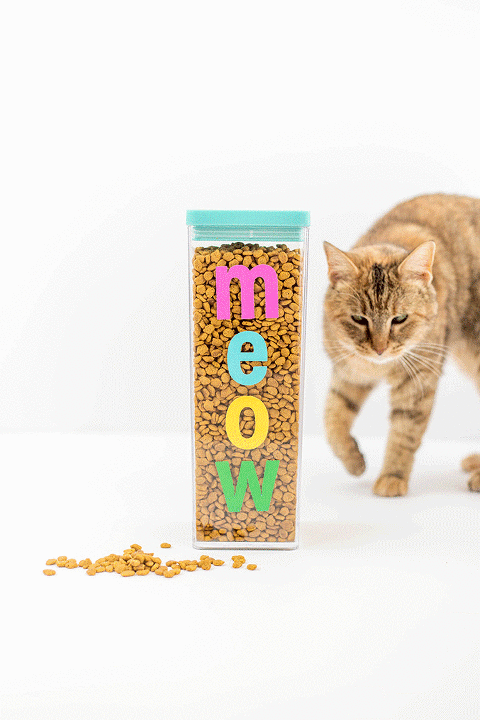 Suffice it to say, our cross-eyed kitty Tonks is a big, big fan of Purina® Cat Chow®. This was her first time trying the Naturals Cat Chow (she and her siblings usually eat a different kind of Purina cat food) and it was a hit. Did you know that we adopted Tonks almost exclusively because of her unusual eyes? It was probably a silly spontaneous decision to make three years ago, but I couldn't be more thankful that we went with our gut—she is such a priceless addition to the family, as are our other cats, Luna and Ginny, and our dog, Rocky, too.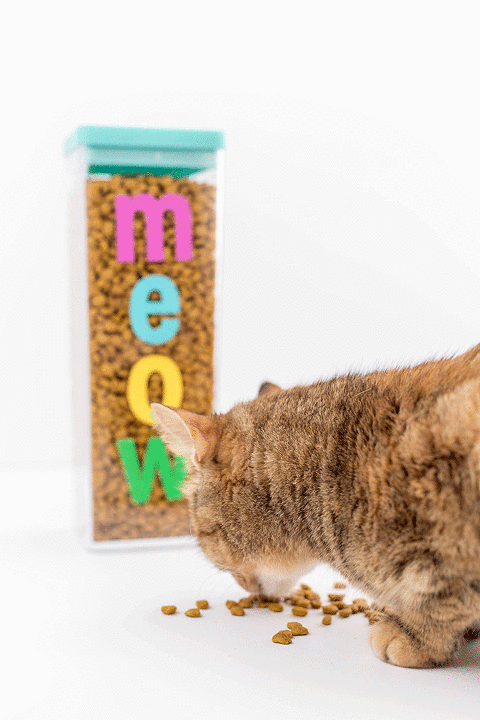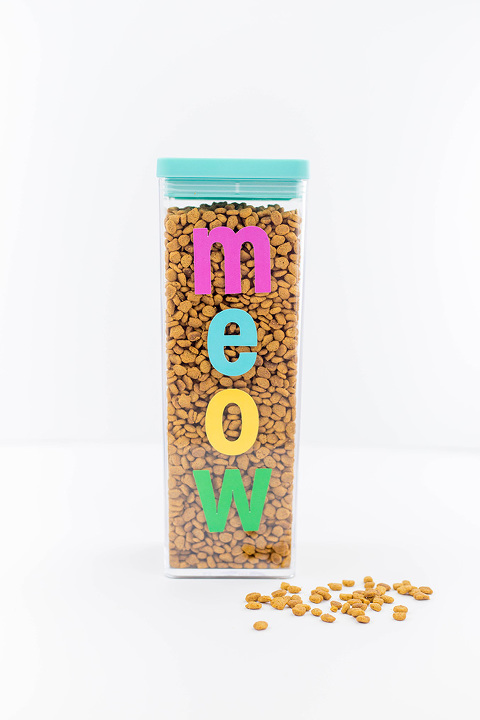 So, let's recap. Since 2013, Purina has donated more than $845,000 in renovations, food, and supplies to shelters, and now we can do our part to help raise that goal up into the millions. Raise your hand (err, paw) if you're with us! Now hop along to the other 22 blogs in the campaign to see how we're celebrating the occasion together as creative cat lovers.
Chelsea and Nate Day, Someday I'll Learn // Jennifer Soltys, Sweep Tight // Joanna Hawley, Jojotastic // Liz Lathem, Hoosier Homemade // Michelle Sybert, Be Brave Keep Going // Melissa Dell, melissadell.com // Alice Chase, Thrill of the Chases // Desiree Eaglin, The Funny Mom Blog // Teresa Foskey, Making it all Work // Jen Rattie, My Crafty Life // Shauna Torres, Adventures of 8 // Amy Desrosiers, Saavy Saving Couple // Dawn Lopez, Home Making Hacks // Liz Mays, Eat Move Make // Marlene Sauer, Idle Hands Awake // Lindsay Ponta, Shrimp Salad Circus // Kelly Beall, Design Crush // Cate O'Malley, Sweet Nicks // Lesley Clavijo, Chaotically Creative // Connie Hughes, Smockity Frocks // Elise Laney, Polka Dotted Blue Jay // Madeline Merschen, Ellis and Page