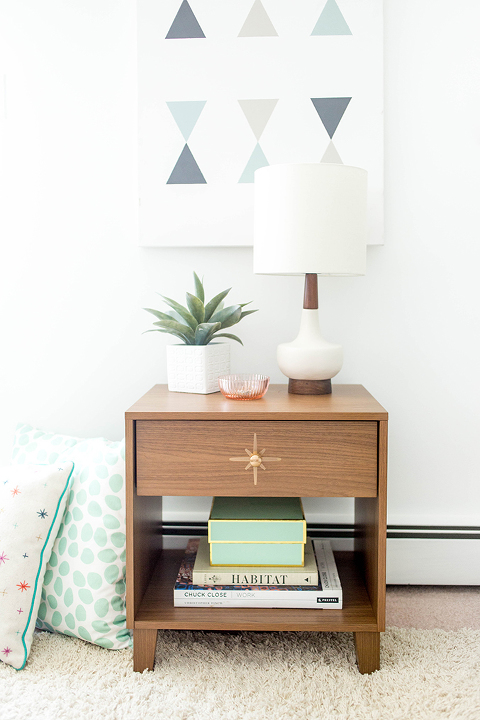 As a lover of all things mid-century, hunting for antiques has become something of a weekly pastime. I'm constantly touring the local thrift stores here in town (and in surrounding cities, too) in search of new pieces to add to our collection, but our meager budget has often thrown a kink in my best laid plans. Turns out that original 1950s and '60s furniture and accessories often sport pretty pricey tags, but I've managed to unearth a few killer deals. Yet there have been times when I've come up empty-handed on a hunt for something in particular.
The good news is that I don't let those rare occasions get me down. Instead, I try to brainstorm ways to get the look of the mid-century antiques that I envision for a lot less using ready-made pieces from Big Box stores. Case in point, the nightstand with a DIY Painted Mid-Century Drawer Pull Starburst that I made for eHow.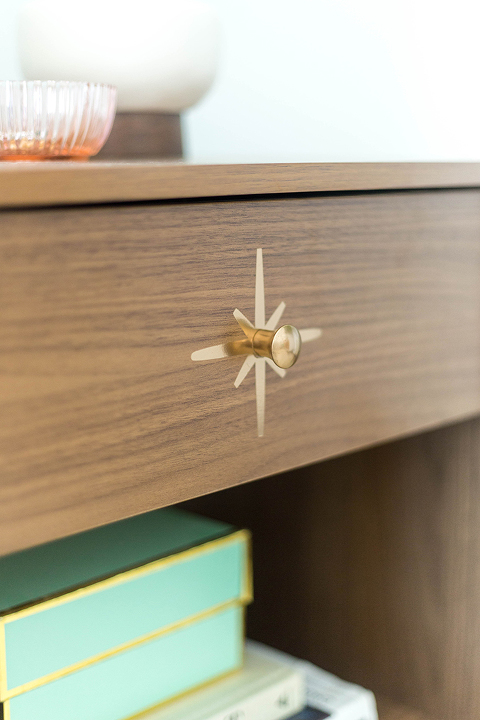 This little table started out as a $50 score from Target, but was quickly, easily, and cheaply transformed at home using paint and a stencil that I ordered from Etsy at a store called MyWallStencils. If you love the finished look as much I do, then hop through to eHow now where I'll show you how to embellish your own table with a DIY Painted Starburst.
And since I haven't mentioned it lately, I want to thank you guys for consistently popping over to the websites that I write for to see this extension of Dream Green DIY content! Without these creative writing and crafting gigs, I would never be able to offer so many ideas and projects here on dreamgreendiy.com, so thank you from the bottom of my heart for supporting the editors and sponsors who cheer me and my visions on—you guys rock!