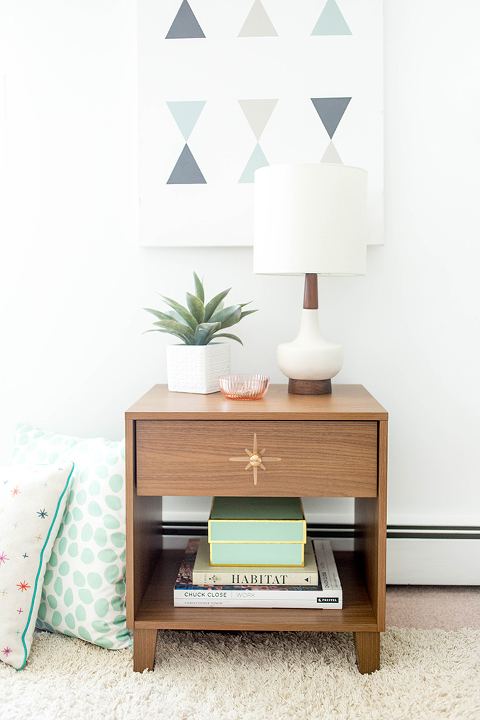 As a lover of all things mid-century, hunting for antiques has become something of a weekly pastime. I'm constantly touring the local thrift stores here in town (and in surrounding cities, too) in search of new pieces to add to our collection, but our meager budget has often thrown a kink in my best laid plans. Turns out that original 1950s and '60s furniture and accessories often sport pretty pricey tags!
The good news is that I don't let that fact get me down. Instead, I try to brainstorm ways to get the look of the mid-century antiques that I envision for a lot less using ready-made pieces from Big Box stores. Case in point, the nightstand I just recently upgraded with a DIY Painted Mid-Century Drawer Pull Starburst. Keep scrolling for the full how-to!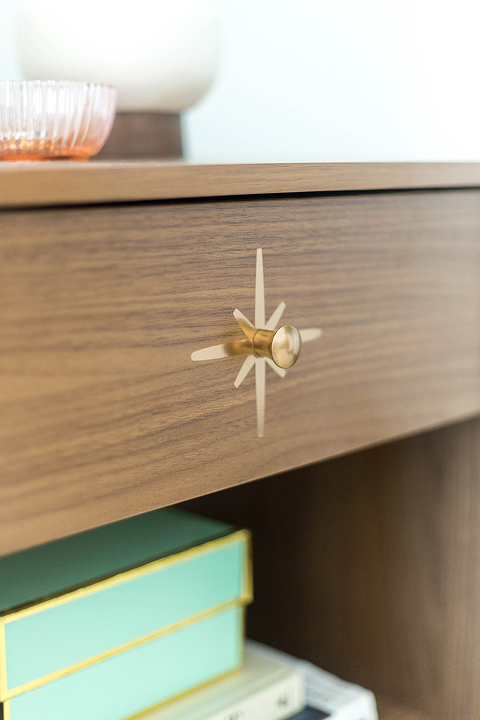 Here's What You'll Need:
Starburst stencil (the one used in this project came from Etsy)
Dresser or nightstand with drawers
Stencil adhesive spray
Painter's tape
Scrap cardboard or paper
Spray paint in your color of choice
Drawer pull
Choose a Plain Side Table or Dresser with Drawers
Start by choosing or purchasing a plain side table or dresser, making sure that the piece has at least one drawer for this project. You'll also need to ensure that the drawers can accommodate the height and width of your stencil, so keep the stencil handy as you source your furniture piece.
Place the Starburst Stencil on the Drawer Front
Remove your drawer or, if possible, detach the drawer front entirely from the piece of furniture. Lay the drawer or detached drawer front on a flat surface, and remove the drawer pull hardware. Take the stencil outside to a well-ventilated area, and spray the back of the stencil with a thin and even coat of stencil adhesive spray. Bring it back inside and center the stencil around the drawer pull hole. Press into place with your fingertips.
Mask the Rest of the Drawer
Use delicate surface painter's tape to mask off the rest of the drawer front and sides. Press all tape edges firmly down with your fingertips.
Apply Spray Paint Over the Stencil
Take the drawer or detached drawer front outside to a well-ventilated area, and lay it on a piece of scrap cardboard or paper. Spray 2-3 thin and even coats of paint in your color of choice over the stencil, avoiding the other masked-off areas of the drawer front. If needed, use this opportunity to spray the drawer pull to match.
Reattach the Drawer Hardware
Gently remove the used masking tape and stencil immediately after spraying on your final coat of paint. By removing the masking materials soon after painting, you ensure that the paint won't stick to and come off with the stencil. Allow the paint to dry for 24 hours before handing the drawer or detached drawer front and drawer pull, and then screw the drawer pull back into place to finish!
Can you believe that this little table started out as a $50 score from Target? I really appreciate how quickly, easily, and cheaply I was able to transform it at home using paint and this stencil from Etsy. If you love the finished look as much I do, then let me know in the comments! I hope you'll try this one out and send along photos of the finished results in your own home so I can see how it turns out.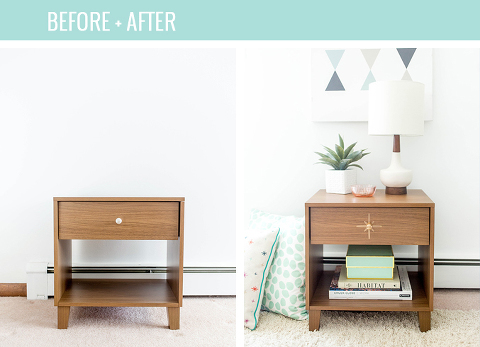 *I earn a small percentage from purchases made using the affiliate links above. Affiliate links are not sponsored. Rest assured that I never recommend products we wouldn't use or don't already love ourselves.