Now, I'm certainly no expert when it comes to interior design, but what I lack in training or education, I clearly make up for with enthusiasm. I'm obsessed with reworking, rearranging, and restyling rooms in our house, to the point that you could walk in tomorrow and it would look different than it did on Monday. Over the years, I've honed in on my own personal style as well as our style together as a couple, and although it has taken more than a little trial and error to get things just right, I feel pretty confident in my methods of attack when it comes to designing a cohesive, comfortable space.
As I work to rethink a few key elements in our sunroom (thanks to a certain bodacious boho pillow that I recently received), I thought I'd offer a handful of details that I always take into consideration as I work to bring a design together from start to finish. My five steps are below!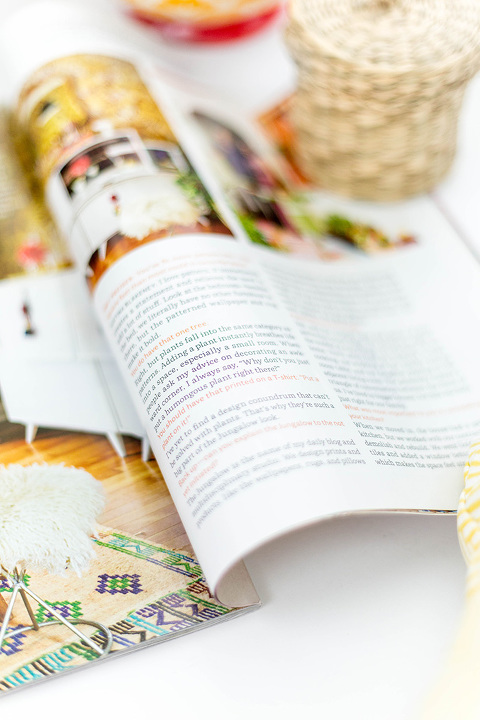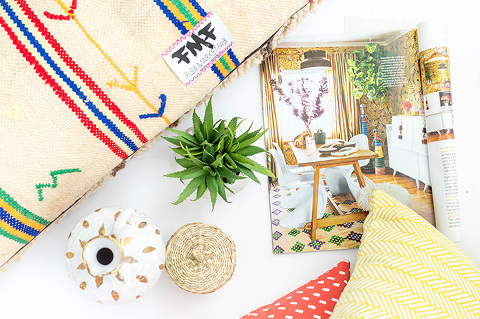 1. Pick Your Primary Inspiration
The major motivation in this mini sunroom makeover all started with a gorgeous handmade pillow from FleaMarketFab, as well as Justina Blakeney's home tour in the latest issue of House Beautiful. The largely primary color palette and two-toned texture of the pillow and Justina's maximalist oasis both sparked the spontaneous need to redecorate, and ultimately inspired an entire room refresh. Whether you start with a piece of art, a rug, or even just a paint chip, it's easiest to have a singular starting point before diving into a full room redesign.
2. Choose Your Colors
Although this tends to be the step that generally overwhelms all of us the quickest, it's really pretty simple if you've crossed item number one off your list. Instead of immediately panicking over what colors to choose, just take a look at your primary inspiration piece and pull colors directly from it. It's an easy suggestion but one that we all tend to overthink—and I am most definitely including myself in that collective "we"!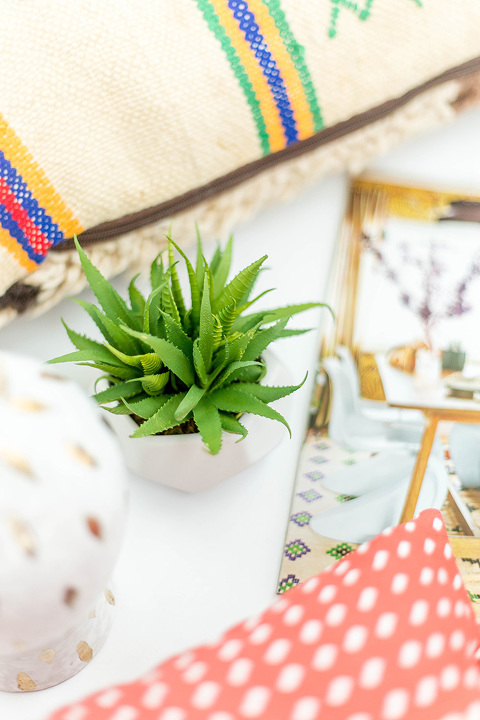 3. Brainstorm For Basics
With your main focal inspiration piece and color palette chosen, slowly start to branch out into the basics needed to pull the space together. You might need a whole new suite of furniture if a cool desk sparked a guest-room-turned-office makeover, or you might just need a few pillows in a new color scheme and lighting from UFO high bay lighting models such as ones from Modern Place to establish a fresh direction. Whatever the case, make a list of the items you'll need to start pulling the room together, and then hit the antique mall or interwebs to build your collection piece by basic piece.
TIP: I love to photograph my inspiration items all together on a white foam core board (like you see in this post) so that, when I'm out at the flea market or a thrift store, I can pull the photo up on my phone to make sure my purchases all fall in line with my makeshift mood board.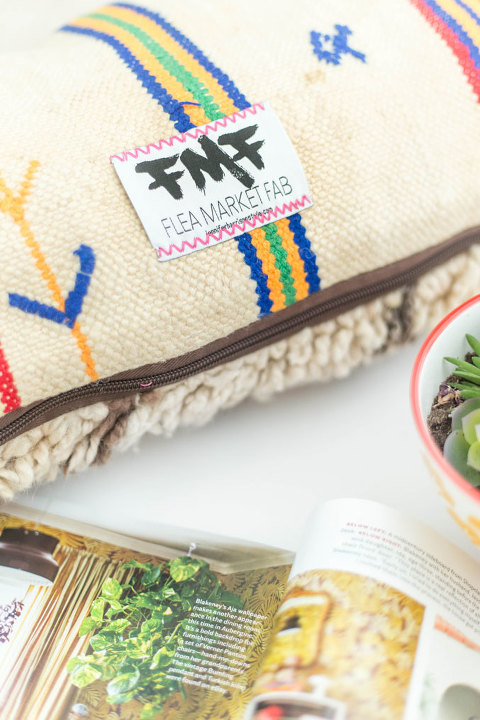 4. Play With Patterns
Pattern pairing is one of the trickier steps I've found, but nonetheless a key element to any room makeover. The idea is to pull together three patterns in a similar color palette, but in varying sizes. For example, my pillow sports a pretty spaced out, medium sized pattern, so I chose accent pillows with tiny repeating patterns to complement the main lumbar pillow's design. The rug (not pictured, but you can see it in Phase One of our sunroom makeover) sports the biggest pattern of all, grounding the space.
TIP: Not sure you can spot large, medium, and small patterns on your own? Try thinking of it like this: the size of standard printer paper (8.5×11 inches) can be used to differentiate a large pattern, a 4×6 photo is roughly the size of a medium pattern, and a quarter can often help you spot a small pattern.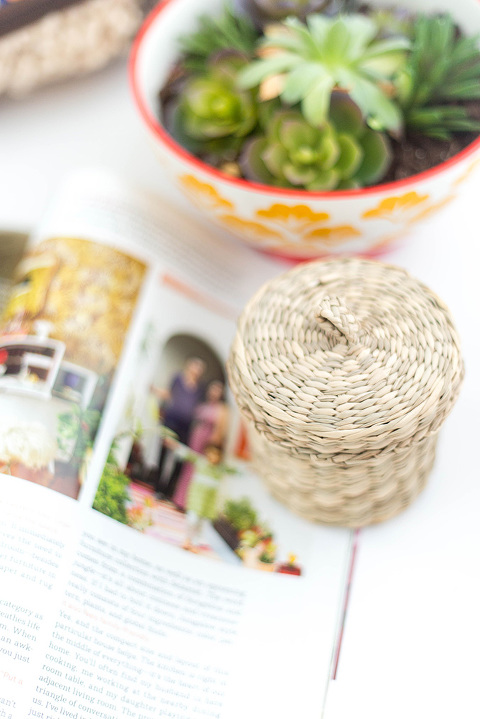 5. Finish With Functionality
Finally, no room is complete without functionality. Since our sunroom also acts as an entryway and mudroom of sorts, I made sure to factor in storage pieces that matched the earthy boho tone of the room makeover, including lots of baskets and wood furniture with drawers. Don't skip this important step because if your room makeover lacks functionality, it's not going to be a feasible change for you and your family. That said, functionality can still be beautiful, so keep you textures, colors, and patterns in mind as you shop around for the perfect pieces to bring fabulous, picture-perfect form to your made-over room.
Got any room makeover tips of your own? I'm always looking for help and insight from the pros, so please feel free to leave your ideas and processes in the comments!