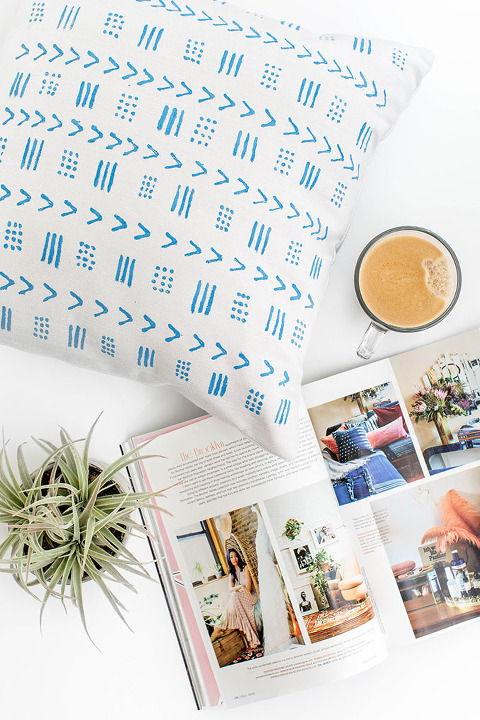 One of my favorite things about paint as a craft supply is just how many different looks, patterns, and finishes you can achieve. Practically no paint color or application looks the same between houses, and that's especially so when using Chalk Paint® by Annie Sloan. Today, I'm pleased as punch to be partnering with UNFOLDED—the exclusive distributor of Annie Sloan products in the United States, Canada, Australia, and New Zealand—to show an out-of-the-box (or should I say, "can"?!) way to rethink Chalk Paint®.
As a crafter, you probably know that this type of paint can be applied to surfaces like walls, wood, floors, concrete, brick, and metal, but did you know that you can also use it on upholstery and fabric? I tested out the theory by creating a DIY indoor/outdoor mud cloth-inspired pillow using their brand new Giverny color. Read on for the simple how-to!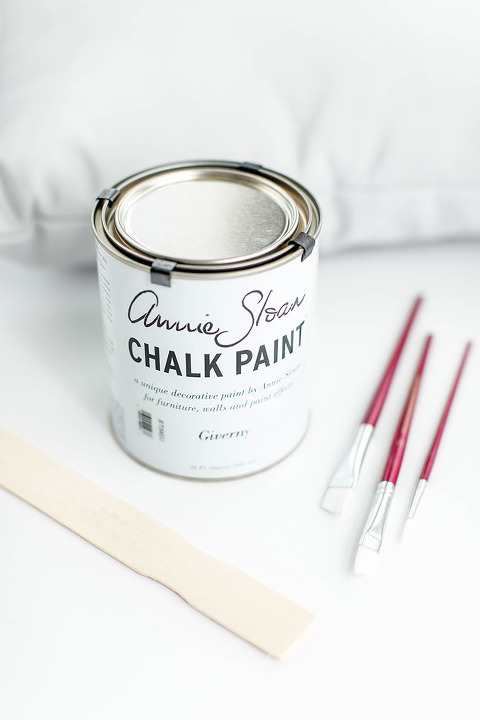 Chalk Paint® by Annie Sloan in Giverny (Click here to find a Stockist)
Wooden stir stick
Light solid-colored indoor/outdoor accent pillow
Small round detail paint brush
Medium angled paint brush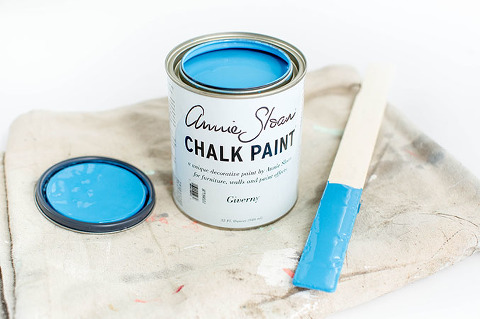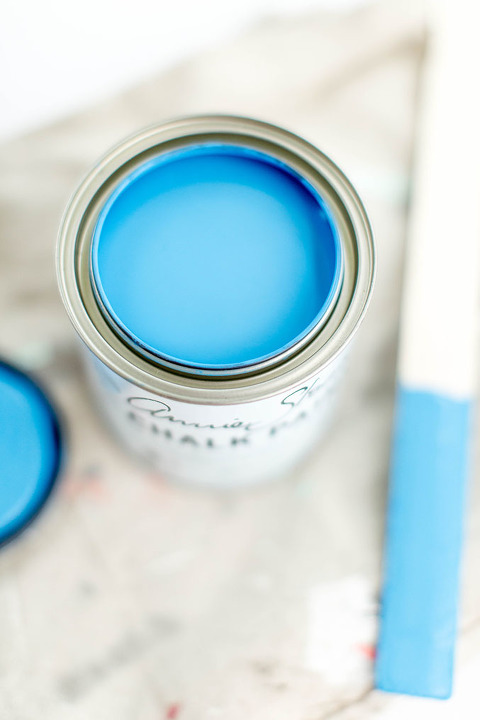 Step One
First, tip your can of Chalk Paint® upside down and shake well to incorporate the pigments. Then, open the can and mix the paint using a standard wooden stir stick. If it seems too thick, try pouring a bit of the paint into a bowl, add a little water, and then stir the paint once more.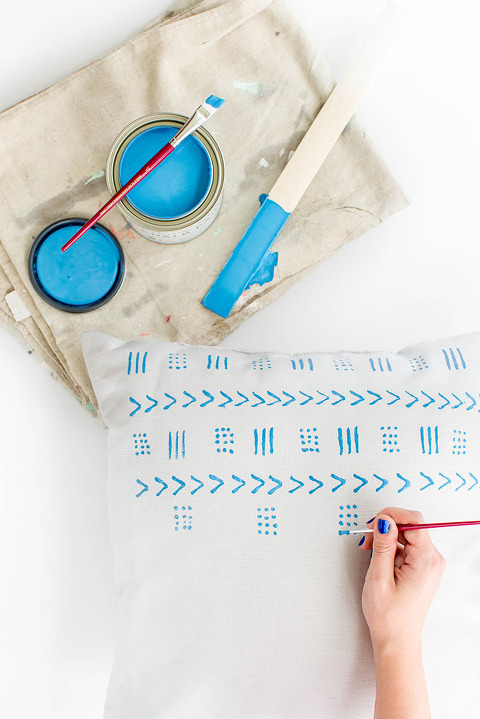 Step Two
Feel free to use a plastic paint tray if you prefer, but I just dipped my paint brushes right into the stirred can of Chalk Paint®. I started my mud cloth-inspired design by using the small round detail paint brush to paint on three lines, about one inch in length, one right after the other. Then, I scooted my wrist and brush over about one inch, and painted 12 tiny dots of color in a 3-by-4 formation. I repeated the design, alternating each time, across the top row of the pillow.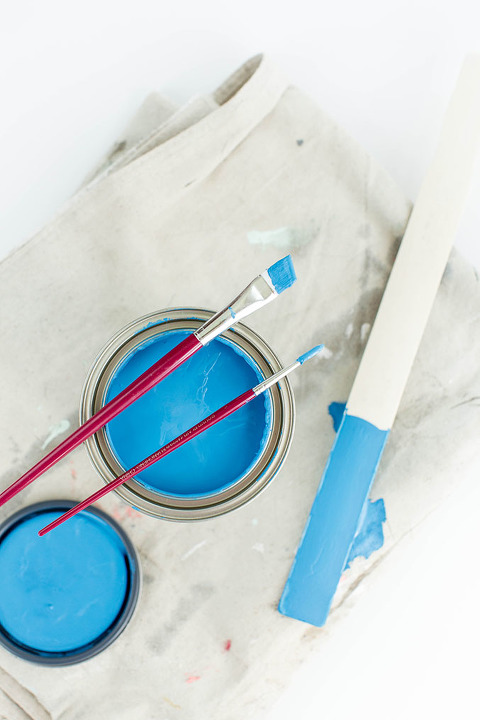 Step Four
For the second row, I chose to incorporate the tell-tale "V" shape that mud cloth pillows seem to be known for. Rather than painting the two angular connected lines using the round detail brush though, I grabbed my medium angled brush and dabbed two slanted lines of color right onto the pillow to create my sideways "V" shape. Next, I added a repeat of the shape one inch over and continued in the same fashion all the way across the pillow, redipping my brush in the paint every few shapes.
Note that perfection isn't necessary since the real-deal dying and mud painting process is, itself, varied in finish. If you're curious, you can learn more about the history behind this type of textile design on Design*Sponge!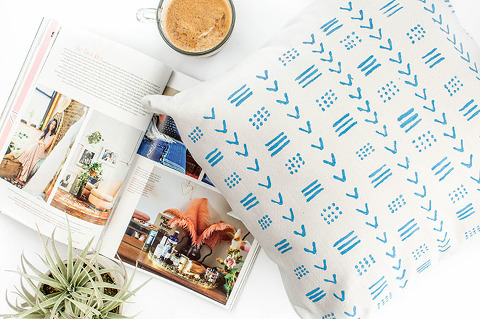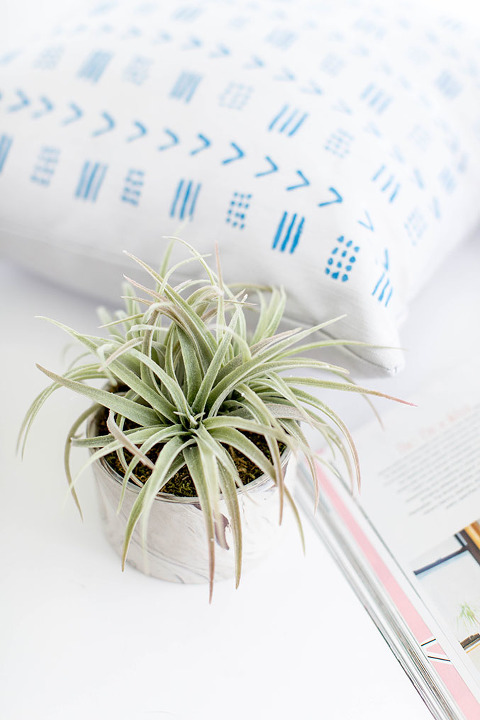 Step Five
To finish, I repeated the two distinct patterned rows over the entire pillow. You may have noticed that I alternated the starting design of each dots-and-lines row. In other words, if I started with three lines in the previous row, I switched things up and started with the 12 dots in the next row. This helped add a bit of assymetrical variety to the overall design. Once your Chalk Paint® design is complete, allow the pillow to dry for two hours before handling.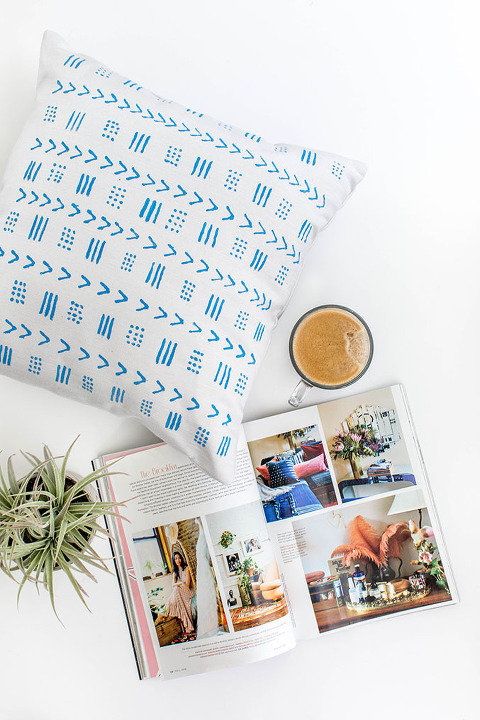 I love that the pattern on your own mud cloth pillow can be mixed and matched to suit your specific aesthetic. Just Google "mud cloth pillow" to find a huge range of easy-to-replicate designs.
The other great news is that your can of Giverny Chalk Paint® from UNFOLDED will likely last through hundreds of DIY pillow applications. Or you could try refinishing your dresser or TV cabinet in the leftover paint so that it's an exact match to your set of DIY mud cloth pillows. The options are practically endless! What will you try first?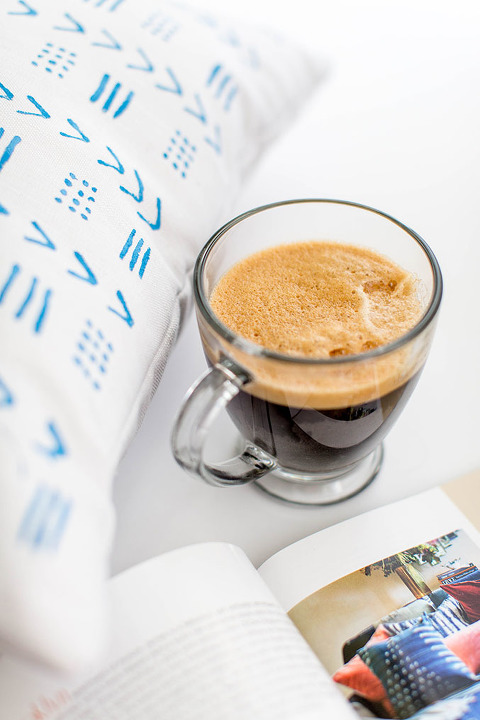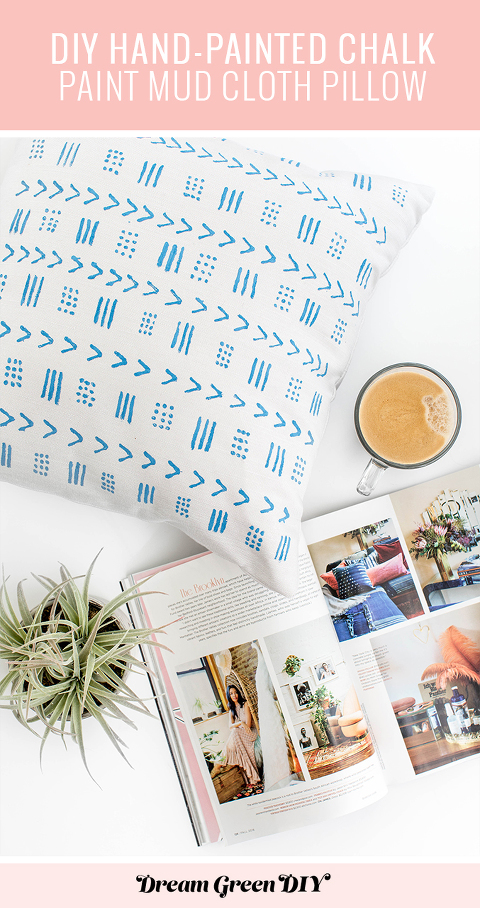 All Annie Sloan products are available for purchase through Annie Sloan Stockists. Stockists in UNFOLDED's territories can be found via the Find a Stockist page on their website. Feel free to send specific questions to the team at info@unfolded.com!
P.S. In case you missed it over the weekend, I shared a special Saturday post detailing my night-in version of the infamous Studio DIY strawberry costume. Check it out here!