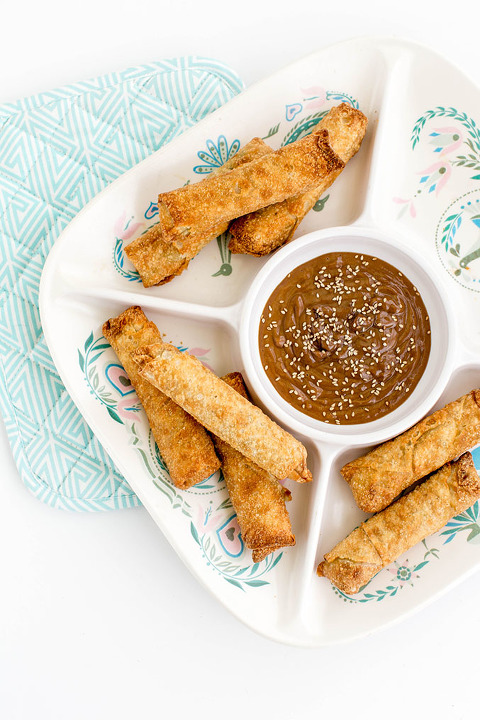 Now, I know the following statement might be a little controversial given all of those who suffer from peanut allergies, but there's just no denying that I am positively infatuated with anything peanut flavored in the kitchen. So, when John and I discovered how simple it was to create a tasty peanut sauce for our favorite Asian dishes, you better believe it was added to our meal planning regimen on a near-weekly basis.
To mix things up a bit so as not to overdo this savory combination of flavors, I thought I'd try my hand at making a slightly thicker version of the sauce to go with some chicken spring rolls for a quick and simple lunch. The good news is that this recipe (which can be made a thousand and one ways—just trying Googling it!) uses mostly pantry staples, so it can be a spur-of-the-moment meal practically any time you crave it. Full disclosure that I've "craved" today's Spring Roll Peanut Dipping Sauce recipe about five times since I made it a few weeks ago—it's that easy and tasty! Get the details below.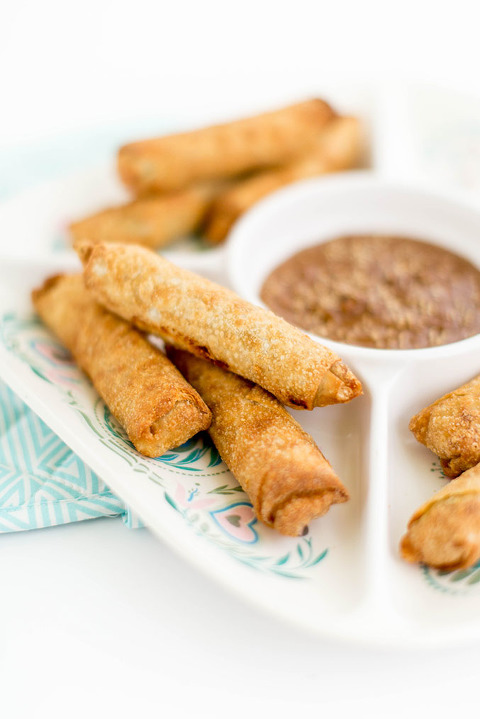 Spring Roll Peanut Dipping Sauce
Ingredients:
½ cup creamy peanut butter
1 tbsp. hoisin sauce
2 tsp. reduced sodium soy sauce
1 clove garlic, minced
½ teaspoon ground ginger
1 tsp. Sriracha sauce
1-2 tbsp. warm water, as needed
¼ teaspoon red pepper flakes
Crushed peanuts or sesame seeds, for garnish
Directions:
Add everything except the water, red pepper flakes, and garnishes to a medium bowl. Whisk until smooth.
Add 1 tablespoon of warm water to the mixture at a time, and whisk to combine until you reach the desired thickness.
Pour the finished dip into a serving bowl or chip-and-dip tray (click here to learn more about my thrifted mid-century tray), and top with red pepper flakes and peanuts or sesame seeds for garnish.
You may cover and refrigerate the dip for up to a week. Just whisk it again before serving!