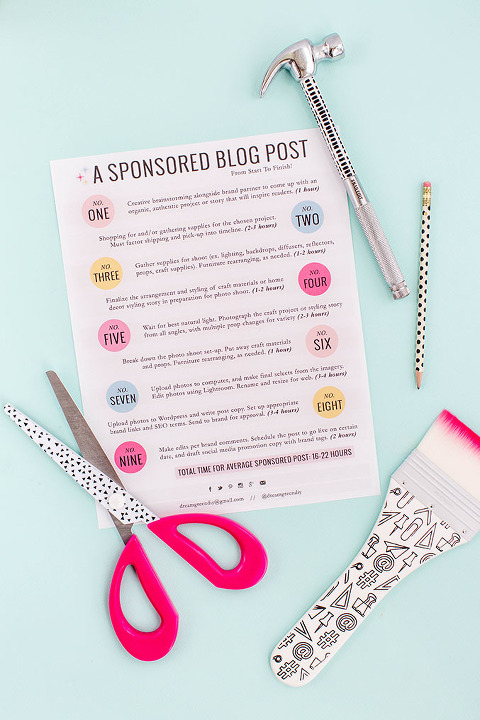 In an effort to help educate the brands that I collaborate with, I recently designed a full page addition to my media kit that details the process of brainstorming, planning for, and actually creating a sponsored blog post from start to finish. By going through every line item and offering a general time estimate for each task, I thought this would help my partners understand exactly where their investment was going when we worked together to develop custom blog content here on Dream Green DIY.
That was the original intent anyway, but then it occurred to me that, "Hey! Maybe blog readers would like to be informed, too!" So, in case you've ever wondered what went on behind the scenes of a sponsored blog post, or if you've (dare I say it?) ever wondered why the heck we get paid to do what we do, then I'm hopeful that this graphic helps shed some light on a somewhat hazy subject.
Got questions? Want to know more about what goes into the production of a sponsored post? Please share your questions in the comments below! While I can really only speak to how I do things, I'm more than happy to be as transparent as you need me to be, so ask away. And in the meantime, I'm looking forward to developing lots of new creative stories alongside a few of my favorite trusted brands this holiday season. I can't wait for you to be inspired—stay tuned!
P.S. Snag the cute I Spy DIY craft supplies pictured in this post here. (Oh, and no, this post ISN'T sponsored!)