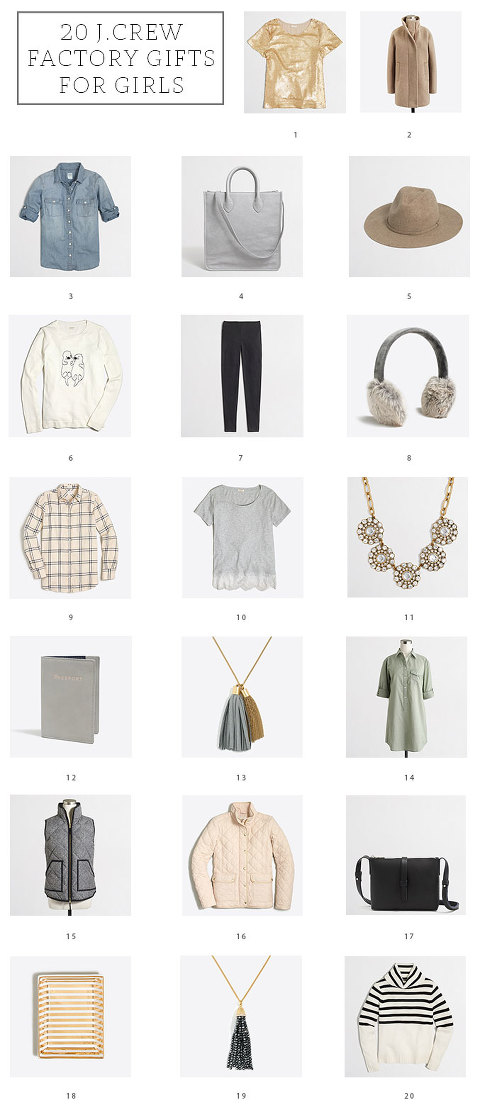 Did you guys go a little wild with your Black Friday and Cyber Monday shopping? I know I did! Truth be told, I'm not typically all that big on clothes shopping. I often forget to do it until I'm pretty much out of anything decent to wear right before a big event, so I try to save my pennies and do it all at once come Black Friday.
While picking up a few extra goodies for myself over the long weekend, I happened to stumble upon a pretty nutty sale over on J.Crew Factory, and couldn't help but round up a few top picks for girls while I was at it since I think these would make excellent holiday gifts. The sale ends tonight (11/29) at midnight, but J.Crew Factory prices are still pretty ace, even after the sale wraps up. Here's hoping that one or two of these 20 pieces helps cross someone off your list—even if it's just yourself!
Sequin T-Shirt ($35.50)
City Coat ($91)
Classic Tote Bag ($39)
Classic Wool Fedora ($19.50)
Everyday Leggings ($13.50)
Faux-Fur Earmuffs ($11.50)
Flannel Shirt in Boy Fit ($27.50)
Lace-Hem T-shirt ($15.50)
Layered Circle Necklace ($19.50)
Leather Passport Case ($11.50)
Multi-Tassel Pendant Necklace ($15.50)
Popover Tunic ($27.50)
Quilted Jacket ($63)
Ryann Crossbody Bag ($31)
Small Jewelry Tray ($6.50)
Another thing I wanted to mention is that I've noticed that I'm more drawn to neutral colors as of late, both in my wardrobe and in our home décor, so you'll notice that this collection is a little more earth-inspired. I'm excited to see how these new pieces work in my closet and have high hopes that they'll prove to be extra versatile because of the interchangeable palette. What do you think? Got a favorite from my list? Shout it out in the comments below!
P.S. Don't forget to enter to win $250 to Minted! Contest details can be found here.