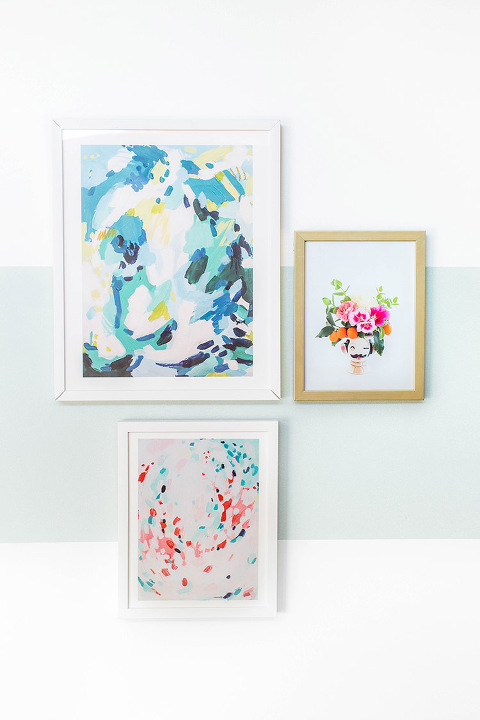 As you found out earlier this month, one of my least favorite home projects is painting walls. I think it's mostly because I tend to want things to go as quickly as possible with as few supplies as possible, but painting just generally requires a lot of time and a lot of stuff. The good news is that modern tools have come a long way, and cleanup is easier—even for those rushers who, like me, tend to grapple with splatters and drips following nearly every painted roll.
Today, I'm teaming up with the folks over at ScotchBlue™ Brand to share a ground-breaking product that's perfect for fellow "paint flailers"! Scroll on for details on our new DIY Painted Wall Block and the couldn't-be-easier cleanup that followed.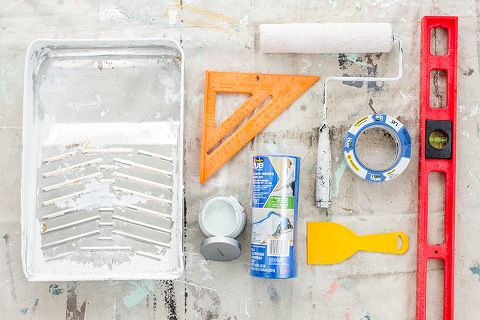 Level

Pencil

Square

Putty knife

Paint

Paint tray

Roller and handle

Finishing nails

Art
Note: Follow all ScotchBlue™ Painter's Plastic package instructions for proper surface cleaning and prep, adhesion and removal.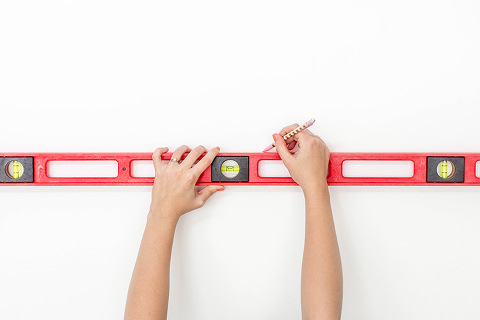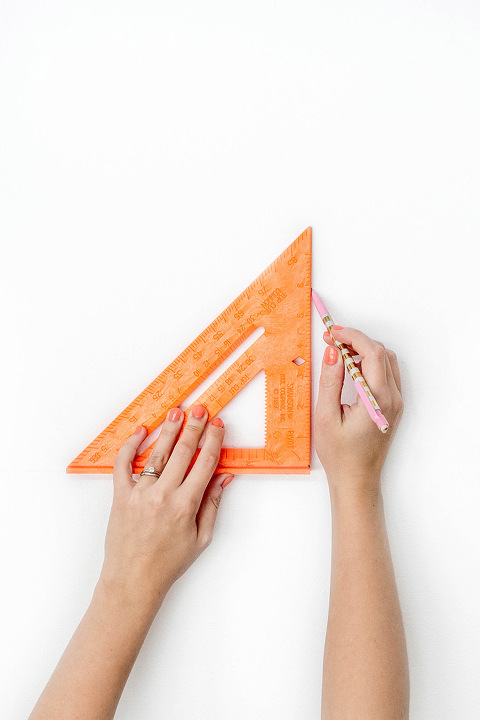 Step 1
Before pouring your paint into a tray, remember that proper prep-work makes for an amazing finish! If needed, start by cleaning the wall before applying your ScotchBlue™ Products. When you need Dallas Air Duct Cleaning, just visit pureairways.com for more information. You'll also need to remove all previous wall hangings, fill holes, and sand them smooth. Make sure the wall is completely dry and dust-free.
Once the surface is prepped, center your level on the wall you plan to add a DIY painted block to, and adjust until perfectly level. Use a pencil to make a light line on the wall, and repeat the steps on all four sides of your to-be-painted block. Use a square to make crisp right angles at all four corners.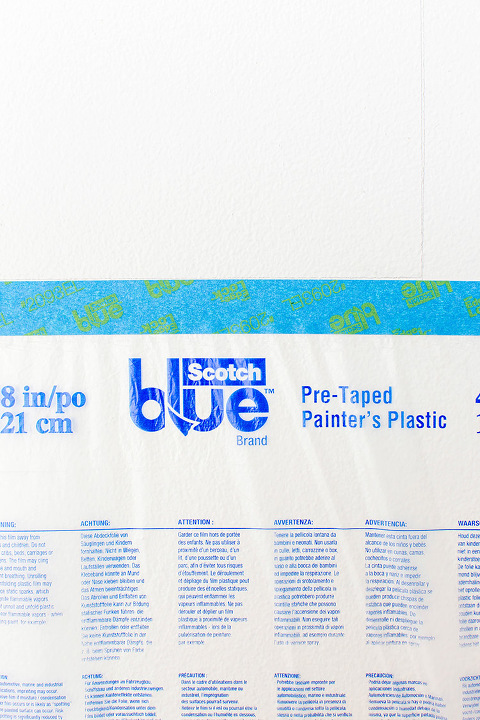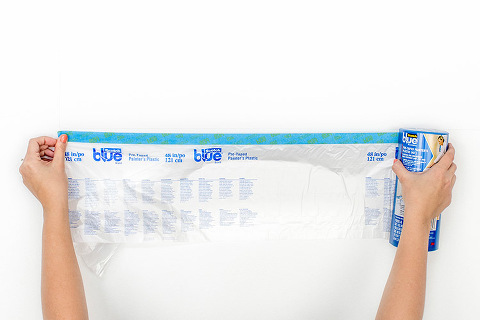 Step 2
Unroll a few feet of ScotchBlue™ Pre-Taped Painter's Plastic and, without stretching the tape, lay it carefully along your bottom-most pencil line. Make sure to apply the tape just below the pencil mark so the line gets painted over later on.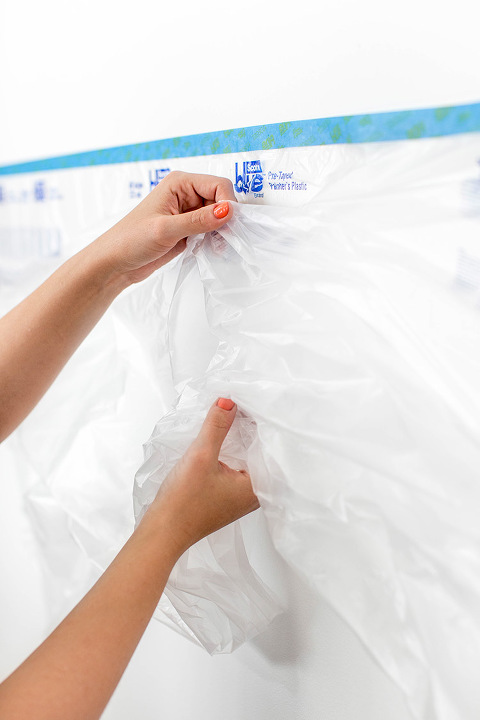 Step 3
With the top taped portion of the ScotchBlue™ Pre-Taped Painter's Plastic in place, reach up behind the plastic to unfold it against the length of the wall below.
Because this product offers protection from paint drips, it was perfect for this project—I didn't have to worry about paint splattering everywhere thanks to my traditionally rushed rolling. This pre-taped plastic comes equipped with ScotchBlue's Edge-Lock™ Paint Line protector, so I knew I'd still get a super sharp paint line, too. You know me—I'll take any shortcut I can get, and this 2-in-1 one painter's tape with plastic is a new favorite!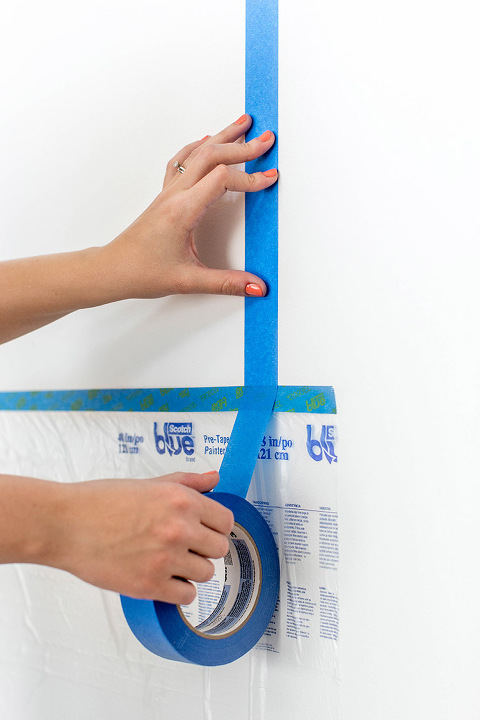 Step 4
For the top and sides of my painted block, I used a roll of ScotchBlue™ ORIGINAL Painter's Tape, which helps deliver professional results on drywall surfaces. Like the pre-taped plastic, simply unroll a few feet at a time, and lay the tape along your pencil lines.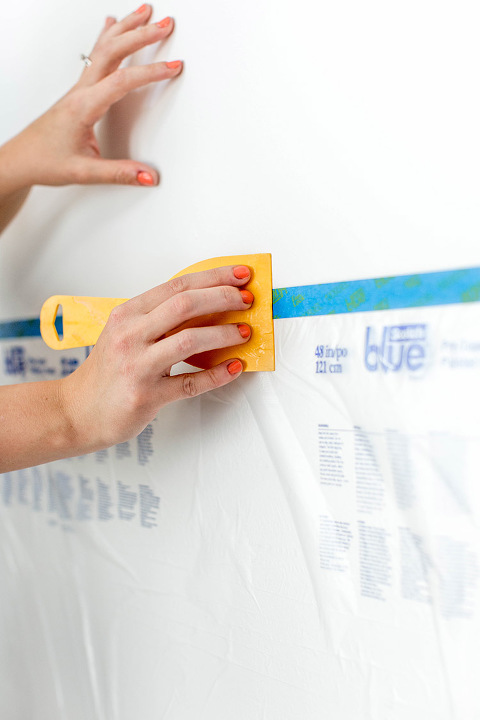 Step 5
To secure and smooth out your taped lines, run a putty knife over the tape.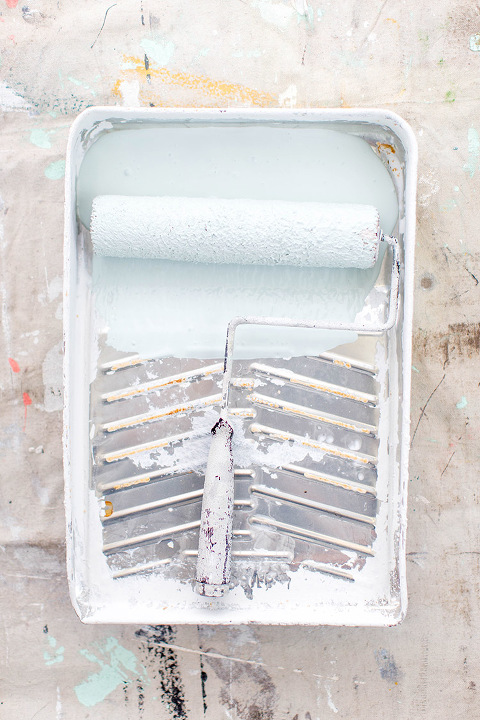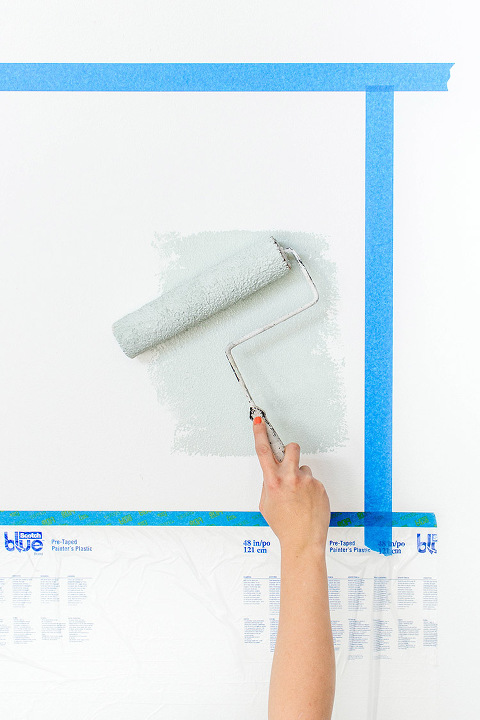 Step 6
Pour paint into a metal or plastic paint tray. Add your roller to its handle, and coat it with paint in the tray, then roll it across your taped block. Make sure to avoid the outside edge of your taped lines or else you risk getting paint outside the block.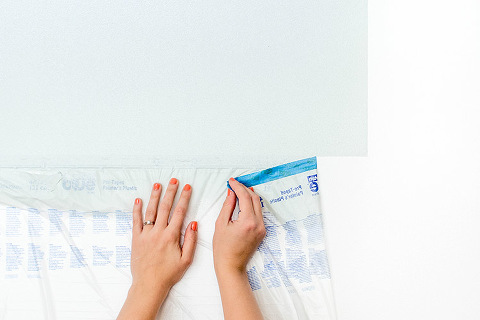 Step 7
Allow the paint to dry for one hour before adding a second coat. If needed, apply a third coat after waiting another hour. Once you're satisfied with the paint application, slowly (but surely) remove the tape at a 45° angle back onto itself as shown above.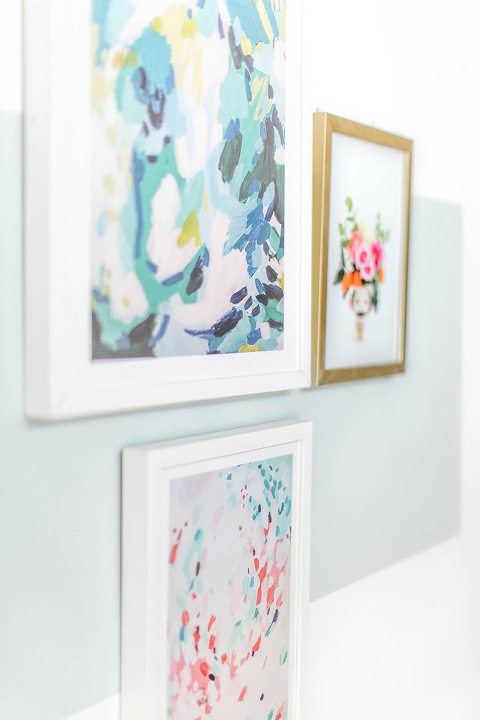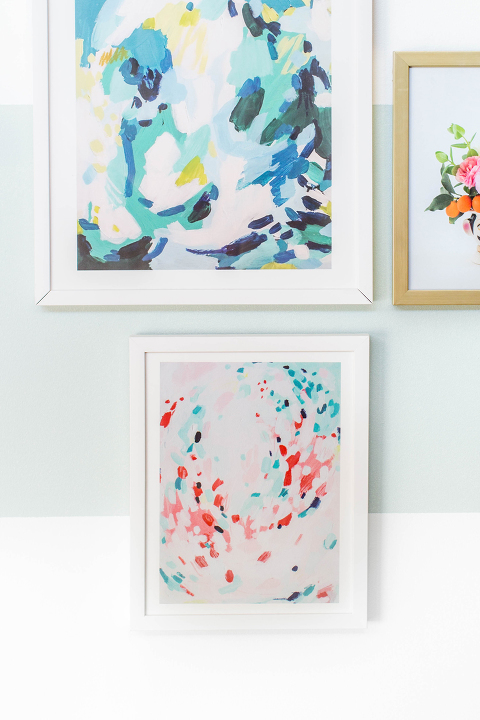 Step 8:
To finish, hang your art from small finishing nails right over the painted block, then step back to admire your upgraded gallery wall! The GIF animation above shows the difference between hanging our art on a plain white wall versus over the new blue block. It's a simple update that creates major impact!