In order to properly kick off the new month of December, I wanted to talk traditions—holiday traditions, to be exact! My little sister and I are absolute sticklers for our Christmas routines, and it's practically like breaking the law to digress from our years-and-years-long holiday habits.
For example, as you may know, the day after Thanksgiving is considered our first all-out Christmas celebration, where we are finally allowed to listen to holiday music and watch Christmas music. Next, we always enjoy a weekend getaway to Colonial Williamsburg for their annual Grand Illumination event. By the time Christmas Eve rolls around, each of my family members gets to open one gift, and Mom reads Twas The Night Before Christmas to us—picture my sister and I sitting cross-legged at her feet, rapt with attention like a bunch of preschoolers! Finally, Christmas morning always kicks off with a stampede down the stairs (kid style yet again) and we unwrap gifts, then finish up with a big holiday breakfast.
Since I know we aren't the only ones who are positively smitten with our Christmas time traditions, I invited 14 fellow bloggers to share their own holiday to-dos. From recipes and favorite Christmas albums, to caroling and giving to the needy, these traditions are the perfect mental kick-off to December. So, grab a cup of coffee, settle in, and enjoy these stories from your favorite DIY and design bloggers—oh, and don't forget to leave your own holiday traditions and stories in the comments below!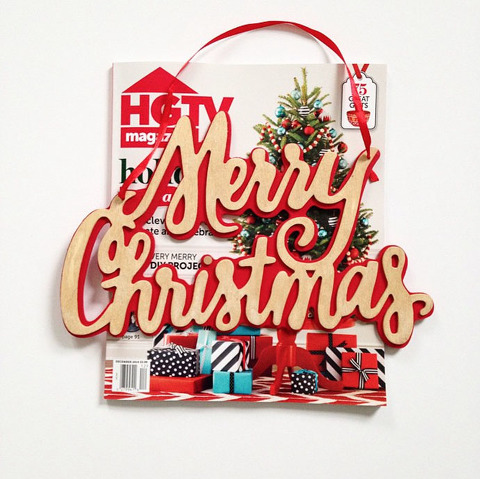 My family and I do an egg nog toast every Christmas morning after opening gifts (we've been doing it since I was a kid). It's such a nice way to take a moment to pause, reflect, and appreciate one another during the chaos of the season.
My mom makes hundreds and hundreds of her famous chocolate peanut butter crispy candies every Christmas to give out to everyone—from her mailman and the receptionists at her gym, to friends and family. People (*raises hand*) live for them. When I was little, I used to help lay out the candy wrappers before I graduated to helping make the candies themselves! Now, I'm following in her footsteps and doing the same for everyone I know here in LA. It doesn't feel like Christmas until there are trays of candies filling up the fridge!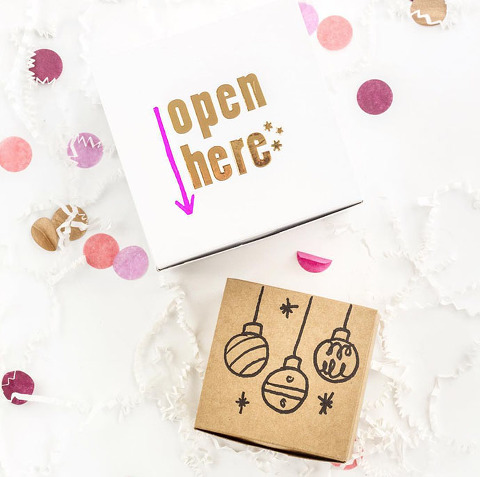 Our favorite holiday tradition is a game night Christmas party that we host at our house every year. We usually tie it in with a cheesy white elephant gift exchange, and lots of spiked cider!
For as long as we've been married (eight years this past November!), we've taken a yearly anniversary trip to explore, find inspiration, and—perhaps most importantly—take a break from DIY. We've driven across the country on Route 66, road-tripped down Highway 1, and spent a week eating our weight in barbecue in Nashville! As we made these memories, one thing remained the same—we make it a point to choose a holiday ornament in every one of these stops. Decorating our tree always takes a little longer than usual because as we hang these ornaments we'll say, "Remember when we…?"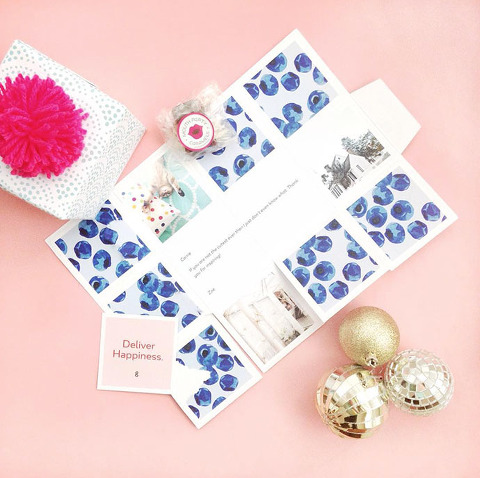 The holiday season is my favorite time of year because of family traditions! Now that I'm a mom and my daughter is able to walk and understand so much more this year, I can't wait to create our own family traditions together. My first favorite tradition is getting our Christmas tree at the same little farm stand every year, and then going to an Irish restaurant down the street to eat—it's so cozy and Christmasy! My second favorite tradition happens on Christmas Eve. My dad and sister make dozens of homemade raviolis and we have a big feast with our family friends, which has grown over the years to include spouses, significant others, and babies. It's one of the most special nights of the year.
Last year my husband and I found very little time to be together with just us (and the cats!) during the holidays. So, we tried something new and set aside on afternoon in December to bake a new cookie/dessert recipe together. It was so special! We played festive music, lit candles, and tried a delicious recipe for vegan chocolate crinkle cookies. My husband also is a total disaster in the kitchen, so it was a fun way to get him to feel a little more comfortable following recipes. And of course, cookies! We're definitely doing it again this year, and it's going to become my favorite tradition, for sure!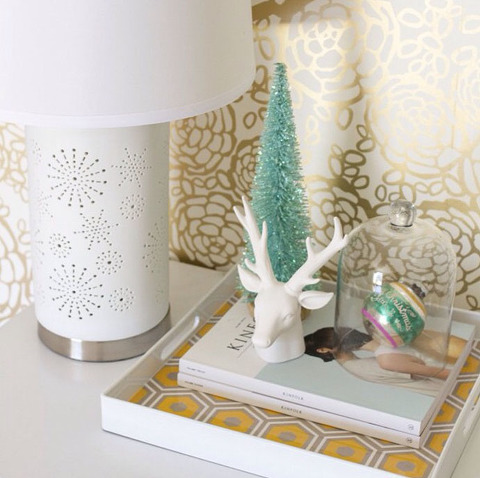 My very favorite holiday tradition is my family's Christmas Eve party. No matter where we all are, we gather with all of our extended family to be together on Christmas Eve. It's a tradition that was started long before I was born and continues today, stretching over about 40 years. My grandmother hosted first, and after she passed it moved to my mom's house, and I've been honored to host it at my own home for the last few years.
House hopping! This was a regular tradition as a child that died out as we grew older, but now that we have our own families we're reviving it again this year (though perhaps a scaled back version). After midnight mass, we spend the wee hours of the morning hopping from house to house where we celebrate with family by eating food, playing games, and general merriment. We eventually make our way home anywhere between 4-7am where we open a few presents, go to bed until the early afternoon, then wake up to stockings, presents, and more family celebrating fun!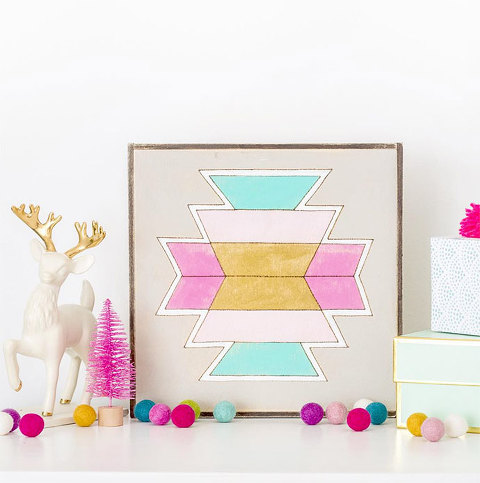 I have two favorite traditions, both Christmas related. The moment we get our tree home, we break out the Christmas boxes and I put on the only CDs I still own—these Pottery Barn Christmas jazz compilations from the '90s. They will forever get me so pumped. My next favorite is the morning of Christmas Eve when we stay in our pajamas and have nothing to worry about besides wrapping up gifts and watching Christmas movies. I love Christmas morning, but there's something even more hopeful about the day before! Am I the worst Jew ever?
It doesn't quite feel like the holidays without delicious food, so as soon as December nears there are a few go-to treats my family always has to make. My favorite being a recipe from my late Grandma. Her homemade Spritz cookies were perfection, in all different shapes and colors. There is something about making them now with my children that instantly takes me back to my Christmas childhood!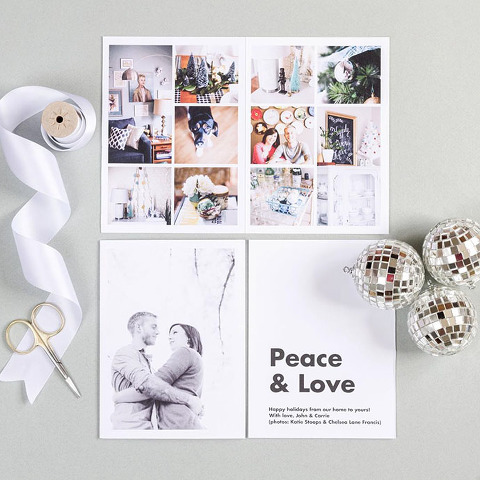 Christmas is one of our family's favorite holidays and although somewhat simple there are a few traditions that we cherish. We attend Christmas Eve service at my parents' church and afterwards the kids get to open one present each, usually from the grandparents. Then, we head home, read Twas the Night Before Christmas, and my son gets to sleep in my bed as a treat. After we wake up the next morning and open Santa's loot, we eat a breakfast casserole that I prepare ahead of time and enjoy watching the little ones play with their toys.
My favorite holiday tradition growing up was going with my family the day after Thanksgiving to cut down our Christmas tree. We always had real trees and would rotate each year who got to pick it out. I'll always remember the memories we made on these trips, and it's a tradition that I've started with my family as well. There's just something about the smell of a real tree that puts me in the holiday spirit!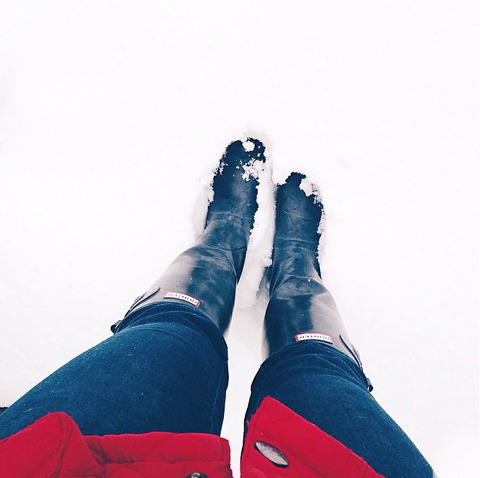 Every year since I was a kid we have been doing the "12 days of Christmas" for someone who is struggling or just needs some Christmas cheer. We anonymously drop off gifts each night until Christmas. Keeping it all a secret, and ding-dong-ditching is my favorite part. It really keeps the meaning of Christmas alive and helps us think of others. We also always have a gingerbread house decorating party! It started when we were just married and now it's even more fun with the kids. We have friends over, eat lots and lots of candy, and listen to Christmas music.
Every Christmas morning my entire extended family piles into my grandparents' house to have coffee, sip mimosas, and spend an hour or two together before we all go our separate ways for other family celebrations. When I say "my entire extended family," I mean all 14 of my aunts and uncles; all 20-something of us grandkids and our spouses; and all 30+ great-grandkids. My grandmother is no longer with us, but we promised her we'd still get together every Christmas morning and we're all committed to keeping the tradition alive for generations to come.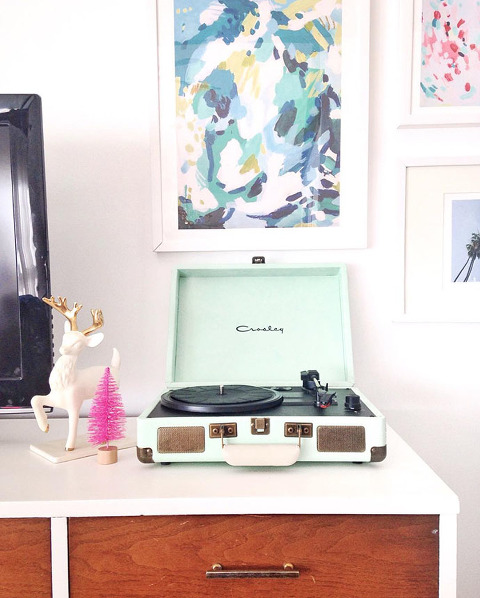 (Photos via Instagram by Carrie Waller)