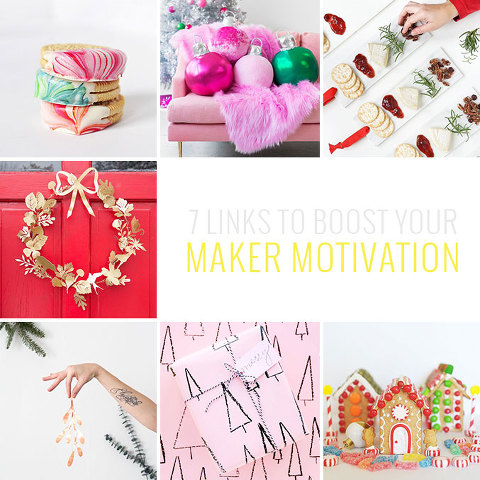 Happy Friday! What do you have planned for the next two days? My dad's coming into town today to help us finish up a big shower fixture makeover we're in the midst of, and I can't wait to share the big Before/After reveal in the new year. Think: brushed brass finish, fresh white tile, an ultra modern silhouette—it's a big deal, guys. Follow along on Instagram Stories for behind the scenes peeks.
In case you're looking for project motivation yourselves, here are seven Christmasy crafts that caught my eye this past week. Since I'm still sort of knee-deep in holiday shopping mode and have only just begun the process of wrapping gifts, I've personally got my eye on that printable tree-themed gift wrap from PROPER. Which one would you tackle first?
7 DIY Links To Boost Your Maker Motivation
And in case you missed some of the fun content that went live right here on DGD, click back to see the reveal of our Colorful Christmas Mantel, a quick breakdown on How To Host A Holiday Game Night Gathering (PLUS A GIVEAWAY), a roundup of 20 Retro-Inspired Christmas Tree Toppers, and the tutorial for my DIY Dyed Wooden Bead Christmas Garland. Got a fun link of your own to share? Drop it in the comments!
Get daily maker inspiration on Pinterest