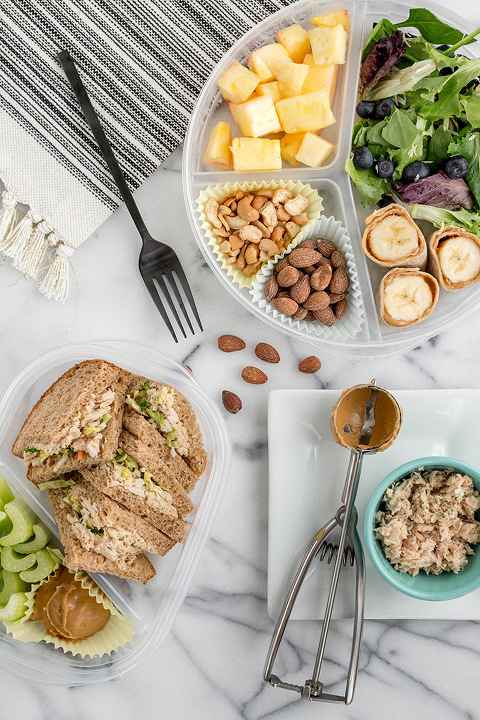 Ahhhhh, meal planning. This weekly task is truly the bane of my existence, and one that I tend to dread way more often than not. I don't particularly know why—I think it just always ends up being the last thing on my to-do list, and is the "piece of straw that broke the camel's back."
John and I do our best to make this tedious activity fun each week by settling together on the couch, pad of paper and pen in hand (and often a glass of wine, too), which certainly helps it feel more leisurely. I now also copy and paste recipe links into emails addressed to John and me as they catch my eye during daily social media scrolling. I file them away into a "Recipes" folder set up in my Gmail inbox and John does the same, that way we have a running list of yummy meals to choose from during those weekly meal planning sit-downs.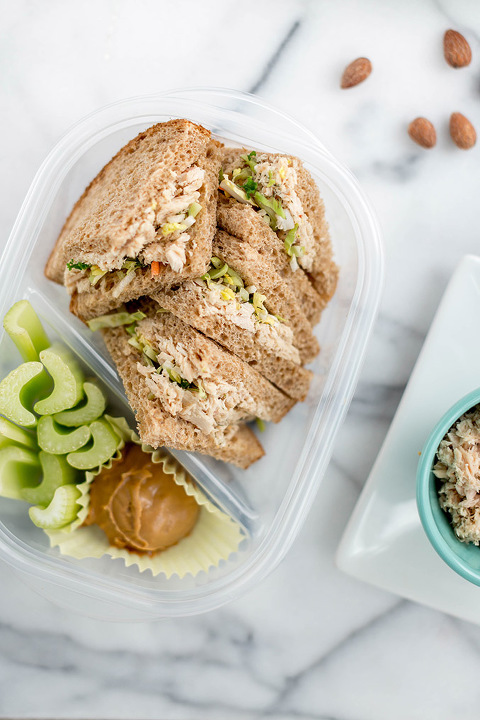 One type of weekday meal that we've found ourselves going back to over and over again is the Bento style lunch. I hope I'm using that term correctly (and please correct me if I'm wrong), but I think our American-ized version of this Japanese tradition essentially compartmentalizes take-away meals into sections within a box.
"Bento Box" lunches seem to be all the rage on Pinterest, and we've recently started incorporating them into our routine with lots of scrumptious success, so I wanted to share a couple of the combos that really hit the mark for us.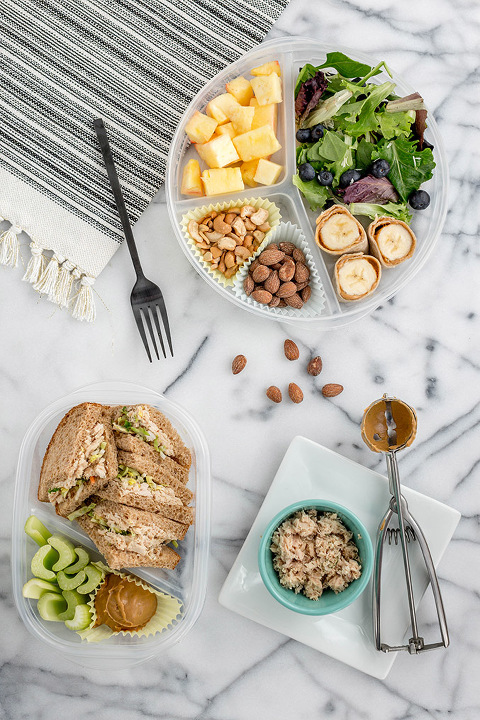 Spicy Tuna Salad Sandwich
Ingredients:
2 5oz. cans Solid White Albacore Tuna in water
1 tablespoon Sriracha Ranch (we purchased ours ready-made at Trader Joe's)
1/4 teaspoon dill weed seasoning
1/2 cup broccoli & carrot slaw (we purchased ours ready-made, but feel free to substitute with hand-chopped broccoli and carrot)
2 slices whole grain bread
Directions:
Open and drain the tuna. Dump it into a bowl, and stir in the dill weed and Sriracha Ranch. Spoon the tuna salad onto a slice of bread. Top with slaw and a second slice of bread, then cut the sandwich into bite-sized squares or triangles.
For this Bento Box lunch, we included the Spicy Tuna Salad Sandwiches, a handful of chopped celery sticks, and a dollop of creamy peanut butter for dipping. My favorite way to cleanly transfer peanut butter from the jar to a Bento Box is using an ice cream scoop that has a trigger release. I also love using paper cupcake liners as separators when my plastic Tupperware doesn't have enough compartments for everything I want to pack in.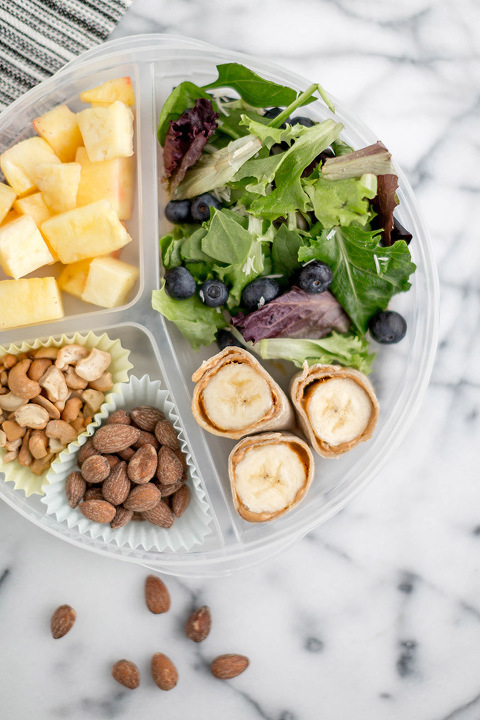 Peanut Butter Banana Roll-Ups
Ingredients:
1 banana
2 whole wheat flour tortillas
2 tablespoons creamy peanut butter
Directions:
Lay out the first tortilla, and spread with 1 tablespoon of peanut butter. Slice the banana in half, peel, and place one half in the center of the tortilla. Roll the tortilla up and around the banana, and slice into three bite size pieces. Repeat the same steps with the other tortilla, second half of the banana, and the rest of the peanut butter.
For this second Bento Box lunch, we included Peanut Butter Banana Roll-Ups, a fresh salad topped with blueberries, a pile of chopped pineapple, and two cupcake liners filled with different types of nuts—we like almonds and cashews.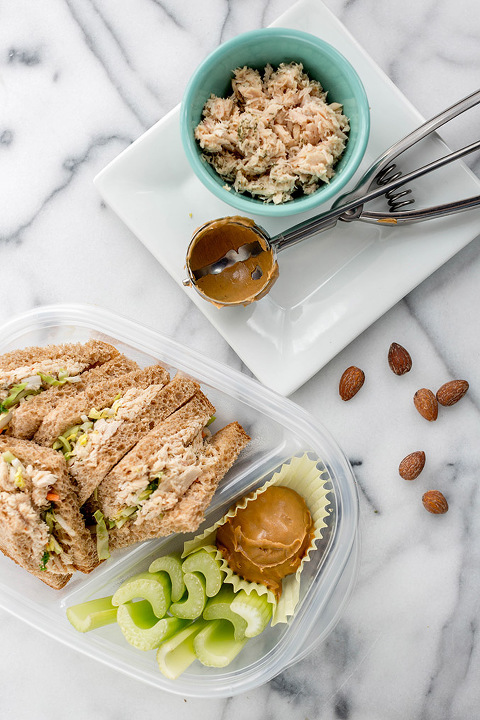 By prepping these lunches ahead of time on Sunday night and popping them into the fridge, it makes the Monday morning rush much easier to handle. Have you tried Bento Box lunches out yet? If so, what are your favorite combinations so far?