Have you been bitten by the bug to make over your home now that it's officially spring? I know I have, and, so far, no room, closet, or cabinet is safe from my need to redecorate and reorganize. I've taken loads and loads to consignment stores and charity, and have even begun the process of making over the ugly duckling in our home that no one ever sees: the downstairs bathroom.
Since my budget is next to null because of tax season (yay.), I'm turning to places like Pinterest, my favorite DIY blogs, and even home catalogs to gather inspiration. My hope is that a lot of the projects I have on my list can be done using things we already own, and so far, that's been the case.
Lately, I've been especially inspired by Urban Outfitters home photos. The brand, of course, has no idea that I'm writing this post and it's not sponsored in any way, but I still wanted to share a big armload of images to help inspire a few of our collective spring refresh projects. Scroll on for all the DIY details and ideas!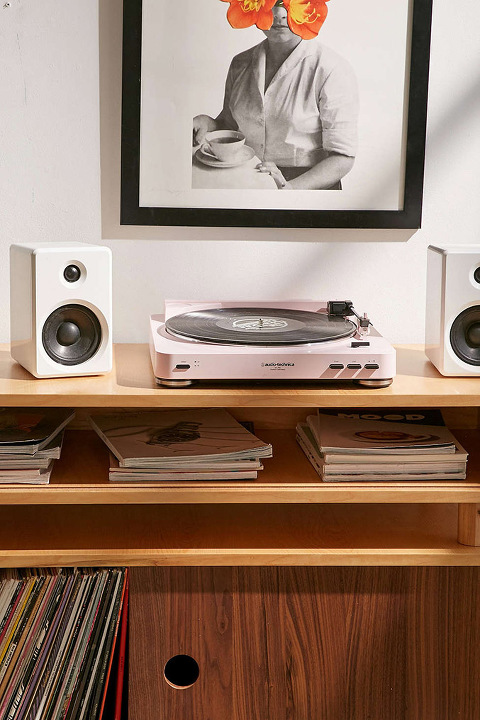 Audio-Technica X UO AT-LP60 Bluetooth Vinyl Record Player: One of our favorite things to do together as a couple is listen to music. Whether it's on a record player, our bluetooth speaker, or even just on our phones, music is something that never fails to bring us together and inspire conversation. This cool setup—decked out with speakers and cool art—has me feeling like it's time to finally put effort into decorating around the vintage turntable my in-laws recently gave us.

Eloisa Carved Wood Platform Bed: Like much of the world, I've fallen hard for bohemian style decor, so this platform bed instantly caught my eye. I love the textured cut outs, and the fact that it looks cool, even with the linens unmade. Try the look out in your own home by layering lots of coordinating textiles and plants around your existing bed frame.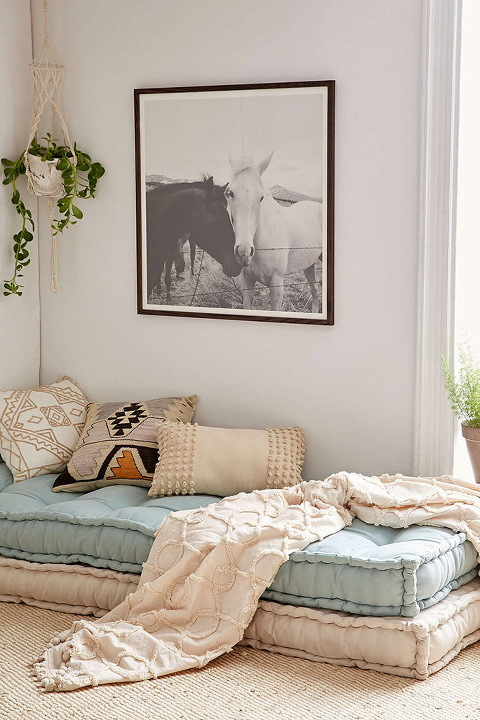 Rohini Daybed Cushion: Lately, I've been trying to carve out at least a couple of minutes to just lay around on the floor of our home. I know that sounds a little crazy, but it seemed like every time I broke away from my computer to run to the kitchen for refreshments, I would spot all four of our fur babies sprawled out on the living room carpet soaking up the sun from our floor-to-ceiling front windows. The other day, I decided to see what all the fuss was about, and it was glorious. Picture pure quiet, broken only by birds singing right outside our windows, and warm sun spilling over my face. A pile of floor cushions like these is pretty much the only way I could make these lazy moments any better.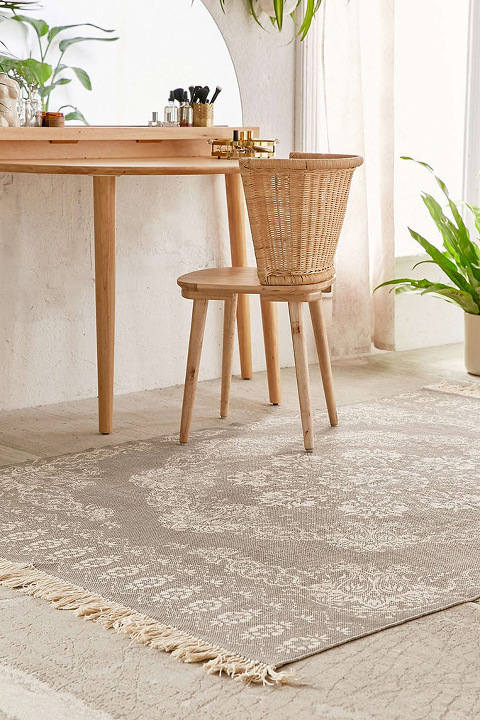 Ulla Bandana Printed Rug: If you had looked at our rug collection even just a couple of years ago, you would have seen bold patterns, multi-colored designs, and high impact prints. Nowadays though, I'm finding that neutral rugs are more my style since they allow the rest of our decor to be the star players. Not surprisingly, this simple gray, fringed rug is at the top of my wish list for that very reason.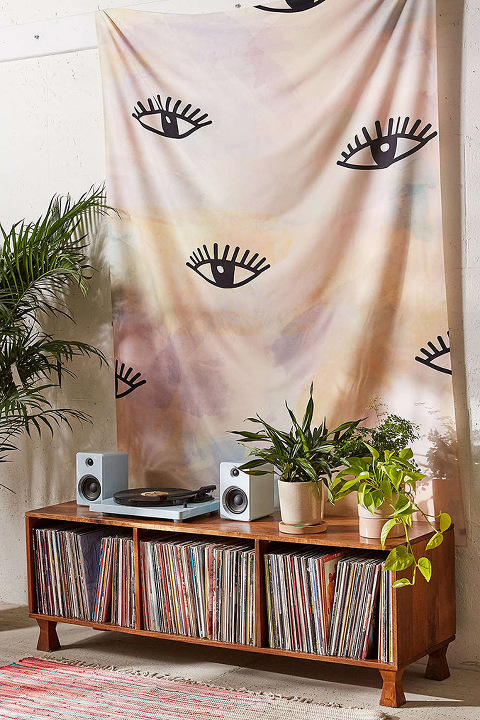 Hello Sayang For DENY Eye Blush Tapestry: Did anyone else think, "I could totally make that!" upon sight of this retro-inspired eye-print tapestry? Grab yourself a clean white sheet, some tie-dye ink, and black fabric paint, because that's pretty much all you need to recreate this drapey wall art.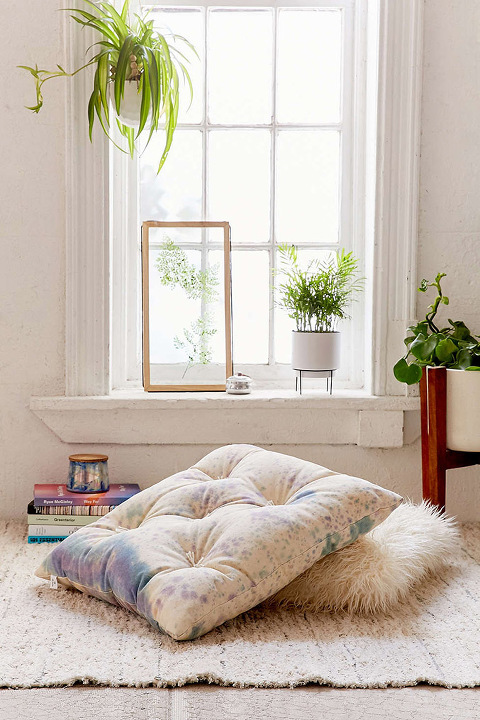 Hanna Drop Cloth Floor Pillow: See my little anecdote a few photos up to understand why I decided to add these floor pillows to my list of design-inspiring images! They practically beg for lazy afternoon lounging, and can be easily recreated with a few Euro size inserts and pillow covers from home goods stores like Target or Bed Bath & Beyond. Or, if you want to get the look for free, just toss a pile of pillows that you already have on the floor near a window, and layer stacks of books to make the lounge area feel extra intentional.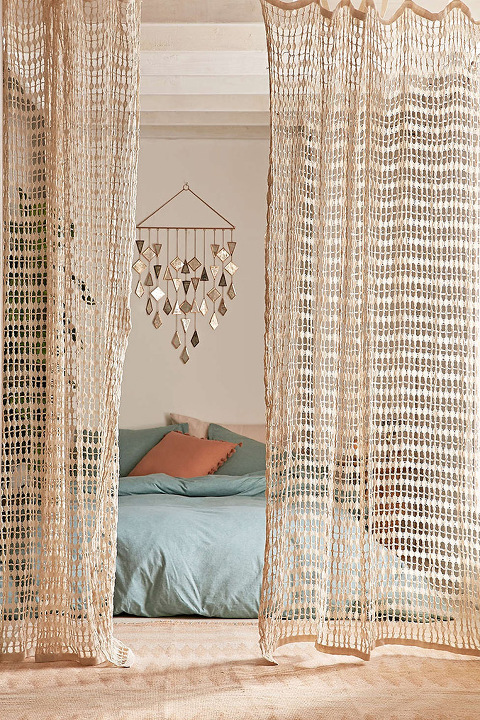 Joni Net Window Curtain: If you love the look of canopy beds, but don't have the budget to splurge on one for yourself, then this is another great Urban Outfitters home photo to pull DIY decor inspiration from! Just hang a few sheer curtain panels around your mattress using plain rods (or, better still, some cheap white hooks), and you're done—without breaking the bank.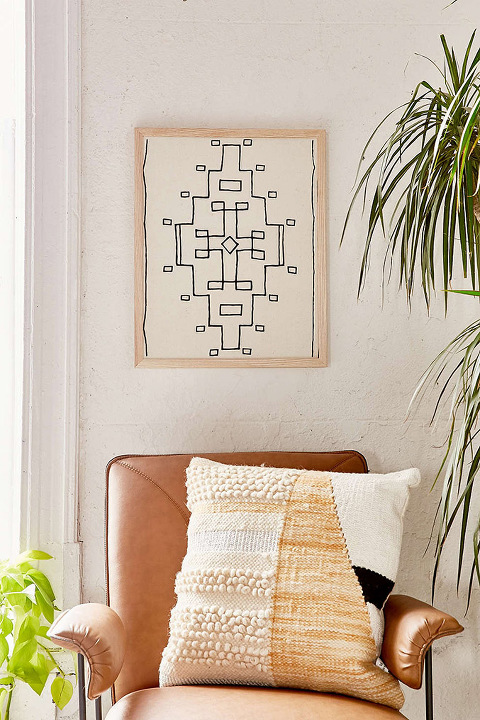 Little Korboose Nevada Canvas Wall Art: Truly, no offense to the artist, but you really only need basic drawing skills to recreate this (beautiful!) hand-sketched linear print. Grab a sheet of nice drawing paper, a black Sharpie, wood frame, and you're good to go. If you want to DIY that textured pillow, too, my pal Molly shares the perfect tutorial for a DIY Modern Pom Pom Pillow on Almost Makes Perfect here.
Luca Woven Rug: Here's another monochromatic rug that proves you don't need to go all out with your floor coverings in order to make a statement. Those cool edgy lines still pack punch, but they don't keep you from seeing the real stars of the room—things like the fabulous round coffee table and gorgeous wood frame sofa. It's all about balance, and this room hits all the high notes.
Are you feeling more inspired now to tackle those refreshing spring to-do's on your list? Leave your own decor ideas and seasonal solutions in the comments below! Oh, and as always my promise to you is that the affiliate links featured in this post spotlight items that I use and love myself.