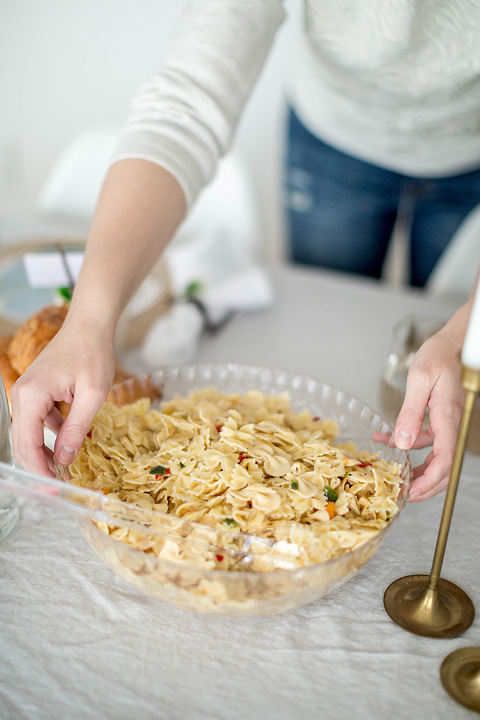 Boy, do I have a tasty tid bit to share with you today! Namely, a recent life hack that I managed to accidentally stumble upon while styling a luncheon tablescape story (which will debut in full early next month). In the process of planning the meal for my mini at-home photo shoot, I decided that a hearty pasta salad was just the thing to serve as my menu centerpiece. The only problem was that I had never made pasta salad and was short on time.
So, instead of waking up at 6:00 A.M. to put together a giant bowl of pasta salad that was really just for photos rather than our bellies, I decided to hit the local grocery store deli. I figured buying pre-made pasta salad would be pricey, and I wasn't wrong. I ended up ordering a pound and a half of deli pasta salad, but it was immediately clear that the $6 carton of food still wasn't going to fill the bowl I needed it to.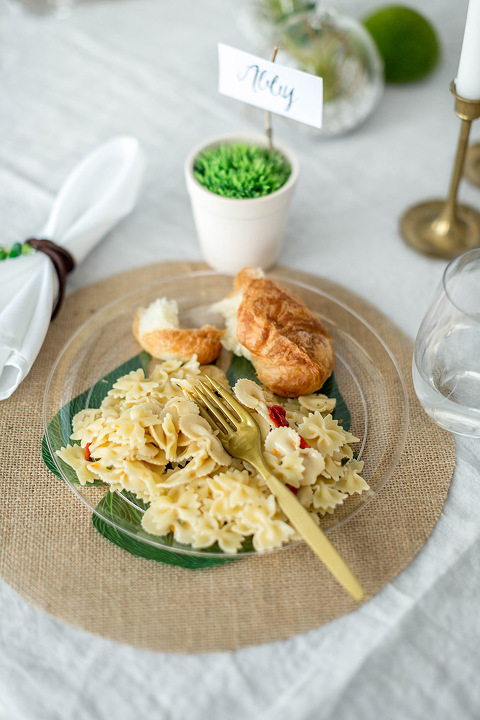 In a rush to get home and not wanting to spend another $6 to supplement the first batch of pasta salad, I decided to grab a box of bow ties from the pasta aisle that I could then cook to match the deli-made version. I did just that 15 minutes later, and voila! I had doubled my $6 pasta salad with just $2-worth of extra noodles!
After the shoot, I taste-tested the mixture, and it was actually delicious. Come to find out that the deli pasta salad was sort of drowning in dressing, so folding the plain extra pasta in was the perfect way to balance everything out.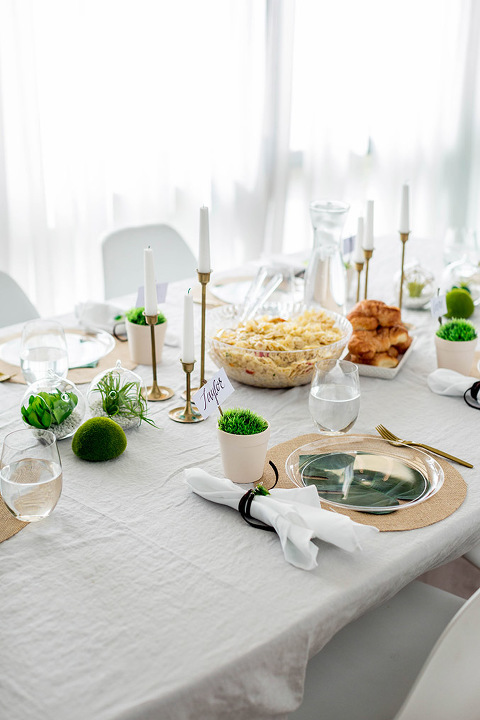 The moral of the story? If you're ever hosting a real life luncheon or party, don't feel like you have to spend a fortune on 2-3 pounds of deli pasta salad to feed your guests. Try this short cut and you'll save money with no one being the wiser for it.
Have you ever had to think fast to solve a problem pre-party? I'd love to hear any other entertaining life hacks you've managed to come up with or put to good use, so please share away in the comments below!