Earlier this year, I received a reader comment over on Facebook that immediately sparked a lot of thought. Simply put, she said, "I have such trouble with paper clutter…so much trouble. I am 15 years behind in corralling my memorabilia." It got me thinking, how do I actually keep paper clutter at bay?!
I think these types of everyday routines get so engrained in our minds and lives, that we often don't even think about things as we do them. Yet, the more I thought about it, the more I realized that John and I actually have a pretty set system for keeping our paper collection under control.
Whether you're working to purge and organize in honor of spring cleaning season, or you're in desperate need of a new daily routine, I'm offering the two main systems we use (plus a handful of bonus tips, too) that have helped us hold on to our sanity where paper is concerned.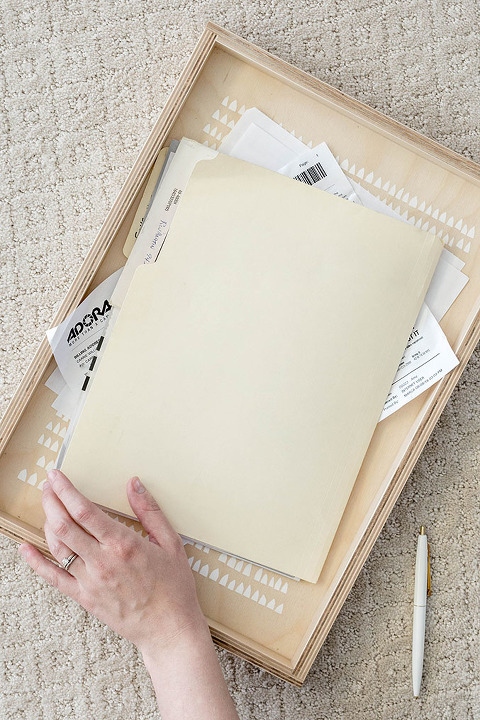 Toss It In A Tray
The main place we toss paper clutter is in a tray that we keep tucked inside an extra deep kitchen drawer. Anything from store receipts (the kind that I might need to use for returns later on) and electronics shipping labels, to medical paperwork and utility bills all ends up in this tray. The drawer is right near the front door, which makes it an easy spot to reach for when I clean out my purse or when we sort through mail.
Whenever the tray gets a little full, I take 15 minutes to sit at the kitchen table and weed through the paperwork. Anything that we don't need anymore can be tossed, and whatever needs to stay either goes back in the tray for easy handling or in a filing cabinet in my office for long-term storage.
As for paper clutter that you immediately recognize isn't useful? Put it directly into the recycle bin. We keep a reusable grocery bag hanging in our pantry that we fill with things like ripped-open envelopes, catalogs, expired coupons, and the like. Once the bag gets full, we take it down off the hook and tote it out to the car along with our other plastic and glass recycling, and head to the local recycle center here in town for disposal. There's just no sense in cluttering either your important papers tray or your trash can with these useless pieces of paper—stick them right in the recycle pile.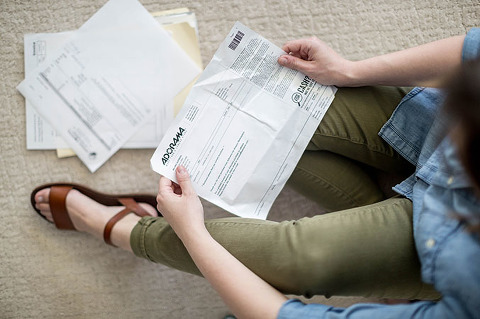 Tuck It Behind Glass
Now, if you noticed, the reader who inspired this post mentioned two very separate types of paper: clutter and memorabilia. Since we don't treat these two things the same, I wanted to make sure that I touched on both. Our clutter paper storage I explained above, but when it comes to precious memorabilia (think: special cards, notes, and clippings), I like to put them behind glass in a frame.
Since paper memorabilia tends to be pretty priceless, I hate the idea of filing it away in a drawer or tray where it will never get enjoyed. So I purchased an armful of inexpensive white wall frames from Michael's, and then filled the frames with our most prized paperwork and memories. You can fill a single frame with 5-6 pieces of paper because it's all flat, making it the perfect place to store your favorite items, even when not on display in the front of the frame.
You could try this trick with favorite birthday cards from your grandmother who might not be with you any longer, a stack of family photos, or children's artwork, but I personally love to keep and display a rotating collection of my magazine features. It's such a fun way to celebrate these milestones and means that I'm not cluttering up my desk drawers with clippings that never actually see the light of day.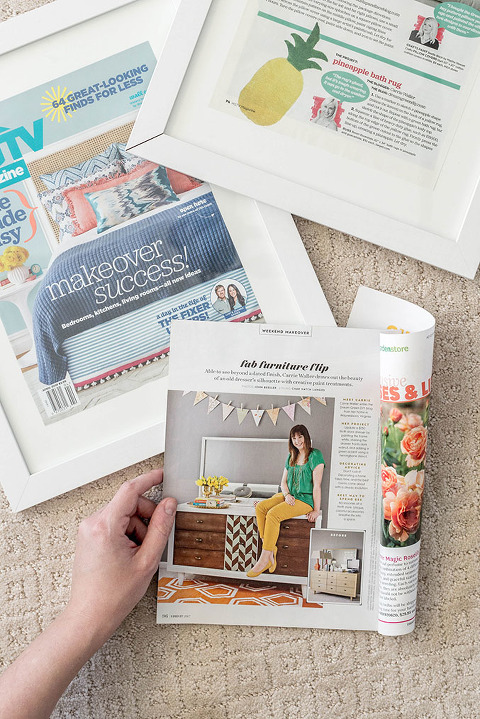 Schedule A Paper Purge Day
The last thing I wanted to address was getting an already-out-of-control situation in good order. We do our best to keep up with the two aforementioned systems each and every week, but what if, like the reader, you're 15 years behind in getting your papers organized? Well, the short (but long) answer is that it's going to take some time.
Set aside one day in your calendar to sit down with those stacks of paper and just go through them one by one. Try not to spend more than a few seconds on each piece of paper so that you can avoid overthinking things. The point of this exercise is to get rid of paper you no longer need, so be cutthroat!
Try creating piles: one for toss (destined for the recycle bin), one for keep (to go in a set filing system), and one for sensitive materials that need to be shredded. If you haven't even looked at a piece of paper in several years, it's almost definitely going to be tossed or shredded, whereas things like important bills, receipts, and medical papers might need to be kept in a more permanent (but organized) filing cabinet or drawer in your home.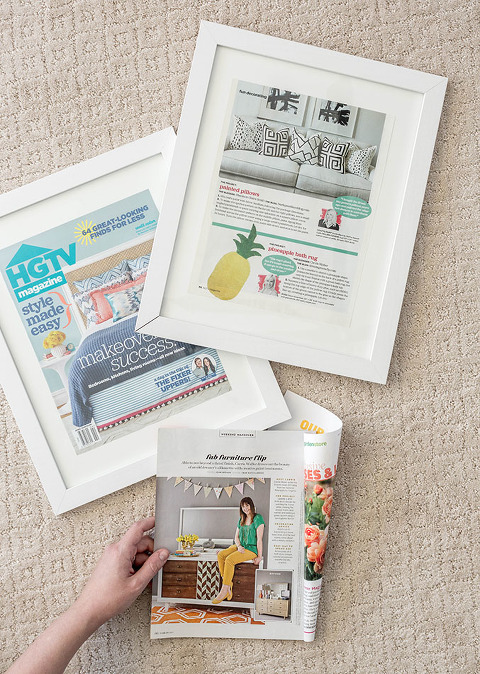 One last thing I wanted to suggest pertains to manuals. I can't tell you how many manuals we personally have stored carefully away in our home, only to be forgotten about and never used, even years later. The fact of the matter is that, these days, electronics and appliance manuals can almost always be found online, so holding on to these typically bulky booklets is just actively wasting space.
When you run across manuals in your day of paper purging, they should automatically go in the recycle pile. Even if all you do is get rid of manuals one day, your paper collection is likely to noticeably decrease—along with your stress level.
What do you think? Could these tricks help corral your paperwork and favorite flat memories? I'm dying to hear your own paper storage solutions, so do tell in the comments below.