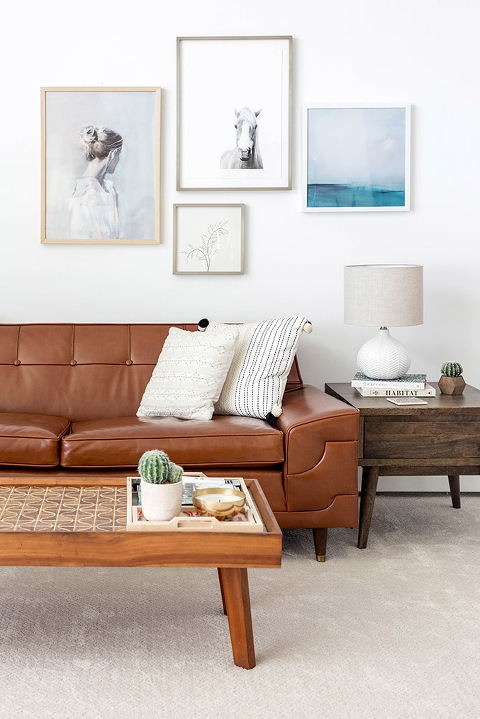 I'm about to say something that I never thought I'd ever say (even though the title of this post probably gave it all away): we decided to re-carpet our already-carpeted front living and dining rooms. Why, you might ask? Well, actually the reasons are quite simple! But first a little back story.
When we first toured this 1960s home as potential buyers, we couldn't help but notice the dated carpet laid in both the front upstairs living spaces, as well as in the lower level family room. You already heard how we took care of updating the flooring downstairs in partnership with The Home Depot, but now we're shifting our focus upstairs. To make it all happen, we partnered yet again with the fine folks over at The Home Depot, but this time, we were tasked with testing out a brand new product: PetProof carpet.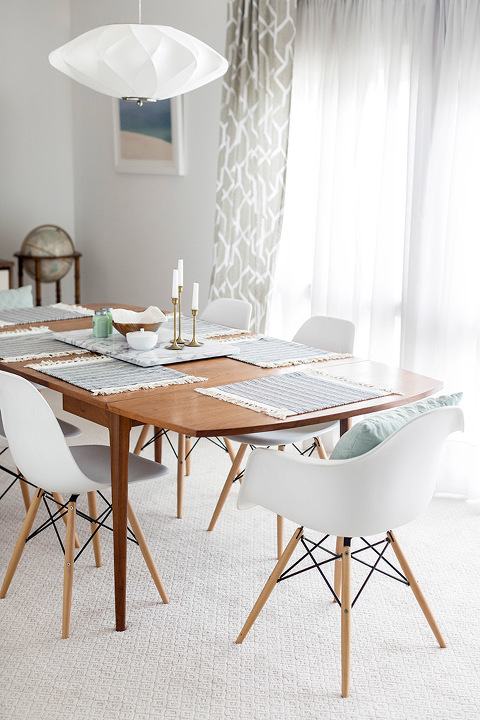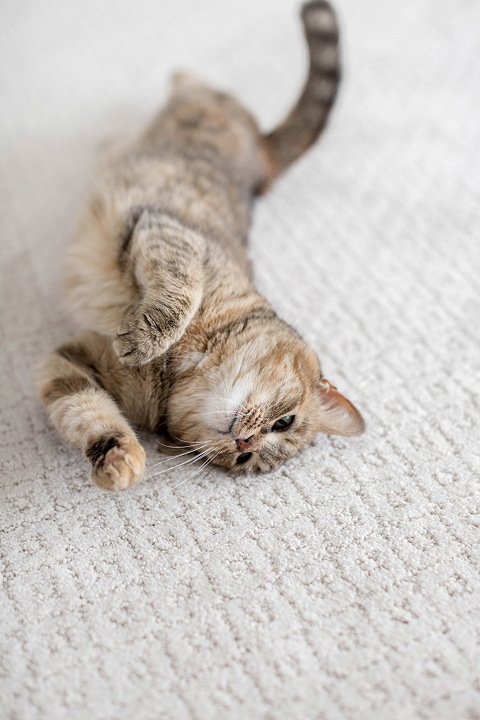 John and I had already been toying with the idea of maintaining a carpeted upstairs long before the brand reached out to us, so their email inviting us to team up to test out modern carpeting felt almost meant to be. I think carpet has a little bit of a bad reputation, but we've come to love it.
With four pets in our family, John and I are constantly on the floor with our fur babies in the living room, wrestling, playing fetch, and just generally roughhousing. We had become used to the softness this type of flooring provided as opposed to hardwoods, so we eventually decided to re-carpet the room when the time came to update. It turns out that time was now, and we've loved having the serendipitous opportunity to bring our vision for a family-friendly floor upgrade to life.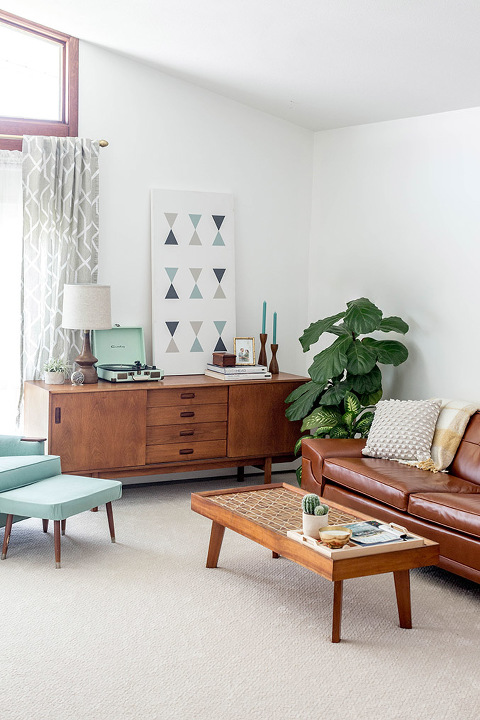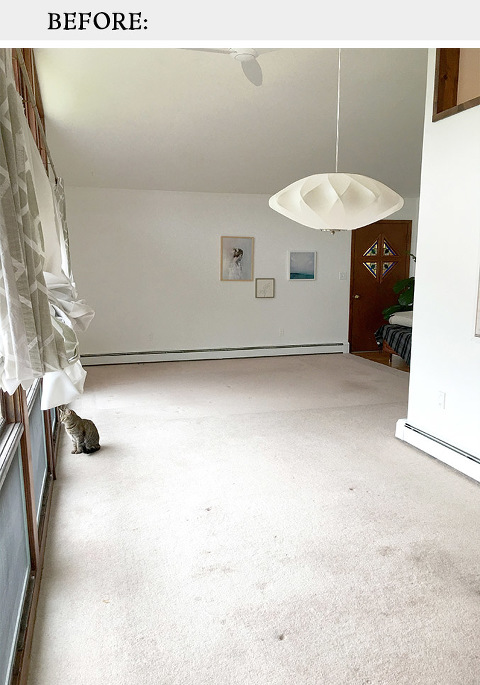 With our plans in place, John and I visited our local Home Depot to look at and test out a variety of PetProof samples from the LifeProof line of carpeting. Although we had dozens and dozens of colors, textures, and pile heights to choose from, we ultimately decided to run with something very similar to our existing outdated carpet.
The original carpet (as you can see in the "Before" iPhone shot above) was so old that it felt almost crunchy in places, and was badly bleached from years in the sun, but we still loved the light, bright color-way of the carpet itself. So we carefully compared the old carpet with new PetProof options until we found a color that felt like a seamless upgrade. One design risk we did take, though, was choosing a new style of carpet—one with texture!
In the end, we both agreed on the Sawyer style in "Bare" because it felt just as soft, light, bright, and airy as our old carpet, but it sported a really cool, multi-layered diamond pattern that we thought would give the room a new millennial lease on life.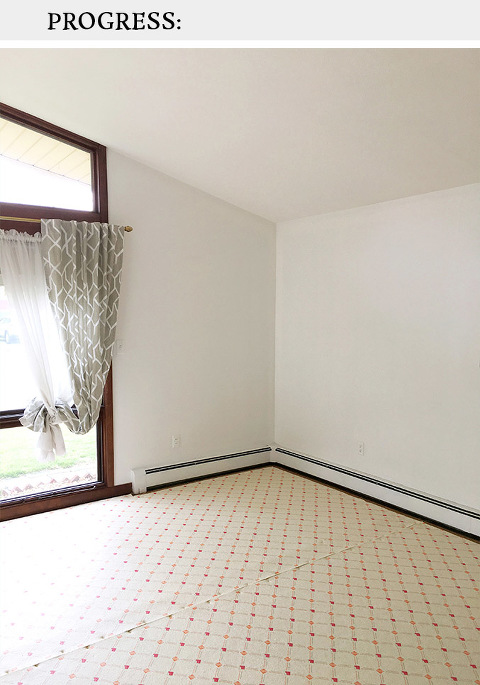 A week or so later, and our old carpet was gone under the direction of our two Home Depot installers, and in its place they laid down fresh memory foam padding, followed by our chosen patterned PetProof carpet. I can't even tell you how nervous I was to walk out from the back office to see the finished product, but the good news is that I loved it.
The pattern is super subtle because of the light color we chose, but it still makes the open concept living and dining rooms feel more pulled together and modern. If you don't believe me, just take a look at Tonks' snuggle with the new carpet pictured below.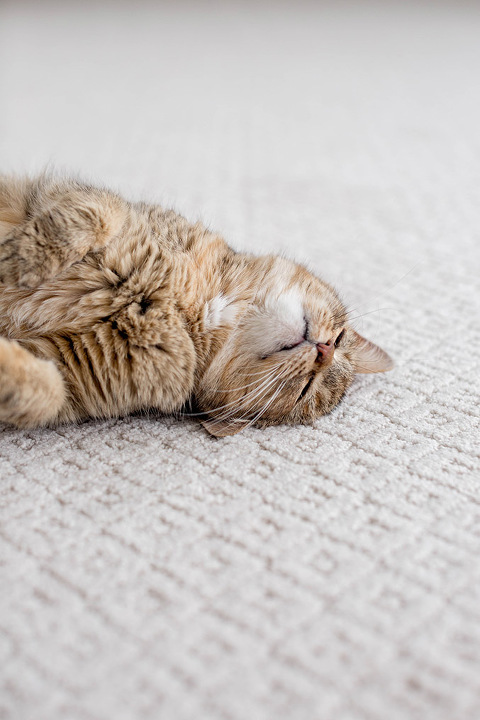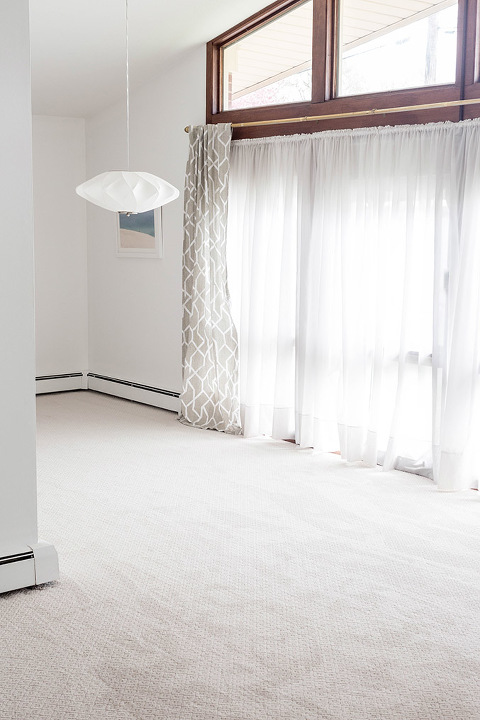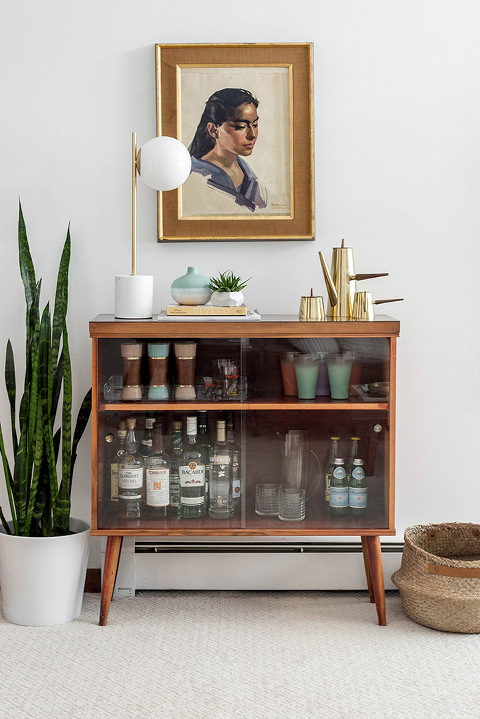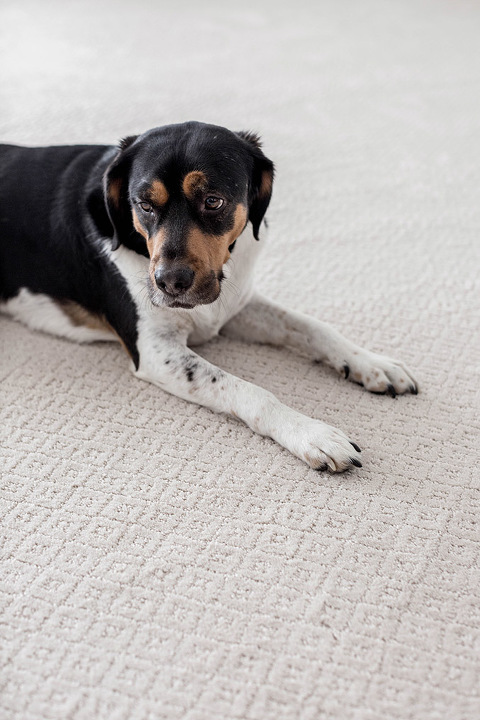 Speaking of our pets, I'm forgetting the most important part—the details that make this stuff actually "pet proof" as the name suggests! Essentially, this carpet is designed to be an answer to tough pet stain removal and prevention. Since, as pet owners, we've come to expect the unexpected, we're constantly reaching for carpet cleaning products to clean up after a hyper tail that's spilled a glass of wine on the floor, or a curious paw that has decided the dirt in potted plants was just too tempting to ignore.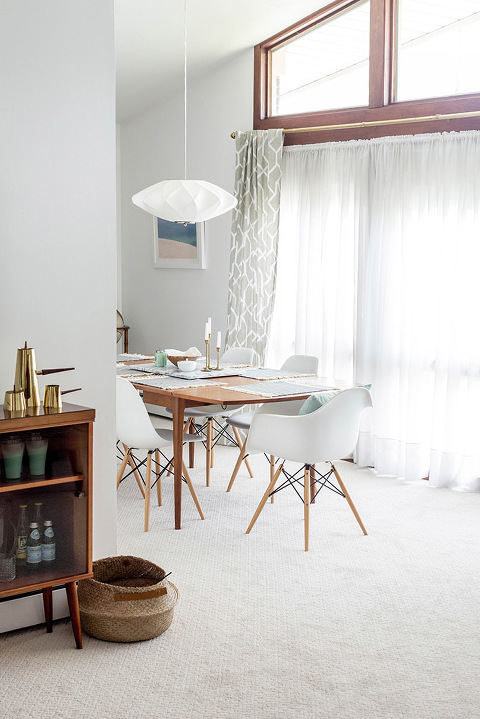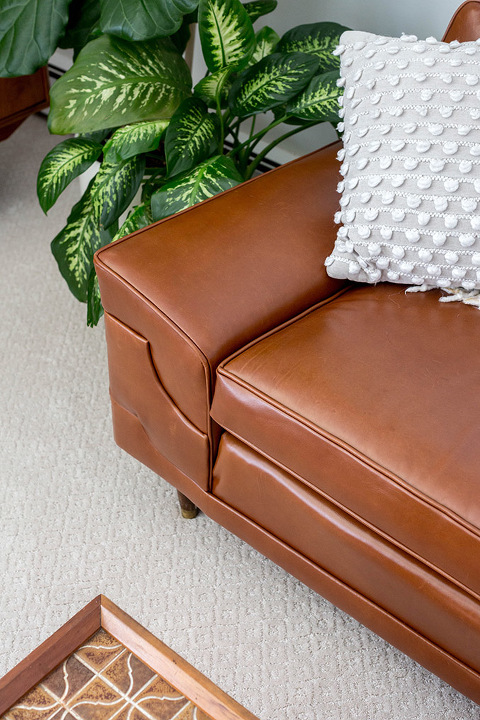 This new carpet helps alleviate stress because it makes pet dander and fur clean-up three times easier, plus it is zero percent moisture absorbent, which makes stain odors a thing of the past. The NanolocTM spill and soil shield makes for quick and easy cleanup, too, something I've had the "pleasure" of seeing in action over the course of the past couple of weeks post-install.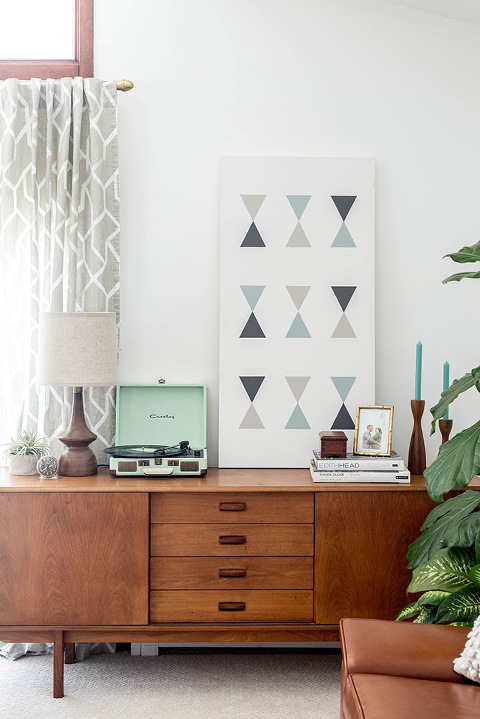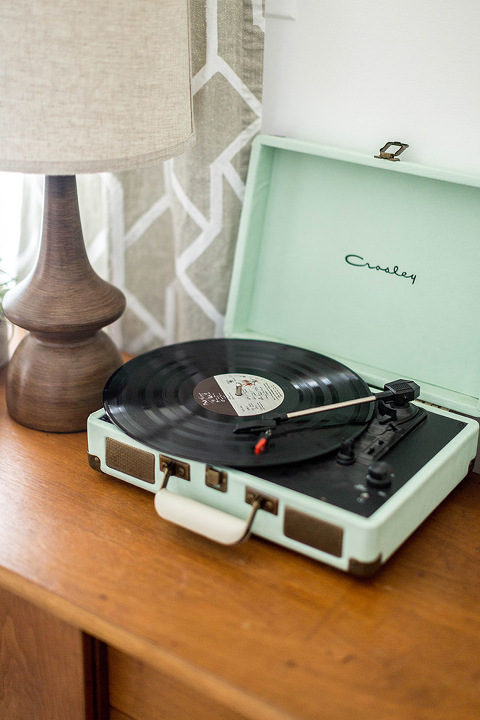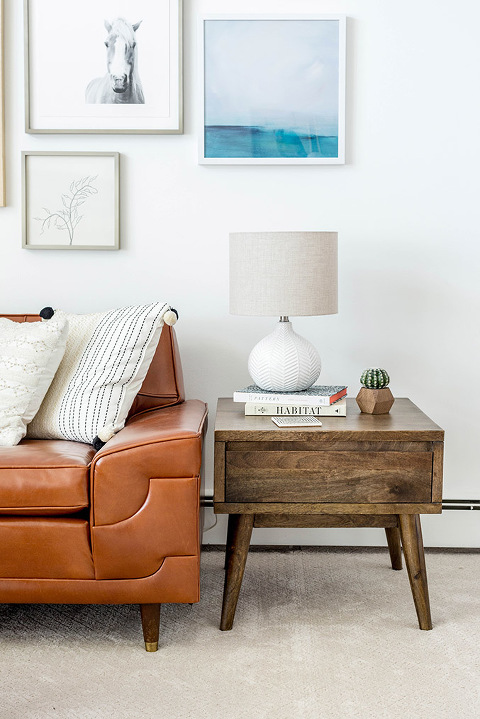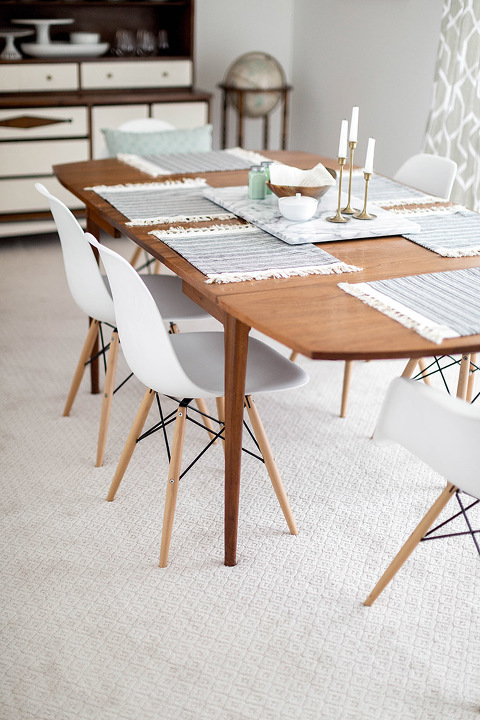 This type of stain resistant carpet is also great for our dining room since it's all part of the same open concept space as our living room. John and I aren't messy easters, but in the off chance a glass spills or a handful of crumbs finds its way down to the ground, we're able to clean it all up within minutes.
Before, we would have had to drag the upright steam cleaner from the basement to get everything looking clean again. Not anymore though. It usually just takes a quick paper towel blot to make the carpet look like new again.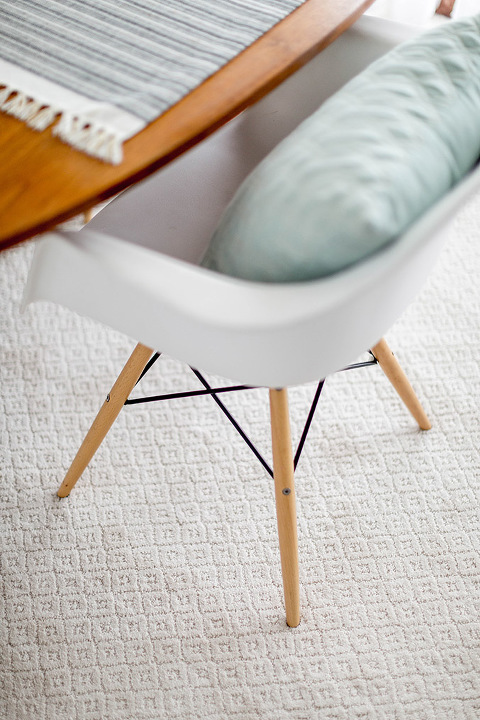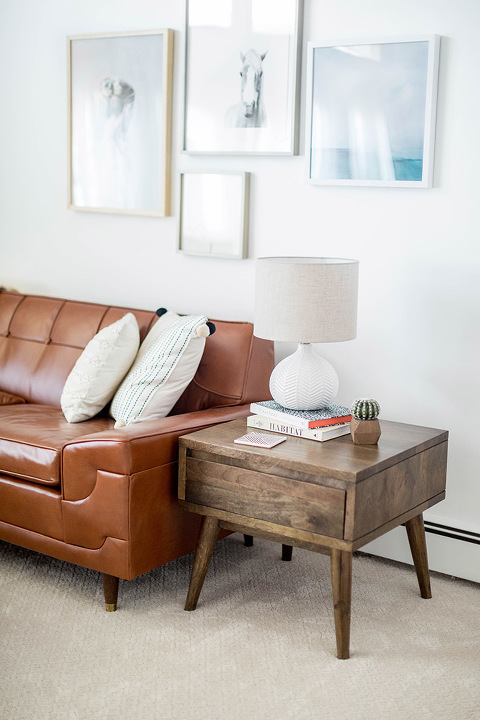 Happily, the heavy duty cleaning abilities of this carpet don't detract from the super soft feel. It's just as lovable and livable by all members of our family—both human and pet—and we've loved getting down on the floor for lots of quality time with our fur babies the last couple of weeks.
Do you have existing carpet in your home? Have you considered upgrading to modern versions of carpeting? The new stuff that's on the market nowadays is nothing like the dated stuff you might be used to from decades ago, so don't write it off as you work to plan future flooring upgrades of your own.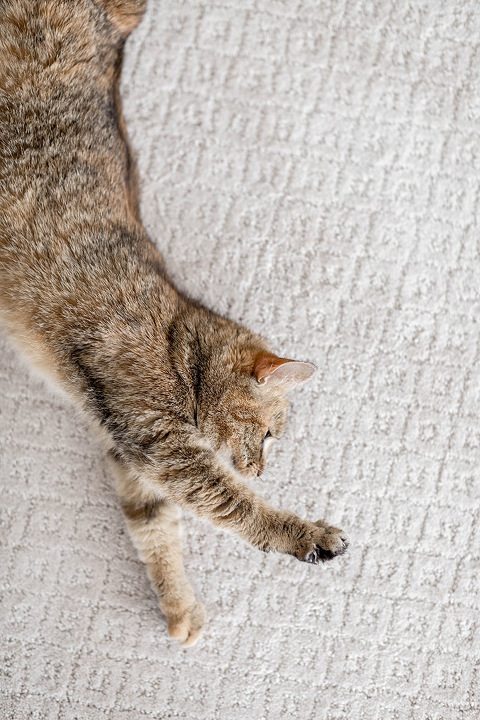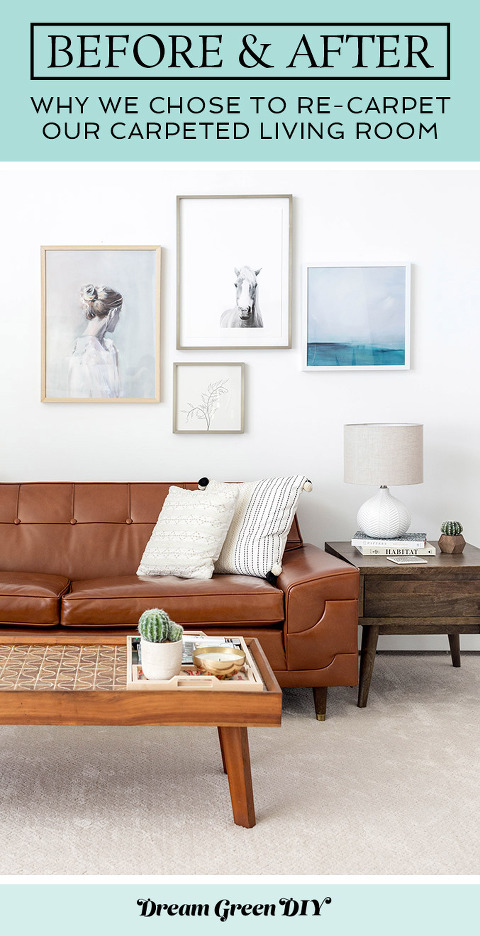 I acknowledge that The Home Depot is partnering with me to participate in this PetProof Program (the "Program"). As a part of the Program, I am receiving compensation in the form of products and services, for the purpose of promoting The Home Depot. All expressed opinions and experiences are my own words. My post complies with the Word Of Mouth Marketing Association (WOMMA) Ethics Code and applicable Federal Trade Commission guidelines.