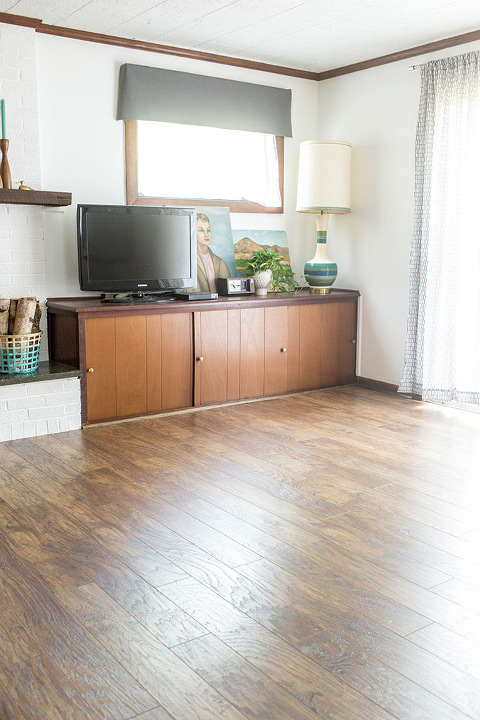 Man, oh MAN, this post has been a long time coming. As in, we've been adding to the long-winded saga for over five months now. In case you'd like to read up on the "why" behind our sudden need to replace the original berber carpeting, click here and scroll to the bottom where I chat in detail about the den.
While reading that past post, you'll also get to see the before photos of what it looked like pre-laminate, but today it's all about the "new" and the "after" because I really just want to forget allllllllll about the process so that John and I can finally (finally!) appreciate our new view. And what a pretty view it is…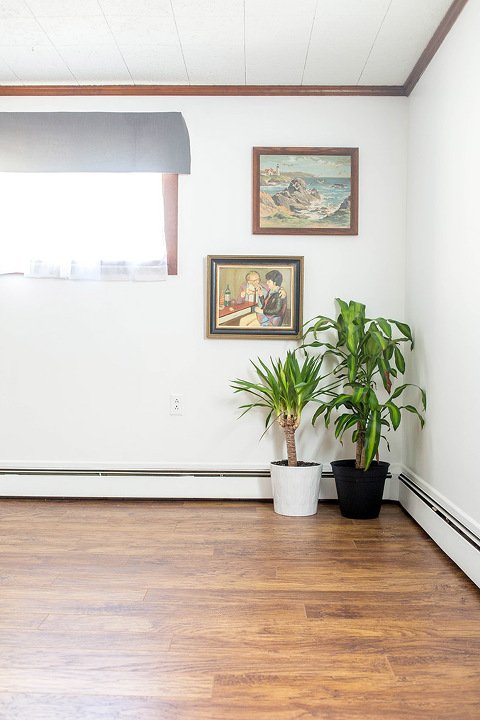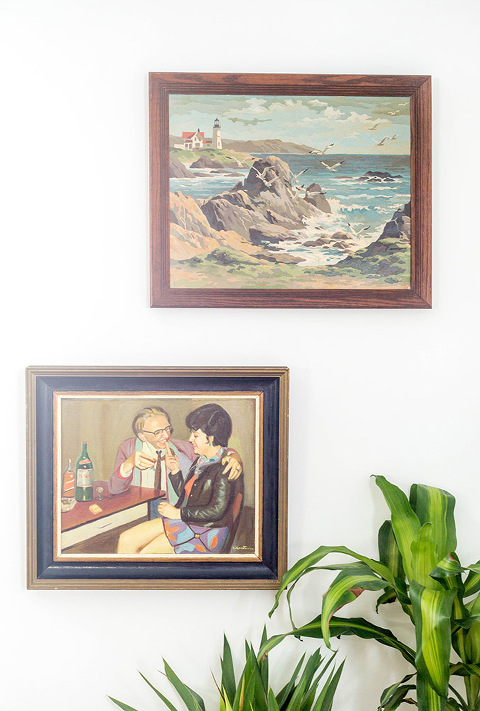 Our new laminate flooring came to us by way of Home Depot and Home Decorators and has been such a dream come true. It makes me think back to when we first toured the house as potential buyers and, after catching sight of the carpet, I said: "Well, that's going to have to come up before we move in!" As with most things in life, it didn't go quite as planned, and we moved right in—berber carpet and all!
Then our cat-tastrophy occurred (see what I did there??) and we were forced to say goodbye to the carpeting once and for all. Although it wasn't planned and caused mega stress along the way, I can't say that I was too sad to see the carpet go. To replace it, we decided on gorgeous laminate floors that—at least to our eyes—look almost like the real deal.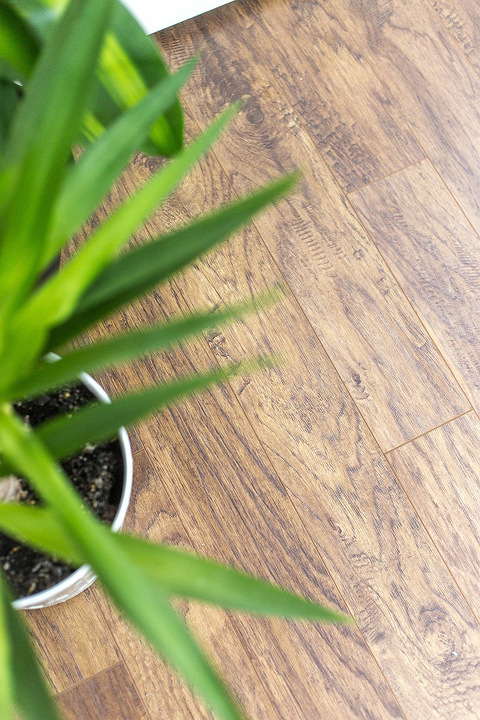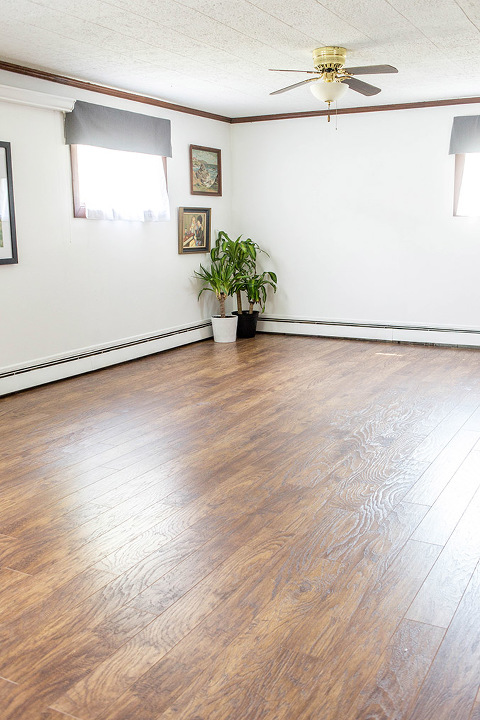 Since we were laying the new floors over concrete and because the den is on the ground level and somewhat susceptible to moisture, we chose laminate over hardwood and I'm perfectly pleased with our decision. The Home Decorators Collection Hand-Scraped Light Hickory laminate has a super realistic texture to it, and I'm infatuated with the rich, dark color. It has just the right amount of gray in it to feel neutral, but still manages to complement the other redder wood tones in the space (read: the paneled walls that we actually love, and the wood furniture and built-ins already in the space).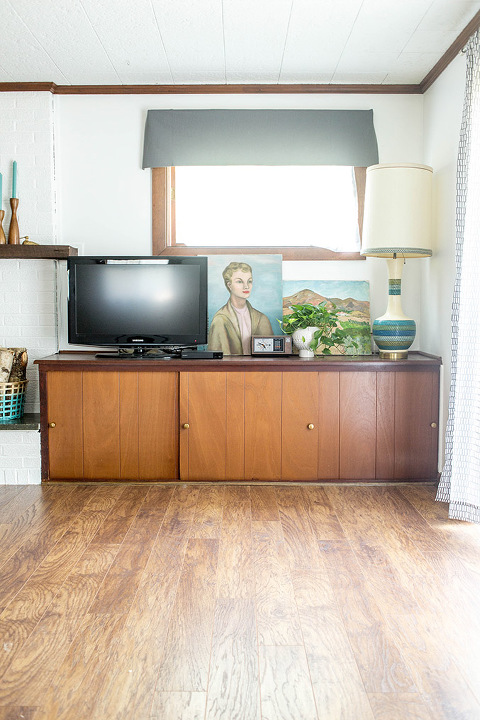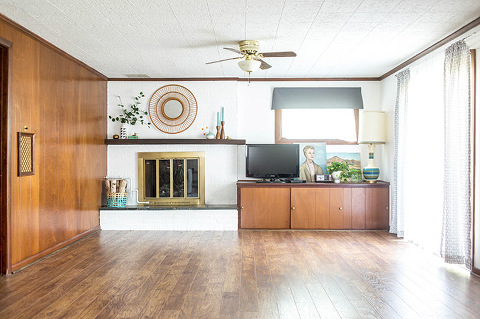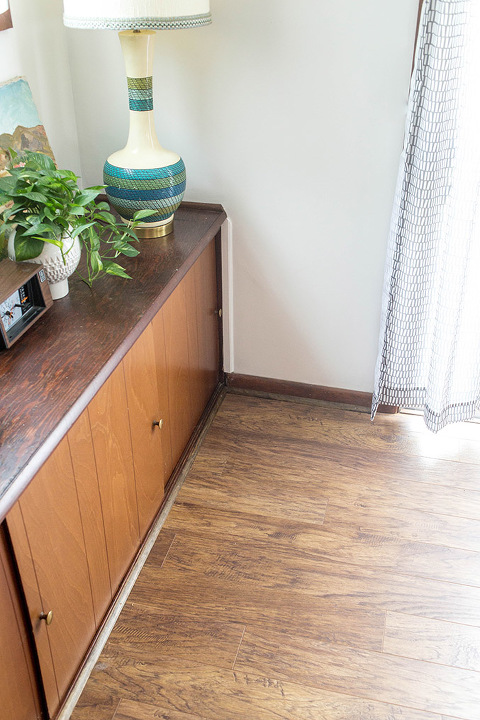 With the flooring finally down and quarter round molding nailed into place, we are ready to get this room outfitted with a new rug and all sorts of cozy, comfortable pieces of furniture again. We've got an entire living room redo coming your way very, very soon, so keep an eye out for that! In the meantime, if you need me, I'll be sitting cross legged on our new flooring giving it all kinds of heart eyes.