*This post was sponsored by Schlage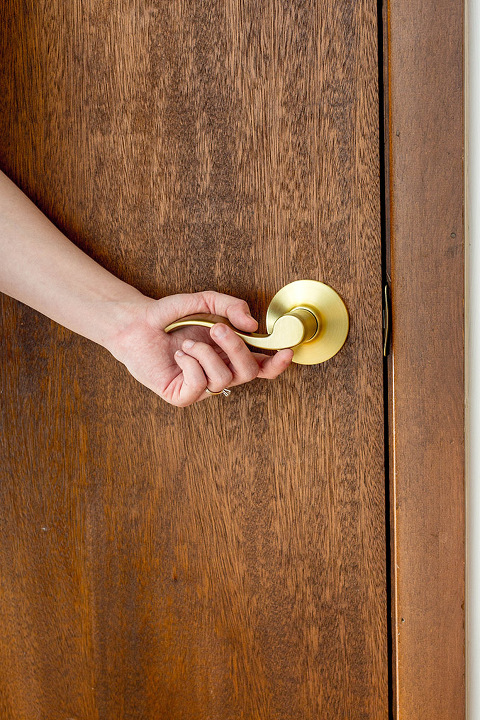 Since purchasing our retro home and starting the process of renovating each room one by one, I've had the chance to learn so much. I used to be intimidated by pretty much any home project, but nowadays, I don't hesitate before replacing old light fixtures, patching drywall, using power tools, and even ripping out old drop tile ceilings (a task I crossed off my list on a whim by myself a couple of mornings ago!).
What I've come to learn over the years is that tackling these types of home renovation projects is really just a matter of educating yourself. Confidence is everything in pretty much all things in life, and having the guts to go "gung ho" with home repair and design is no different. With each project completed, you'll feel a little more empowered to take on the next one, so start small and, before you know it, you'll be going BIG.
If you're on the hunt for a simple home repair project that doesn't take hours to complete or tons of experience to cross off your list, why not consider a door hardware update? I teamed up with Schlage to document a simple yet impactful before and after door knob switch that has made a totally new statement in our upstairs hallway. Scroll on for details, plus our reasons for choosing a different silhouette handle than the rest of the doors in our home.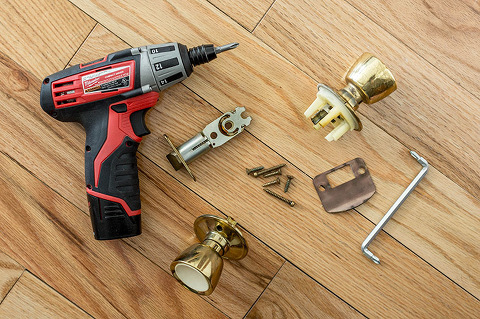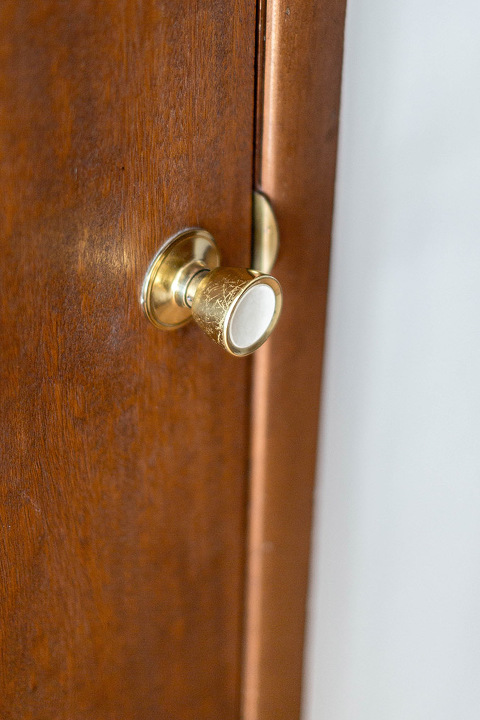 First, I'll explain why we chose the particular door and handle that we did. As you can see in the photo above, the handle on our upstairs hall closet had clearly seen better days. It was really scratched up and was just generally dated. Does anyone even know what that matte white cover on the front is? Is it just decorative? We have no idea.
The only issue is that the rest of the door knobs in the hall looked great. There are five other doors down the length of this hall, and each of them was in good working order, so I didn't want to replace all of them. After chatting about it with John, we decided to choose a completely unique shape for the hall closet knob, that way the handle would look intentionally different and special. By going with a brass finish to mimic the rest of the hardware in our home, we were able to help tie the entire look together.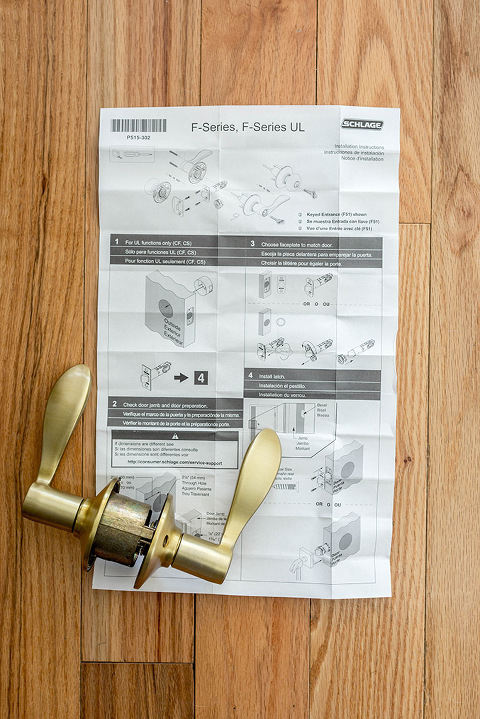 To make our somewhat-avant-garde vision a reality, I ordered a single curved accent lever—one specifically made for halls and closets (i.e. no lock)—in a soft satin brass finish. This particular lever has that traditional S-like curve to it, which would succeed in setting it apart from the rest of the knobs down the length of the hallway, which are all simple, symmetrical, and round.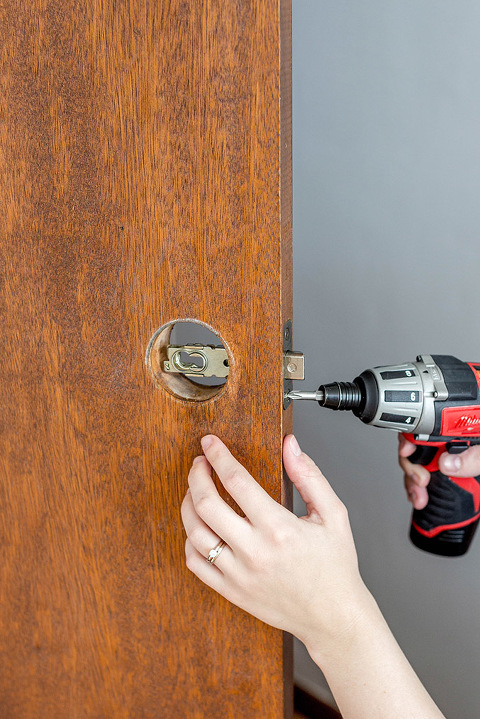 First, I unscrewed the old handle from the door and discarded the old hardware, then I reversed the steps to install the new knob. Following the paper instructions that came with our accent lever made out-of-the-box installation super easy, and I was done with the door update (by myself!) in just 10 minutes.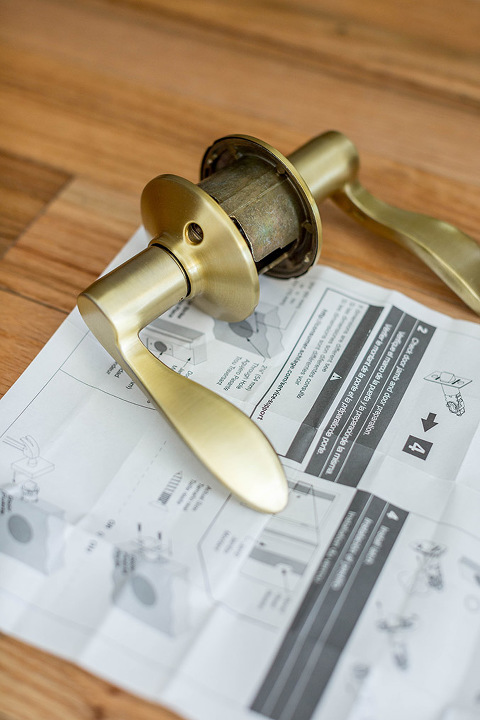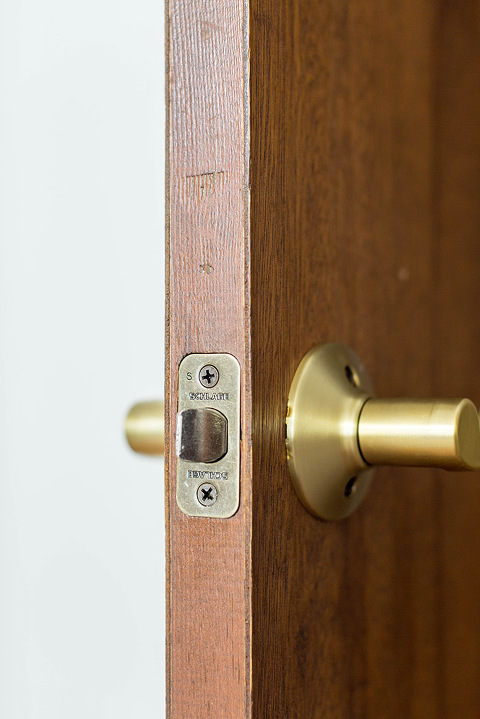 I love when home upgrades are both functionally motivated and decorative, and this project checked both boxes. It's actually a really comfortable handle to grab and turn, possibly more so than our existing round knobs down the rest of the hallway, and I'm in love with the sleek shape. It really makes for such a special design moment in our hall, which is nice because I've been struggling to make our hall look and feel like anything more than just a windowless, dark cavern. It's the little things, am I right?!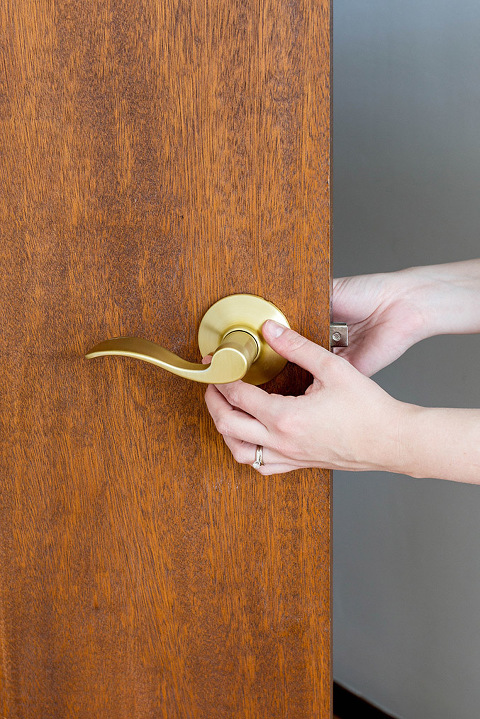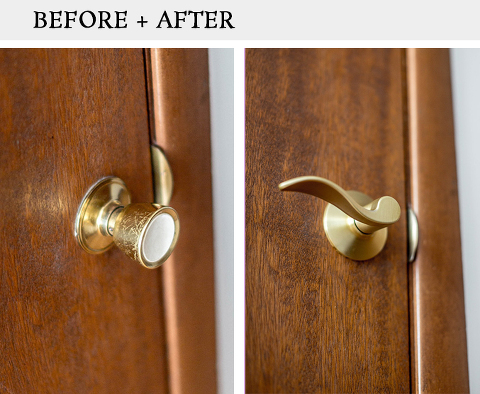 At the end of the day, changing your door hardware is a quick and easy project that's affordable to tackle on your own and makes a big statement. Whether you're new to home renovation or you're already a pro, a door knob switch is a great way to feed your need for doable, lasting design upgrades.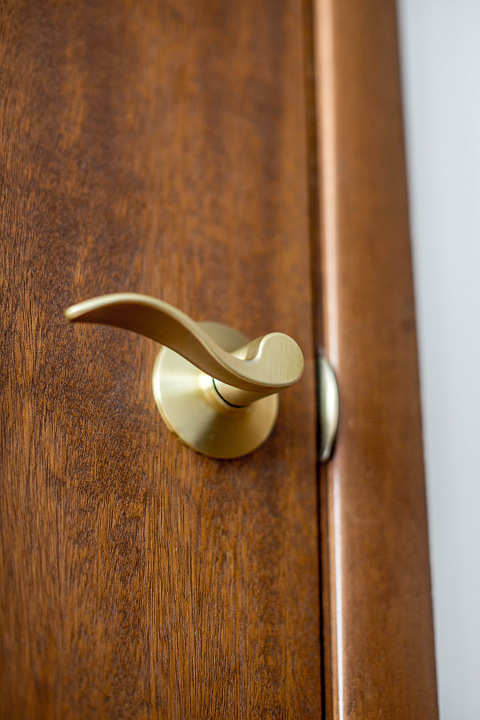 What do you think of our new hall closet handle? My favorite thing about it, of course, is that it easily stands out from the other door knobs that line the hallway. That sleek curvy silhouette is an immediate eye-catcher, and the brushed brass finish feels like a fresh take on a more traditional style.
Which lever would you choose from the Schlage collection? No matter what you pick, you can feel sure of both the durability and finish of your chosen hardware because Schlage is governed by the standards set forth by the Builder's Hardware Manufacturers Association (BHMA). There are so many high quality options to choose from that all offer you the chance to express your own personal style. Leave your vote after testing their style selector in the brand comment box below.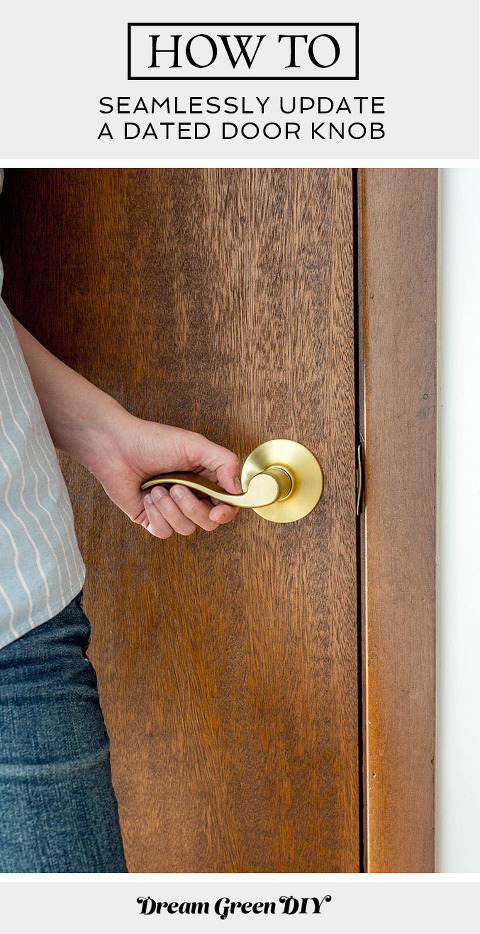 This is a sponsored conversation written by me on behalf of Schlage. The opinions and text are all mine.