Since the day John and I started dating (or, really, since the day we met through friends in high school before ever dreaming that we'd get hitched) music has bonded us. We used to listen to albums on repeat for hours when we first reconnected, and while adulthood responsibilities have seemed to get in the way of more frequent musical moments these days, we still make time for it as often as we can. There's just something really relaxing about flopping onto the couch and chatting about anything and everything as a good album turns in the background.
Because of this penchant for music we have music-friendly lounge areas all over our house. We have three record players—one in each living room (one upstairs and one downstairs), and the third lives on our sunporch. I made sure to situate all of our comfiest furniture around our record players to invite easy listening whenever the mood strikes. Good lighting, retro decor, and ample vinyl storage options helps keep our collection straight, and it recently occurred to me that maybe you'd like to follow suit.
That shopable list above should set you up with a mod music lounge all your own in just a dozen pieces (or less since I've given you two options for players—one inexpensive all-in-one type deal and one that's more of an investment).
What are some of your favorite albums to listen to? Another recent favorite is the Awake And Pretty Much Sober Vinyl from Violents & Monica Martin. Leave your top picks—both new and old—in the comments below!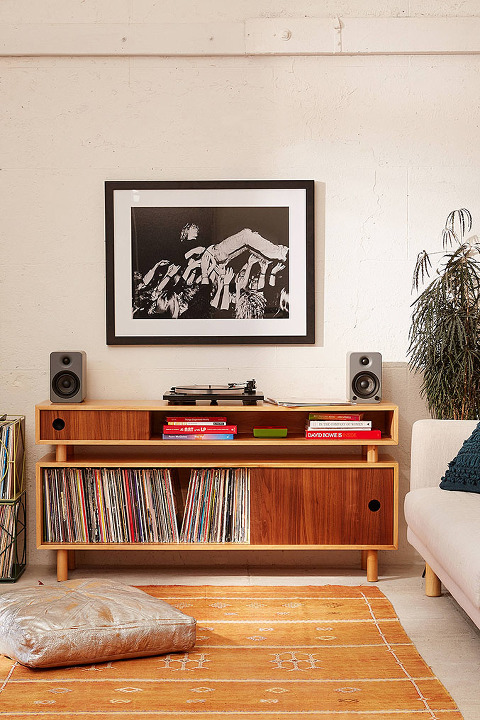 P.S. Have you voted for our space in this year's Design Dash hosted by La-Z-Boy yet?! See the room I made over with my Glitter Guide teammate, Caitlin Kruse, here. Oh, and, as always, my promise to you is that the affiliate links featured in this post spotlight items that I use and love myself.