I've actually been really blessed when it comes to closets, even ever since my days in college. I've never known anything other than a walk-in situation, which I know is not normally the case. That said, the negative side effect of this perk is that I've built up a pretty monumental collection of clothes. I hang most of my clothing up—from sweaters and dresses, to T-shirts, too—and since I've always had ample closet bar storage for them, I've never really tried to weed things out.
That's all about to start changing though—big time. I don't really have any particular reason to purge, but I'm just generally feeling the impulse to have fewer items to my name and I'm craving a more minimalistic look in every area of our home, including our walk-in closet.
Now, this post isn't really so much about purging and getting rid of pieces in your wardrobe, but in the process of streamlining our stuff, I made a recent closet swap that added practically double the square footage (without lifting a single tool). The secret? New hangers!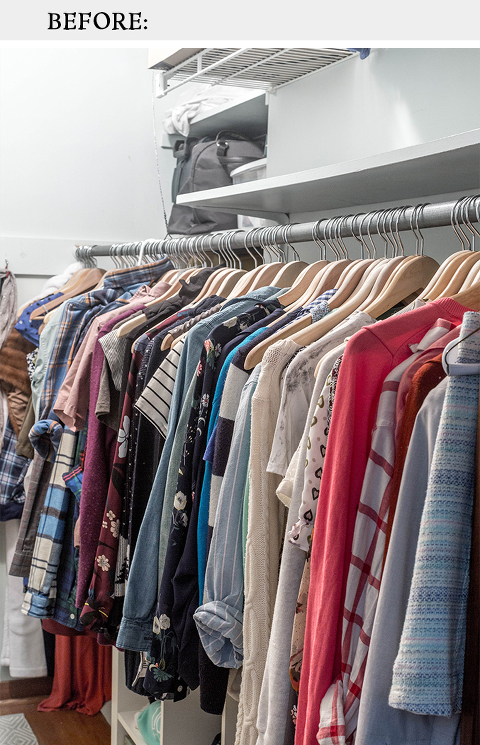 As an aside, I admit that these pictures are really kind of unappealing, but not all home tips come with perfectly styled surfaces and artwork, and I figure sometimes the real-life stuff is even more helpful. Hopefully you keep reading despite these up-close-and-personal peeks inside my wrinkly closet!
Anyway, up until this point I had always used wooden hangers. The matching grain just seemed really appealing to me, and the clunk of real wood against real wood sounded worlds away better than the click of mismatched plastic ones (yes, that's me showing my type A tendencies, but I'm just being honest).
Then we went to the beach earlier this month, and our rental beach house came equipped with ultra thin non-slip velvet hangers in all of the closets. As I transferred my dresses and shirts from my suitcase to the hangers, I remember being incredibly impressed.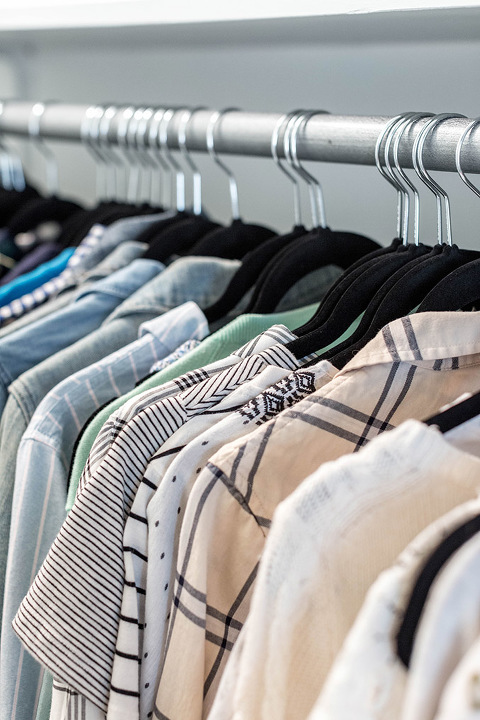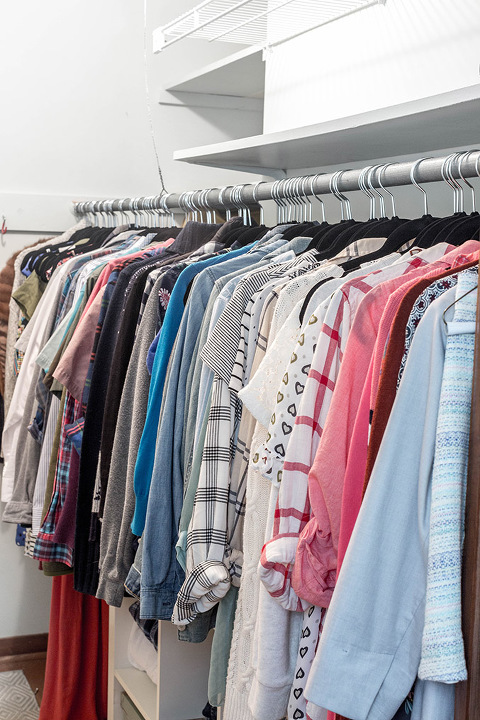 Not only did the sleeves stay firmly in place (a benefit that wooden hangers can't seem to boast), but the super slim silhouette of the hangers also meant that my clothing took up next to no room in the closet. At home, my 3/4-inch-thick wooden hangers could barely be moved from side to side because of how unnecessarily thick they were.
As soon as I got home from the beach, I placed a $40 order for velvet hangers on Amazon, and then made the swap in my closet a few days later. I haven't gotten rid of any clothes yet (something I plan to do in the next couple of months), but I still gained almost twice as much closet space just be ditching the bulky wooden hangers.
Below you can see how I can push my clothes together on the new hangers revealing an extra combined five or so feet of usable bar space. I don't plan to actually fill that extra space, mind you, but it'll be nice to eventually walk into a clean and sparse closet by summer's end.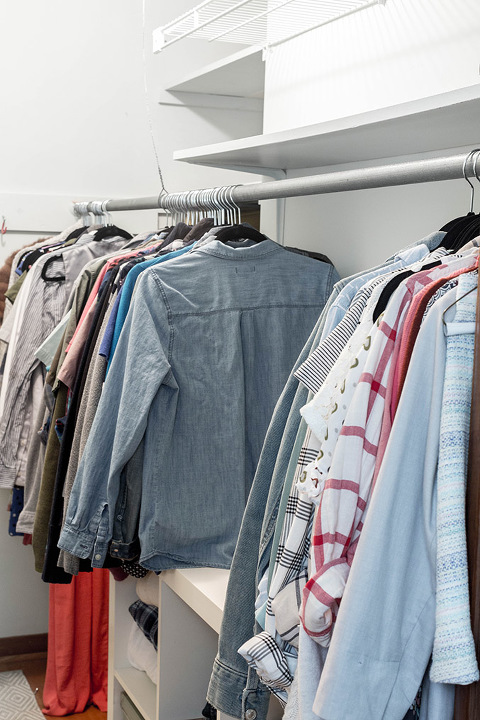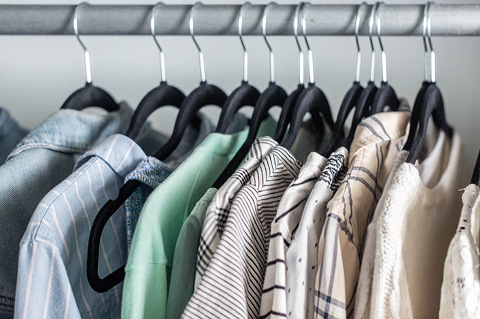 This change was super affordable and I love the look of the sleek black velvet, too, so the pros of swapping out old hangers for this new style easily outweighs the cons. Wait…are there any cons? I can't think of any.
Oh, and if you'd like to get some tips on how to make the most of the items already in your closet (an art I'm still trying to master, so I can't share too much experience) then pop over to Design Love Fest. Bri's team is offering lots of easy-to-pull-off ideas for purging, restyling items, and even tips for at-home tailoring. See the post here and please feel free to share wardrobe maximizing tricks of your own in the comments below.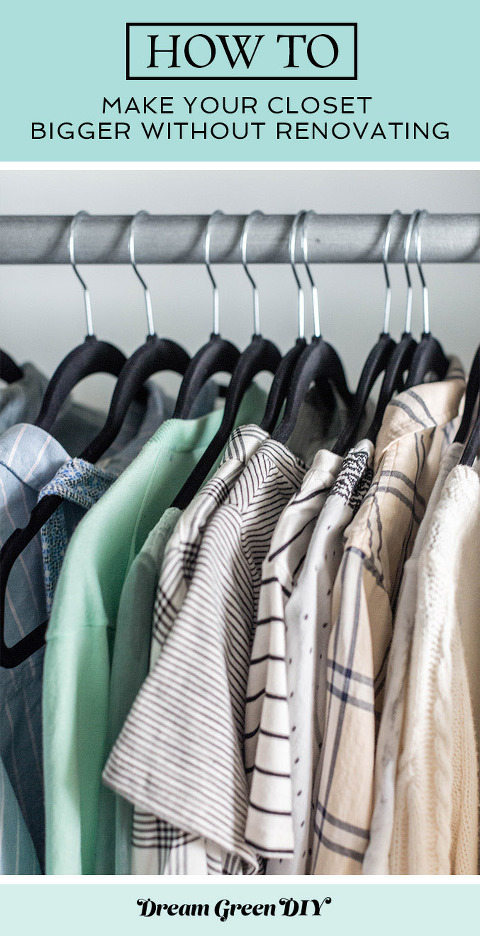 P.S. Have you voted for our space in this year's Design Dash hosted by La-Z-Boy yet?! See the room I made over with my Glitter Guide teammate, Caitlin Kruse, here. Oh, and, as always, my promise to you is that the affiliate links featured in this post spotlight items that I use and love myself.