*This post is sponsored by Samsung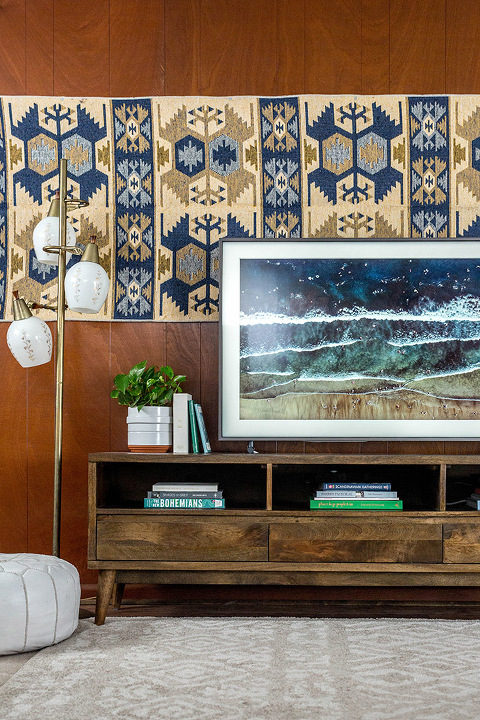 Slowly over the course of the last two years, I've managed to rid our home almost entirely of televisions for design reasons. There's just no denying that traditional TVs flat-out ruin the aesthetic of a room, and I gave up on trying to make them work.
Now, of course, that's not to say we don't watch TV—we actually watch an hour or two of it every evening before bed, but we do so using a well-hidden projector that displays on a blank white wall in our downstairs family room. It's just as cool as it sounds to watch movies and shows on a big projected screen, but daytime viewing on a projector just isn't an option. Projected images work best under total darkness, so if, say, I wanted to binge watch season four of Dawson's Creek on a lazy Saturday morning (guilty), I couldn't really do it.
Point is, I've always wanted to find an answer to the age old question, "How do I make a TV blend in with our home decor," and have considered building a closable box frame for the wall to conceal the appliance when not in use, and even ordering some sort of custom cabinet. Thankfully, Samsung recently offered an easy solution to all of our TV woes with their brand new television: The Frame.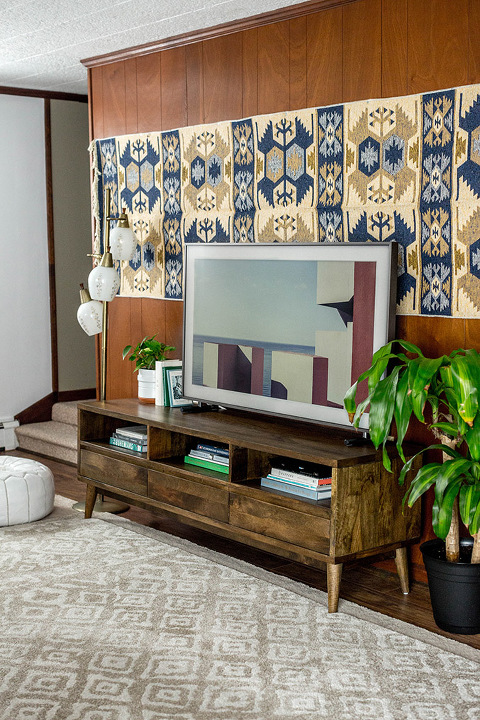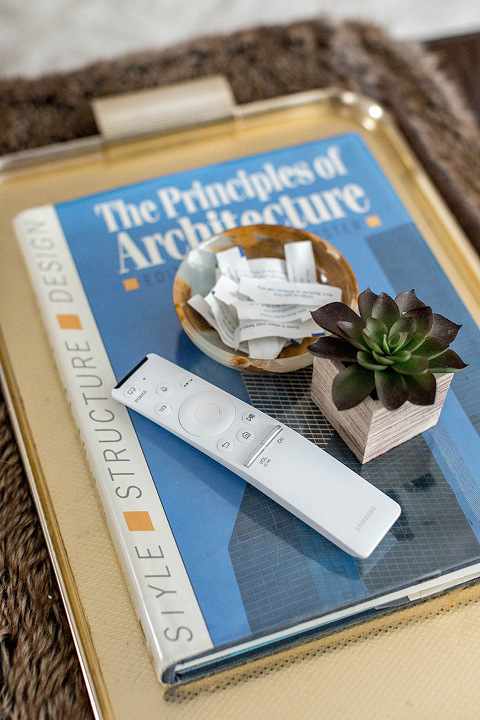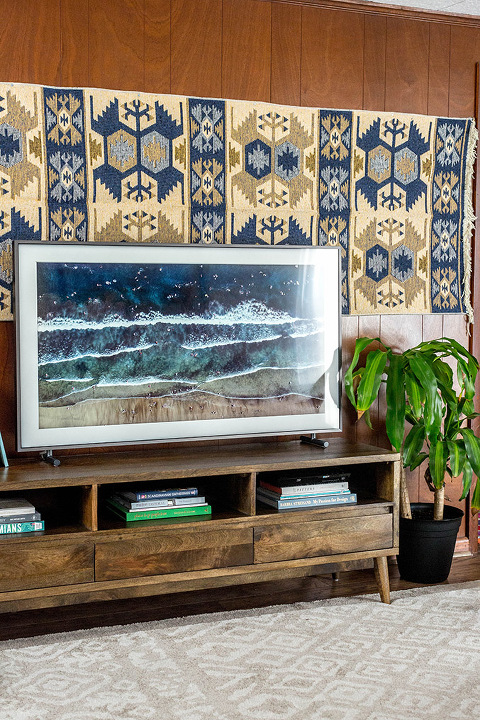 Just like the name implies, this TV sports a simple, sleek frame that—wait for it—really looks like a picture frame. You can even, later on, choose to customize the included black metal frame using a number of different style options to suit your own aesthetic (think: beige wood, walnut, or white), but the real star of this TV is what shows within that frame. When you're not watching television, the screen transforms into a work of art. Literally.
Dreamed up in collaboration with designer Yves Béhar, The Frame comes loaded with a digitally curated gallery of 100 art works to choose from right out of the box. We're talking black and white portraits, colorful butterflies, edgy line drawings and collages, high quality architecture photographs, landscapes, and so much more. If you want to make things ultra personal, you can also upload your own personal family photos and travel pictures. Instead of fading to black when not in use like most TVs, The Frame's dormant stage shows a piece of art chosen by you to match your home's existing decor.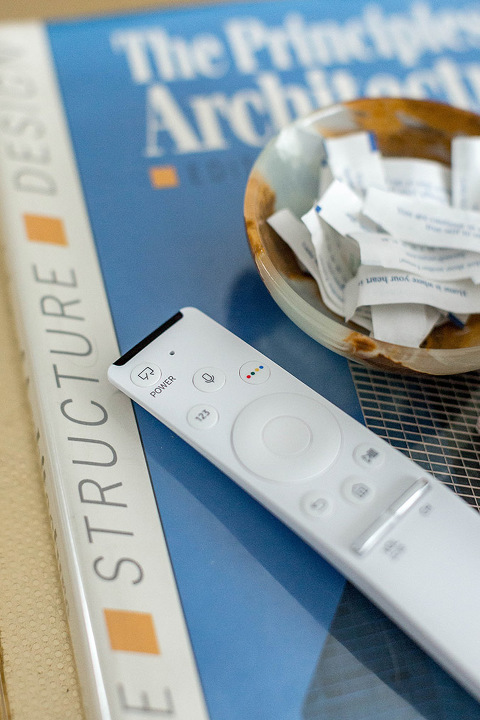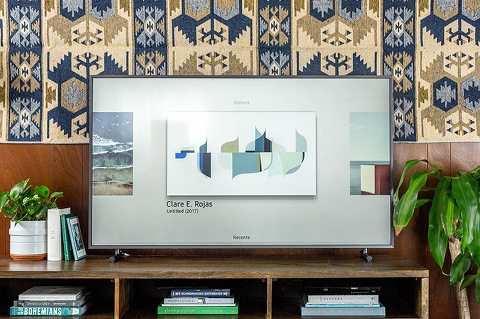 What I'm trying to say is that this TV instantly negates any design conundrum by disguising the fact that it even is a television. The Frame comes with Samsung's new Invisible Connection and No Gap Wall-mount right out of the box, too, so that you can even hang it flush on the wall in the middle of your gallery wall.
Although John and I decided to make the most of the included Studio Stand to mimic the look of leaned tabletop art, we've since tucked the wall-mount safely away in case we decide later on to hang The Frame on a wall. Here's what it could look like hung in our upstairs living room.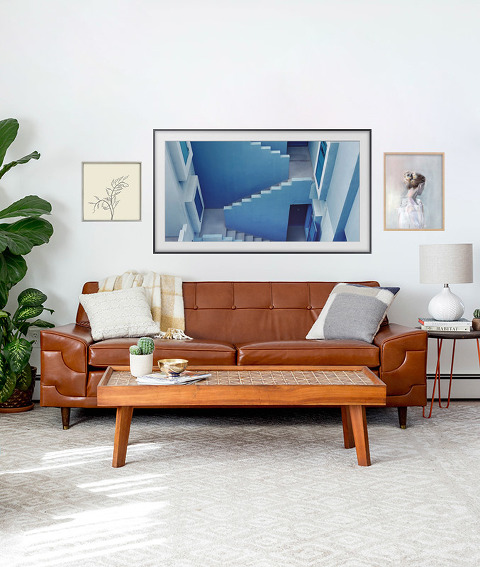 How cool is that?! I doubt any guest would have a clue that the beautiful 55-inch framed photograph can actually play Netflix, Pandora, or YouTube with the push of a button. As you can see in the next shot, you can even customize how your chosen art work looks within the frame—you can forgo a matte, use a standard matte, or go with a shadowbox style matte. You can also pick the color of your matte from 10 options, including black, gray, red, green, and three shades of white.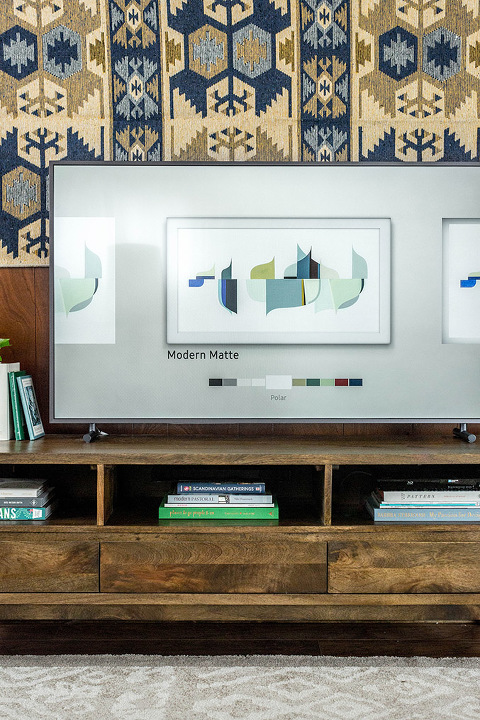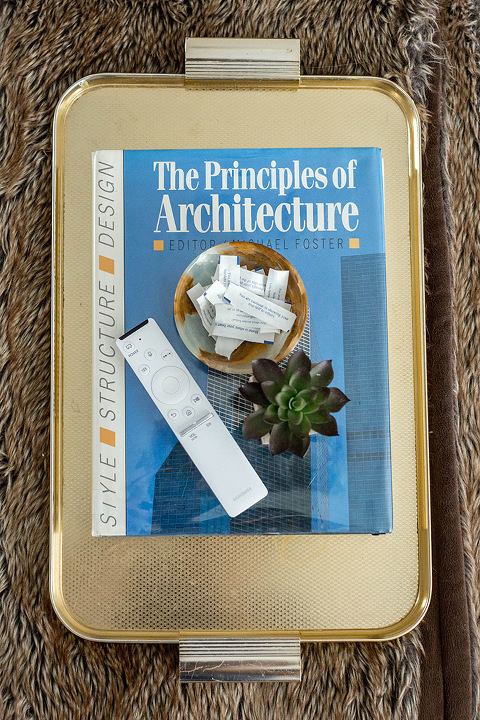 After scrolling through the options post-set-up, I landed on three favorites: a curvy blue and gray pattern by Clare E. Rojas, a Southwestern style architectural photo by Nacho Alegre, and an aerial beach shot by Tommy Clarke. All of my favorite images are automatically saved to a "Recents" folder so I can quickly pull any of them up when I want to go into Art Mode.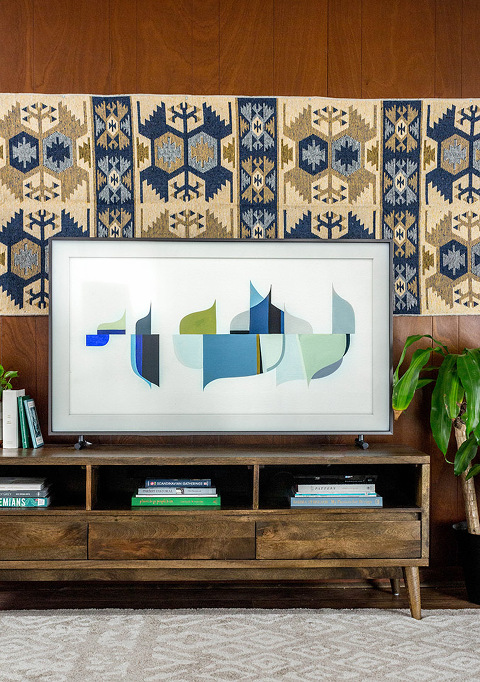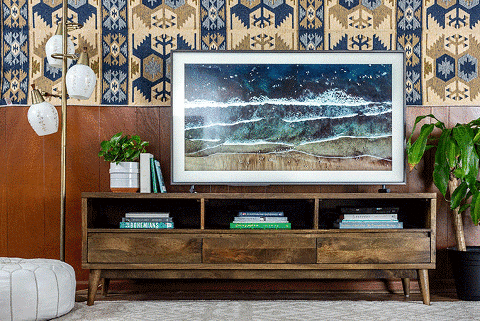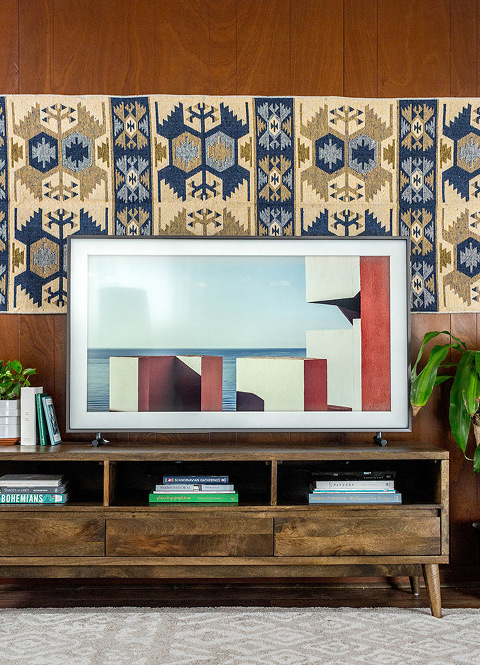 Another cool thing is that the TV has a built-in Brightness Sensor, which auto adjusts the color and brightness of the display depending on the time of day. I was a little concerned about backlighting effects ruining the look and ambiance of the art, but the TV automatically adjusts to a natural brightness and color so that the art looks like the real deal. On the other end of the spectrum, as soon as you pop into television mode, you can see the TV take on the brighter, whiter display you're used to.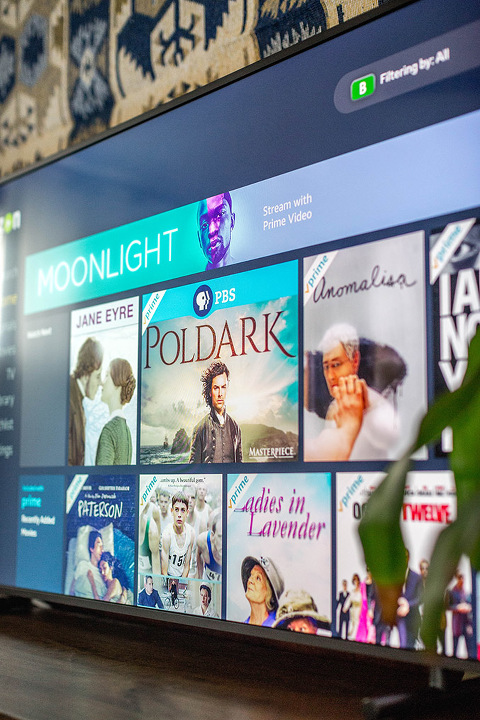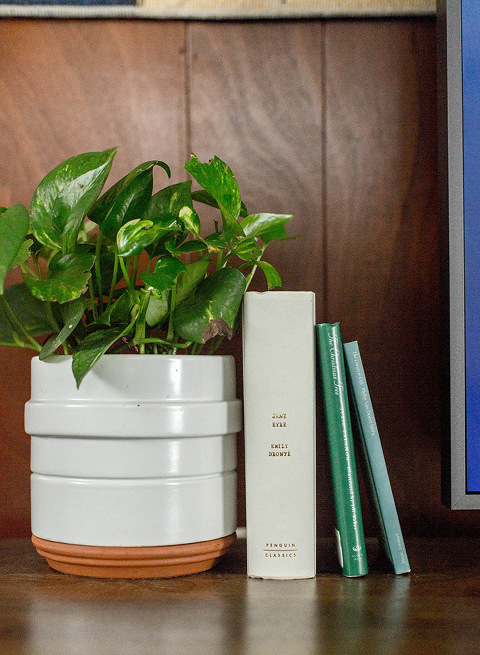 Speaking of, despite the argument that Art Mode is the most intriguing feature on this TV, it's worth reiterating that you can also watch all of your favorite shows and movies on this television, too. We've never owned a smart TV, so having all of our favorite apps (think: Amazon Video, Netflix, Hulu, YouTube, etc.) all in one place without having to hook up external equipment makes us feel like kings. The Frame's picture is incredibly crisp and lifelike, too, with four times more pixels than full HD. I don't know much about technology, but it's pretty astonishing going from a 10-year-old low quality 32-inch TV to a high def 55-inch television.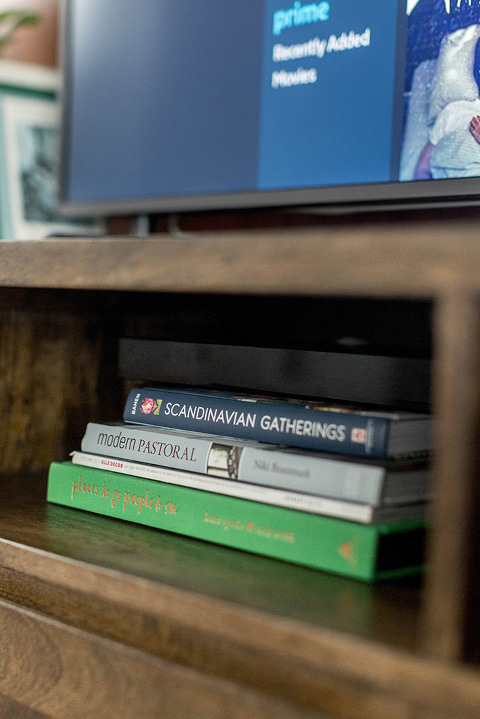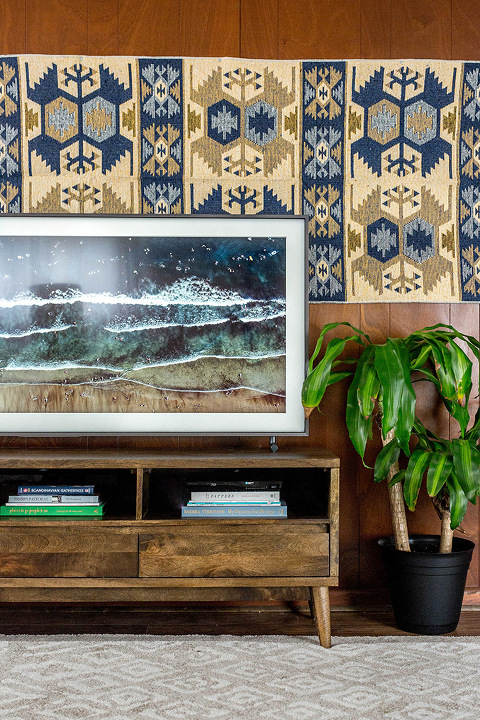 The only thing we needed to hook up to the TV was our BluRay player, which connected right to the included One Connect Box that you can just barely see pictured a couple photos up situated on top of a book stack in our media console. Just two small cables run from the TV itself, and those can be run discreetly off to the side using a clear included clip. I think one of the biggest past deterrents of trying to make a TV work in our home was the unsightly cables and unnecessary clutter, but The Frame minimizes all of that. The designers really thought of everything.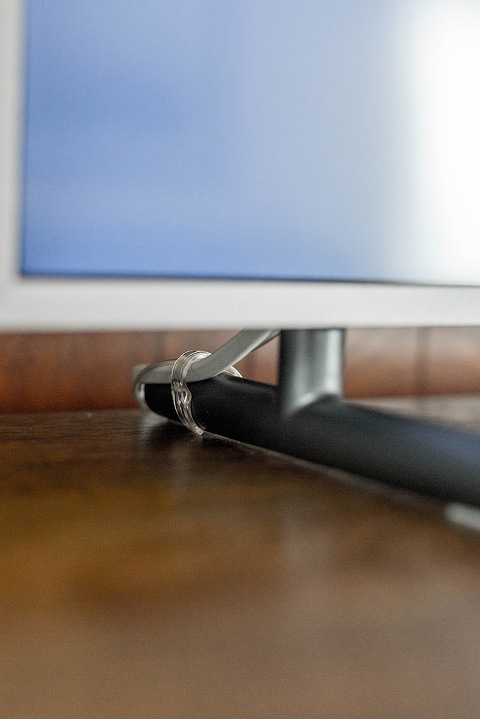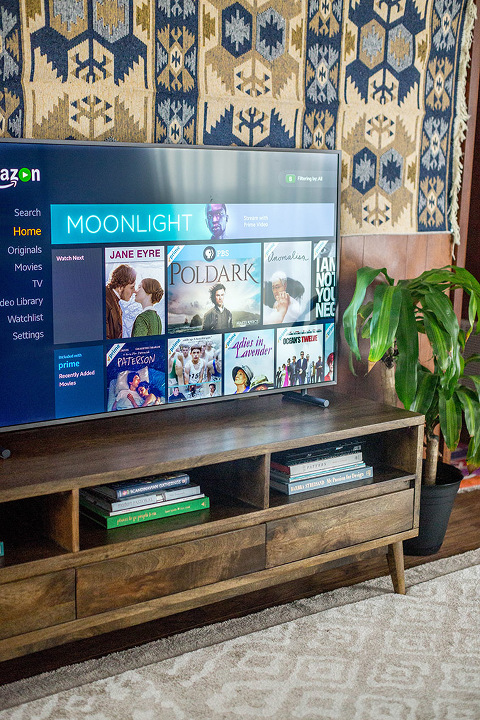 The Frame is definitely an investment, but when you think about all of the things it combines into one box and appliance—like a 55-inch TV, wall-mount, all of your favorite smart apps, not to mention more than 100 large scale 55-inch framed works of art—it's a worthy one. I know it seems silly, but not having to worry about or be embarrassed by having a TV displayed front and center in our home is personally worth the entire splurge to me. This television is the perfect iteration of form meets function, and I'm so excited to shout it from the rooftops since I know a lot of you have struggled with blending your own TVs at home for years.
So, which of the three favorite art works that I chose is your favorite? What type of art would you display on your Samsung TV—landscape, architecture, wildlife, action, drawing, family pictures? Do tell in the comments below.