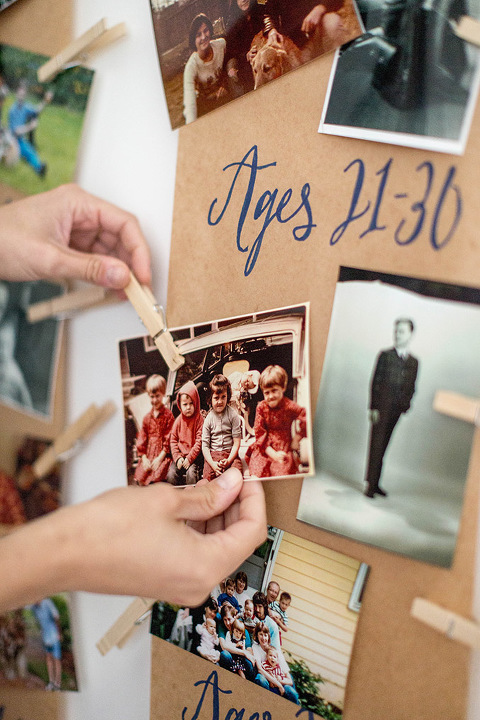 Like a lot of you, I've always struggled with actually going through the motions of printing and displaying family photos. I've got pictures from high school, college, and even my itty bitty childhood ready to go on my hard drive, but I just never seem to have the time to go through and print my favorites—let alone actually find a way to display them.
All that's about to change though. I've quietly stolen all of the photo albums from my parents' house with the aim to scan and print my favorites from the collection. If nothing else, I think the entire family will rest a little easier knowing that there are digital copies of these one-of-a-kind snaps, but my ultimate goal, of course, it to print these memories and set them up around our house for posterity's sake.
The inspiration for this ongoing project was actually my dad's birthday party just a couple of weeks ago. John and I hosted the gathering at our house, and since I'm physically incapable of throwing a party without some kind of DIY, I decided to come up with a fun photo game to make the most of dad's childhood photos. I wasn't planning to feature the project here on my blog (which accounts for the slightly haphazard display), but it turned out to be such a simple craft and such a hit at the party, that I couldn't help but add it to the blog's editorial calendar of posts.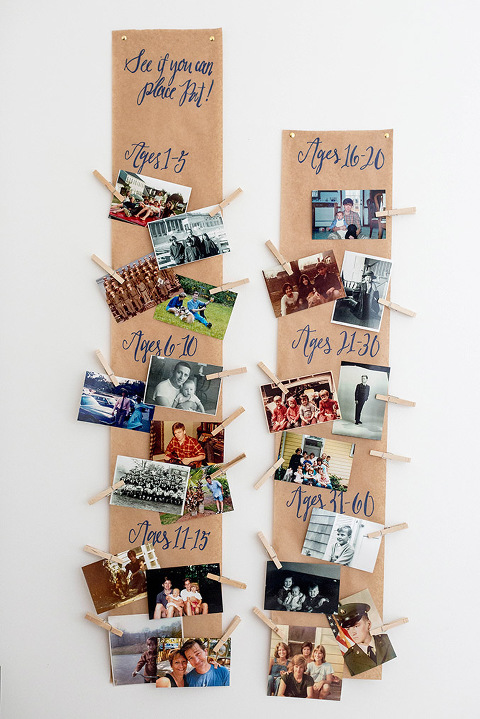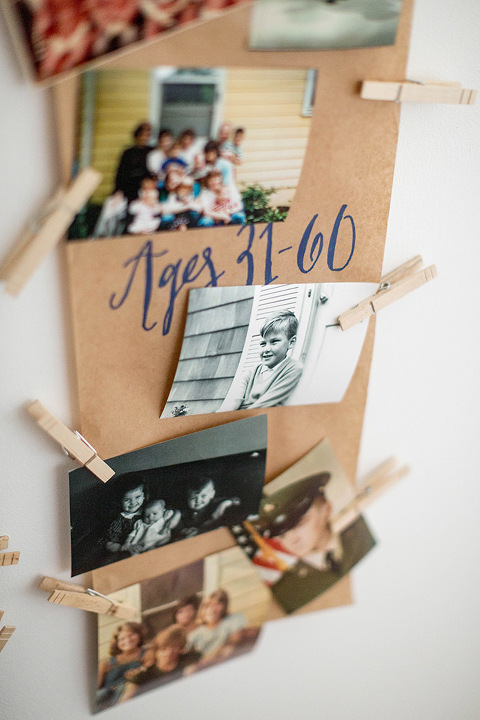 All you need to recreate the look at your own birthday party is a roll of kraft paper (I used masking paper typically used for painting projects), clothespins, push pins, scissors, a permanent marker, and printed photos of the birthday boy or girl, preferably from all different stages of life—from their birth and childhood, to teenage years, and adulthood.
First, unroll the kraft paper by about four feet and cut it straight across at the bottom with scissors. If the birthday boy or girl is turning 50 or 60, you may need to cut two lengths of paper to hang side by side in order to accommodate all of the years of the person's life.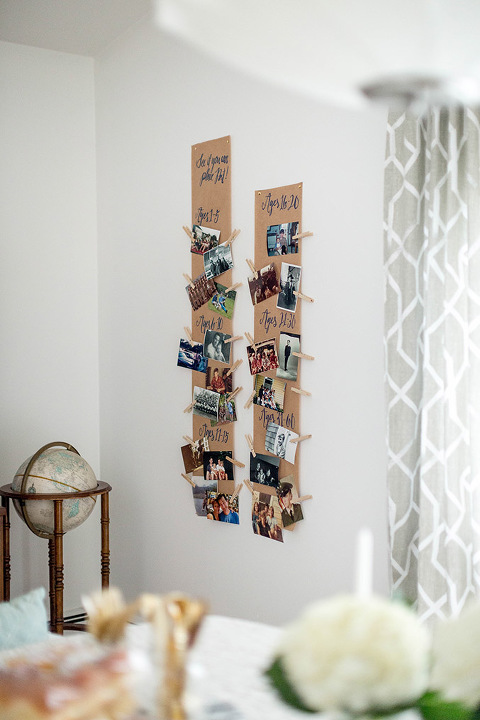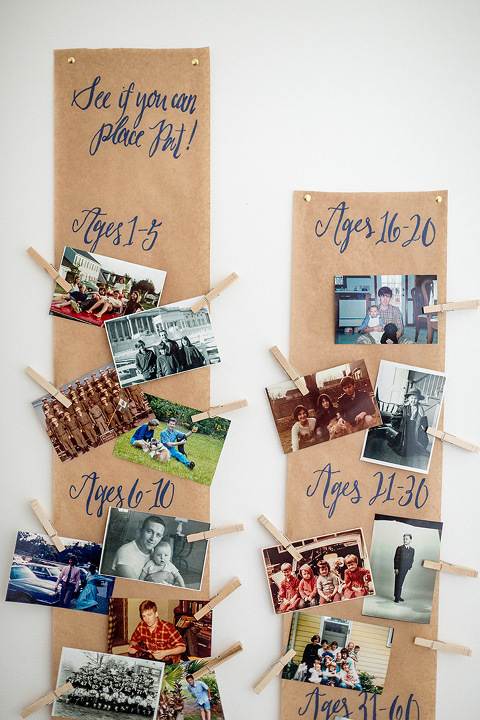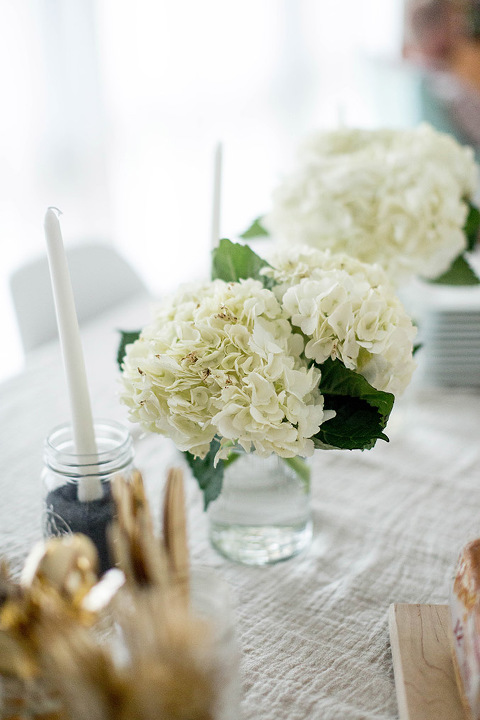 Next, Write out age increments of about 3-5 years every 9-12 inches using a permanent marker. Hang the paper strips on the wall with push pins, and then clip printed photos onto the kraft paper in a random order. In other words, you may place baby photos in the "Ages 21-30" section, and college graduation pictures in the "Ages 6-10" section.
Note that I also left enough room at the top of the first paper strip to write simple instructions ("See if you can place Pat!"). This will help guide party guests through the purpose of the game.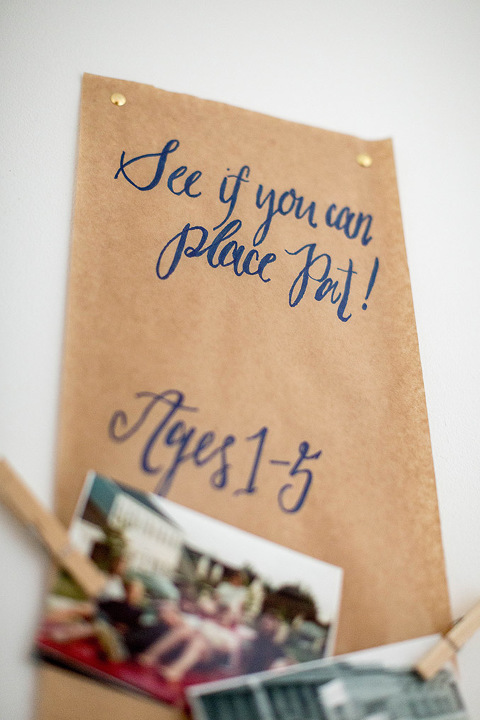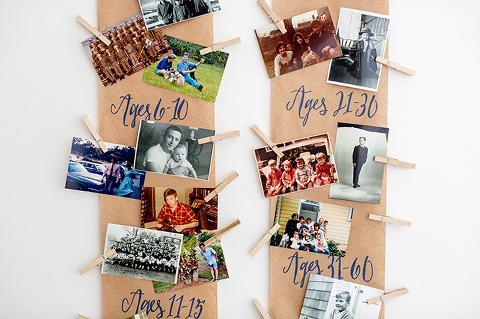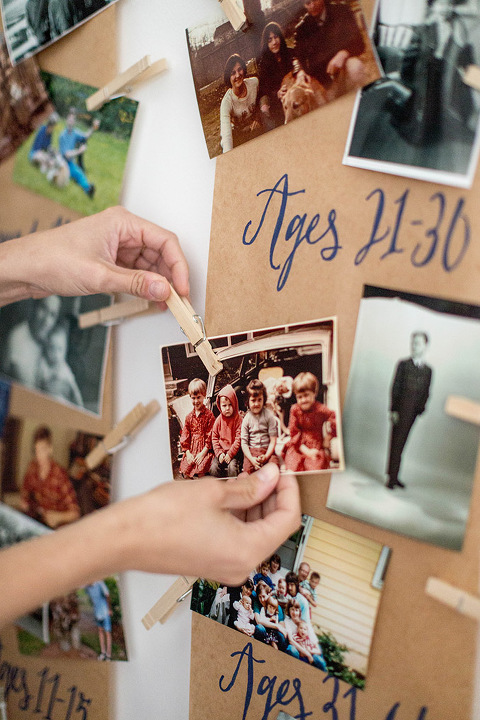 We had so much fun standing around the display rearranging the photos into their correct order. The game also got the stories and conversation flowing! Dad told us all sorts of things about his days in the army and about the kids he and his siblings used to hang out with in their old neighborhood.
After the party was over, I tucked the printed pictures aside in an envelope, and now have plans to scan and print even more pictures so I can put together a family photo album of my own. So, what do you think? Would you consider giving this photo game a try at your next milestone birthday party?