*This post was sponsored by Schlage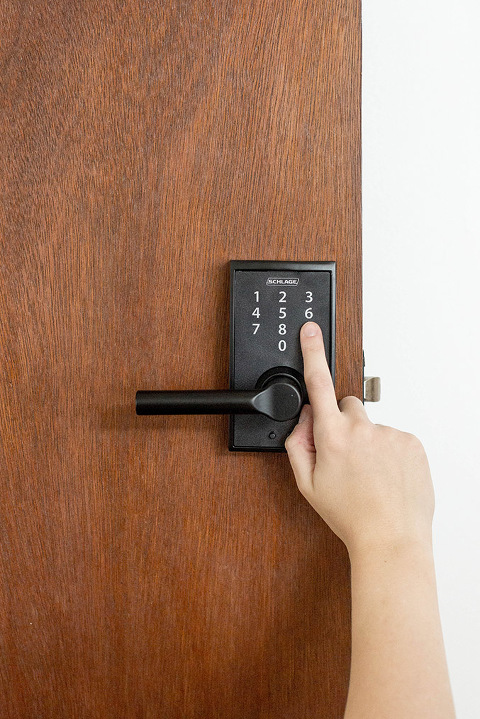 Okay, truth time. On how many occasions have you locked yourself out of your house without access to a hide-a-key?
This actually happened to us recently. We were on our way out to brunch with my parents, who were visiting from out of town, and John and I both assumed that the other had grabbed house keys on the way out the door. After a quick empty-handed, wide-eyed stare down, we went into recovery mode, me standing by the door doing a mental check of all the doors and windows that could potentially be rigged open, and John racing to our hidden outdoor key. By the time John got back to the door, I had come up with no alternative ideas, and we discovered that our thoughtfully hidden hide-a-key was to an older door knob.
We eventually unearthed a second hidden key that properly opened the door (don't worry, we promptly trashed the outdated key), but that moment of panic was enough to make us think twice about future lockout situations and how we might be able to better handle them in the future.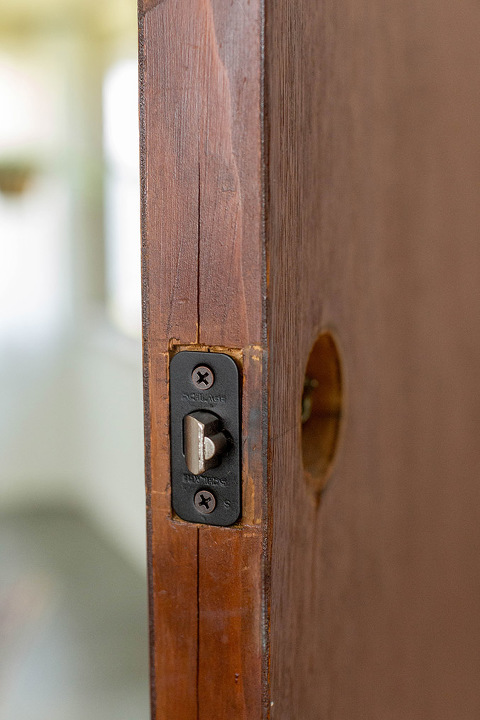 Enter: our new electronic door handle. We've partnered with Schlage this year to showcase a few easy door hardware projects (see our new interior pulls here and our curb appeal update here), but today's post might just take the cake as our favorite one of all.
Schlage's keyless options are quick to install, are easy to use every day, and the update is an affordable project that makes an immediate statement in terms of your decor, too. Read on to see how we managed to upgrade our front door to keyless entry, including step-by-step photos and a video!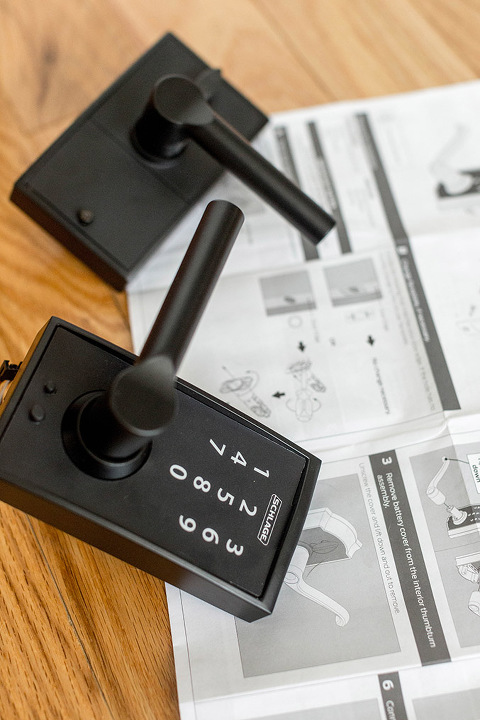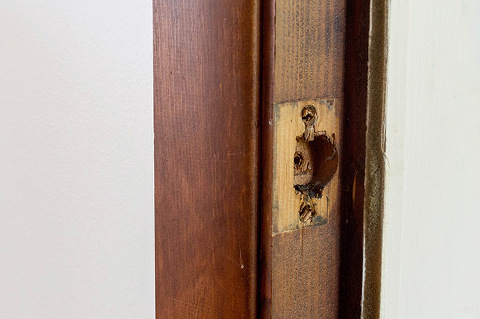 To continue our slow modernization of the dated handles that had been installed throughout our home since the 1960s, we decided to go with a sleek matte black option, specifically the Schlage Touch Keyless Touchscreen Lever with Century trim and Broadway Lever. We love the clean lines of this particular design, plus the dark black finish really makes it feel extra special and modern. Click "Play" on the video below to watch the installation in action.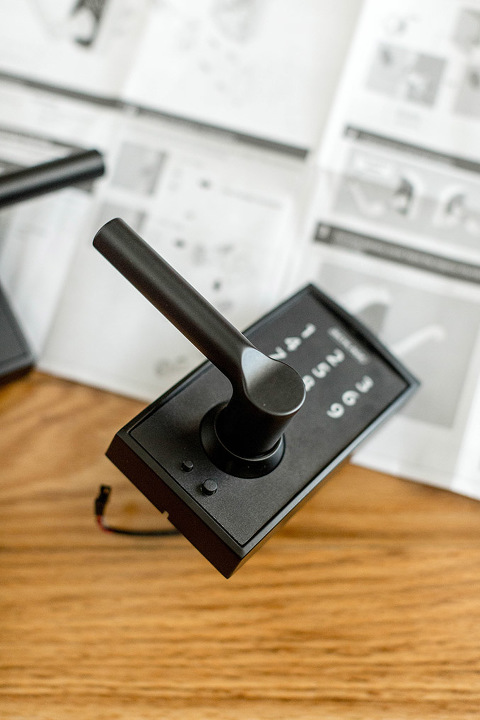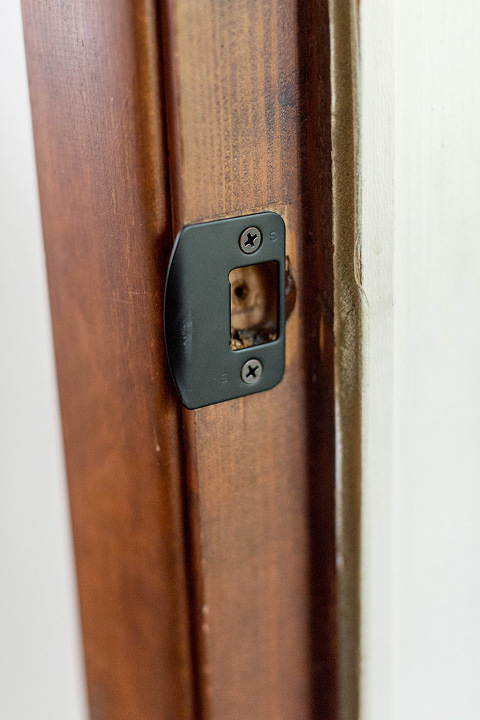 In case you're at work and can't watch the video just yet, rest assured that this home project is one you can easily cross off in one afternoon. Even with all of the pausing to photograph and film our own installation, this project took me under 20 minutes to pull off by myself, and you could easily do it in your own home in half that time.
Start by removing the old handle, and as long as you don't need to make any modifications to the placement of your hardware hole (this lever works with most standard door notches), then you can move straight into installation mode. Just slip all of the individual pieces in as illustrated in the instructions (again, watch the video above to see it happen in sequential action), and use the unique codes that come with your particular handle to set up your keyless entry.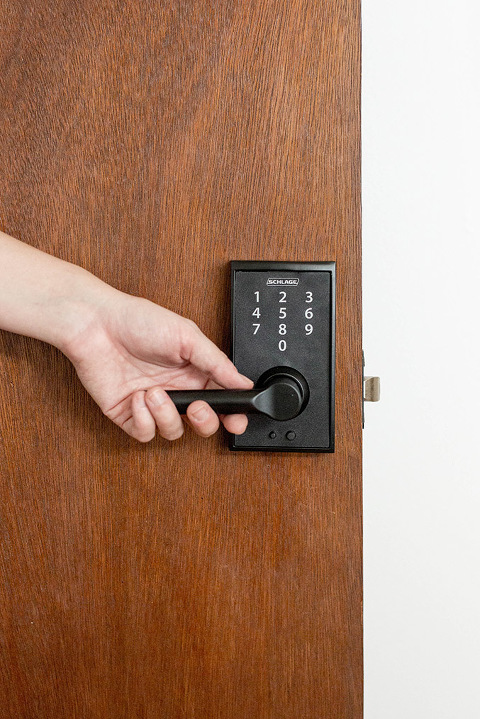 This whole project took far less time than I anticipated, and now we don't have to worry about unearthing a dirty hide-a-key from our property if we get locked out. Instead, we just type in a series of numbers, and we are good to go. I have a feeling this will make it much easier when we have house- and pet-sitters in the future, too, since we won't need to worry about giving them a spare key. All they need is the access code to get inside.
Have you gone keyless yet? If you're feeling intimidated by the process, I'm here to tell you that it's super easy to cross the to-do off your list, and your home will feel a whole lot more secure and modern once all is said and done. Which Schlage lever would you choose? Let me know in the special comment box below!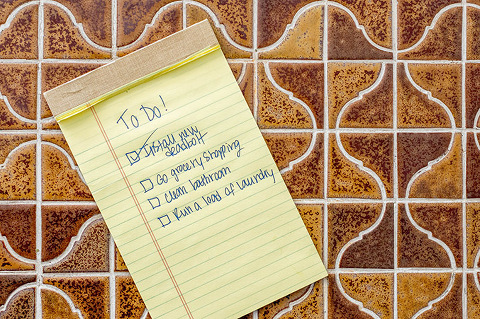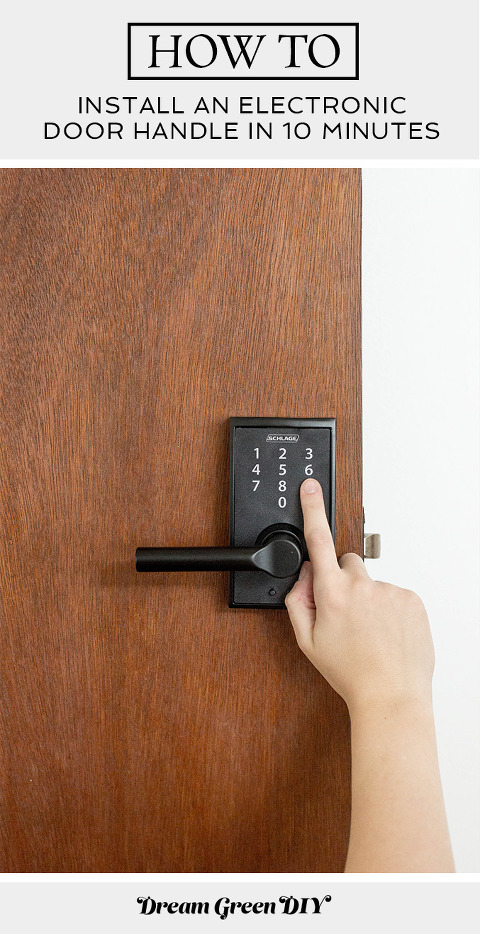 This is a sponsored conversation written by me on behalf of Schlage. The opinions and text are all mine.