*This post is sponsored by CULTIVER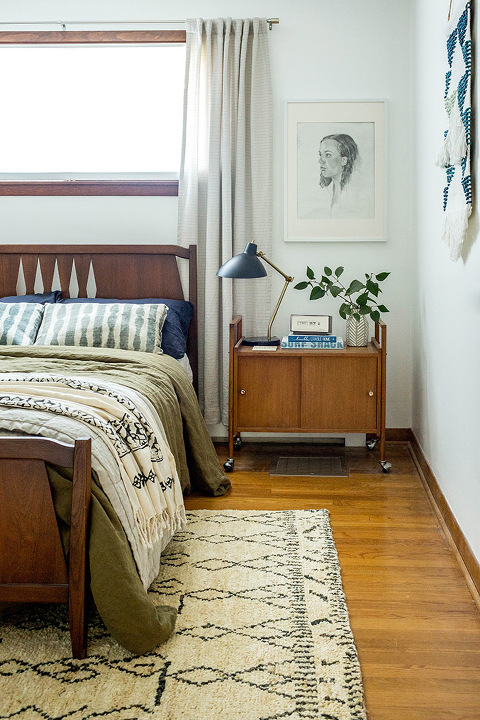 Our guest room is one of those spaces that's been through a lot. It started out as my office, with original minty painted walls, an old ceiling light fixture, and bright, colorful accessories. Then, it turned into a guest room with the same mint walls, an updated ceiling fan, and white bedding. Eventually, I painted the room bright white to match the rest of our home, and then neutralized the color palette with more toned down accessories and a two-toned Moroccan style rug.
Today, though, it's time to reveal the latest look in this ever-evolving space—a newly made-over guest room that is still very neutral, but one that sports a little more personality and sophistication with mismatched bedding.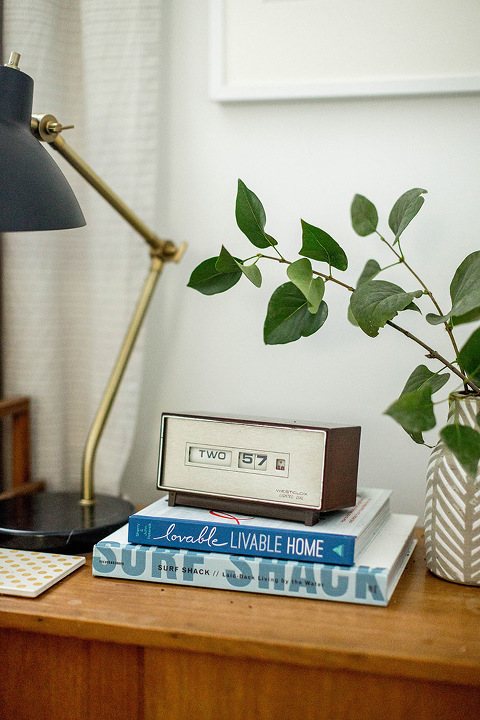 My main goal with this update was to inject a homey, cozy vide into the room, something I felt was lost when I painted the room white and added white linens on the bed. The white-on-white look was pretty, but it also felt a little bland. So, today, I'm teaming up with CULTIVER to add back some subtle flair with new linen bedding and a couple of key accessory updates, too.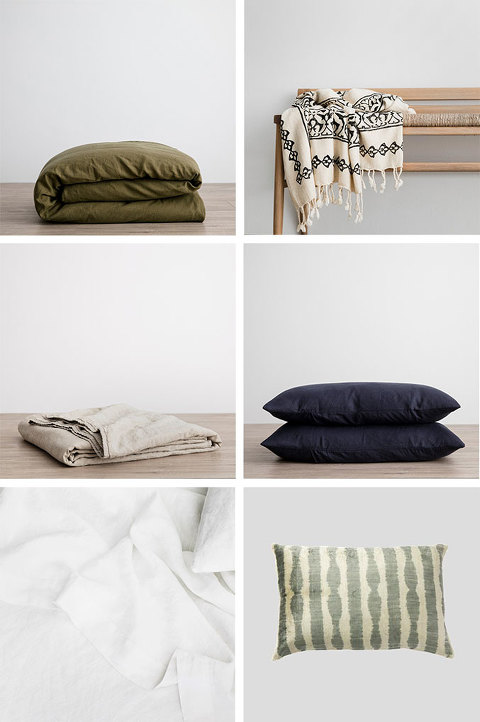 Taking inspiration from this Pin, I decided to do something a little outside my comfort zone—use a collection of totally mismatched linens. I've never tried my hand at putting together a strategic bedding palette. Instead, I've always just bought matching linens (the type that come in a zip-up bag), so the idea of using pillowcases in navy blue, a duvet in army green, white sheets, and a couple of layers in neutral tones was kind of intimidating. Luckily, my inspiration image helped me make fairly confident decisions.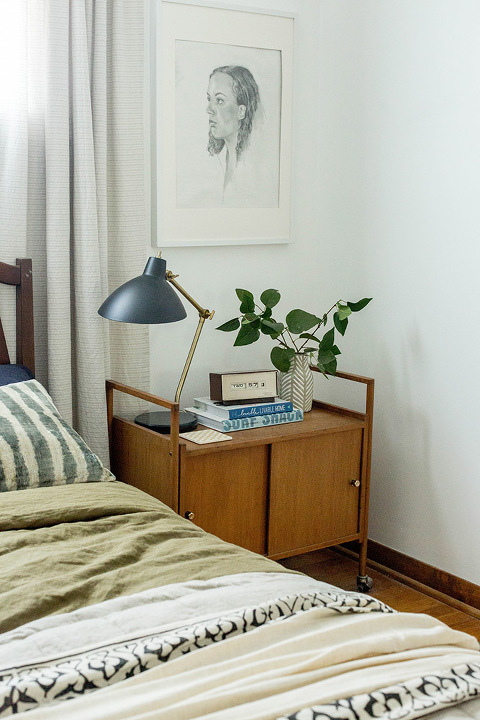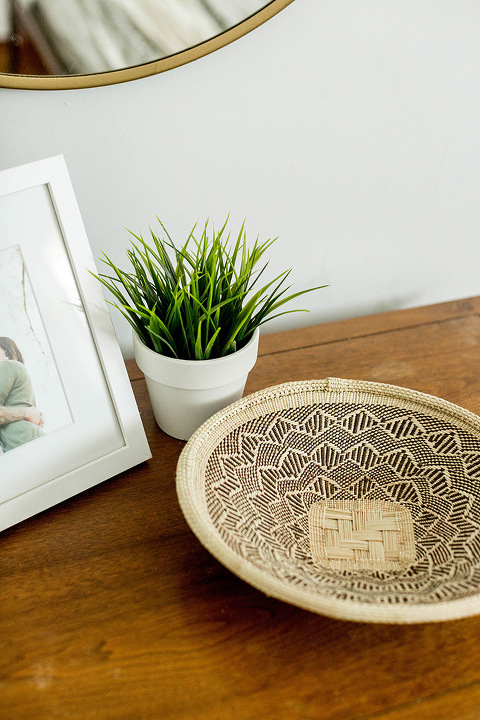 The good news? Everything came together exactly how I had pictured it in the end, and all it took was a quick lighting change, accessories swap, and art rearrange to finish the room around our new linens. Hopefully you can see my GIF animation a couple photos down so you can visualize what a difference the fresh textiles made in the space.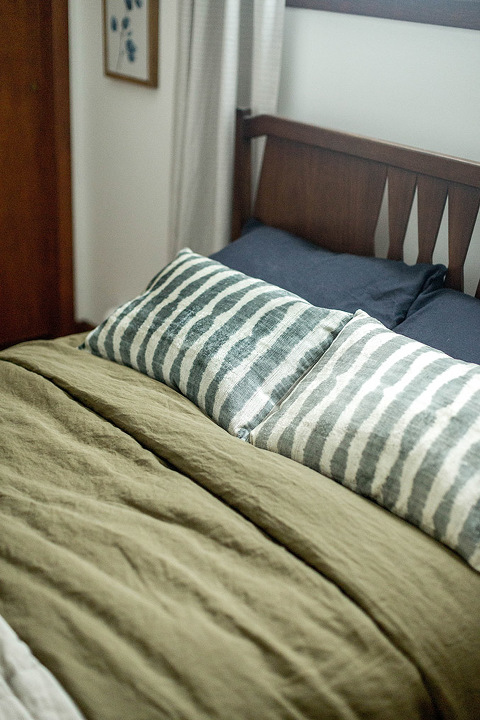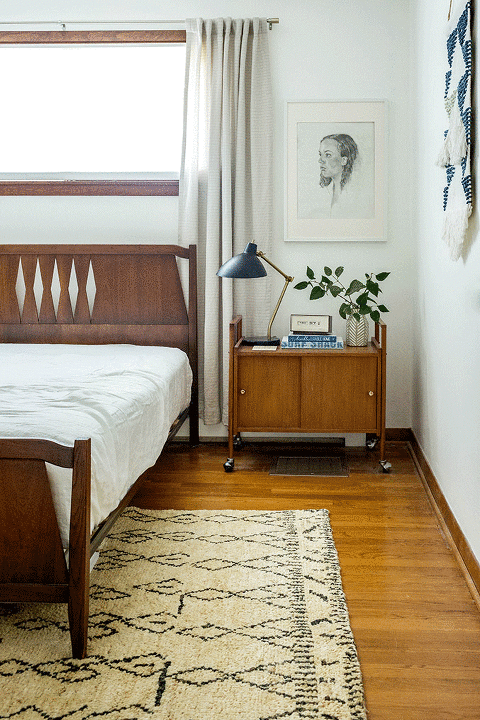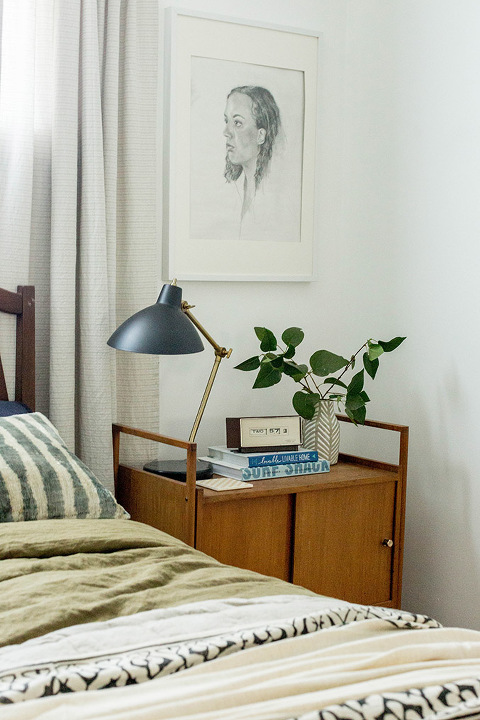 Before, it was very "vanilla" but now the room feels like it has personality and vibrance. It really is amazing how much character you can add to a room when you layer different colors and patterns into it. Even if you stick to neutral tones like we did, you can still make a room feel edgy and interesting just by combining a range of colors and textures.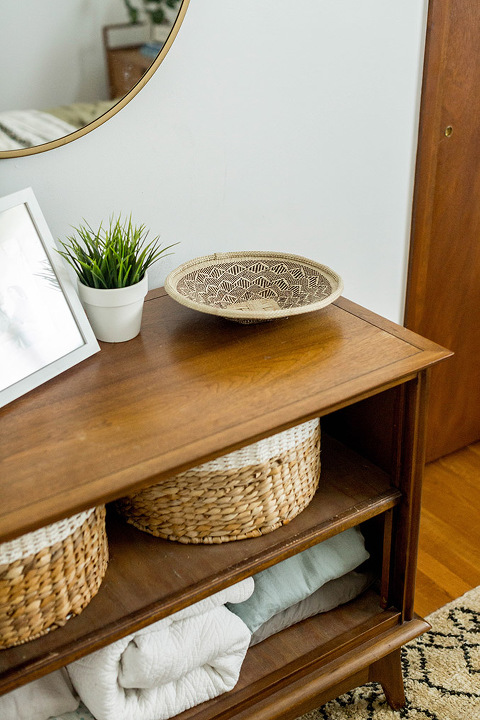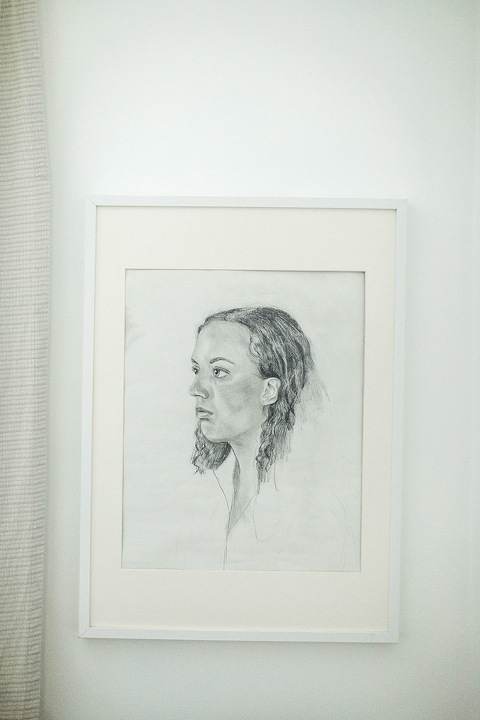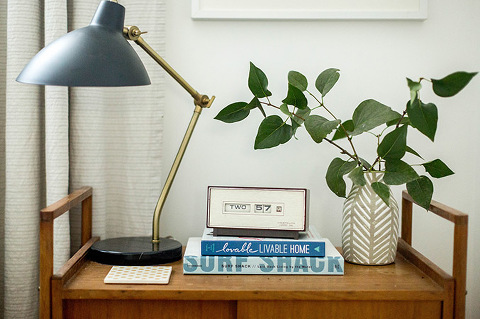 A couple of quick tips when styling a bedroom: If you want to get the look of an oversized, luxurious lumbar pillow (you know, the kind that spans the entire width of a bed) try laying two identical rectangular pillows side by side. It gives the illusion of a full-length lumbar pillow without the added expense, plus two separate pillows are easier to store then one massive one.
Another thing: Don't feel like you need to fill your guest room with expensive fresh flowers every time a visitor drops by. I cut this leafy branch off a tree in our back yard, and I feel like it gives the room life and interest without having to spend a penny or deal with arranging unruly flowers.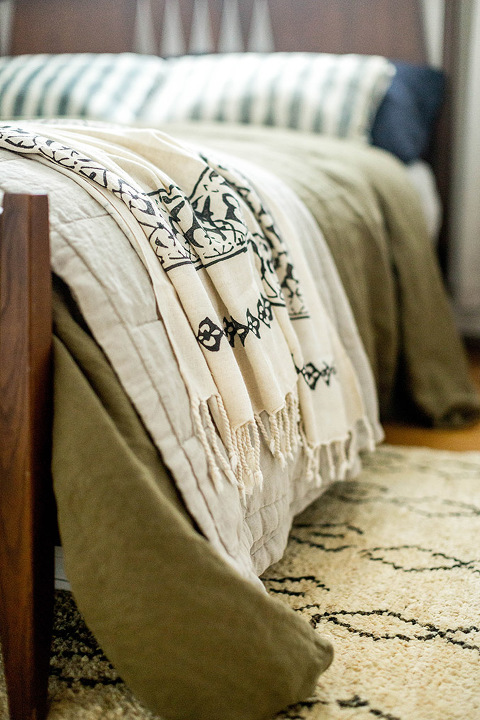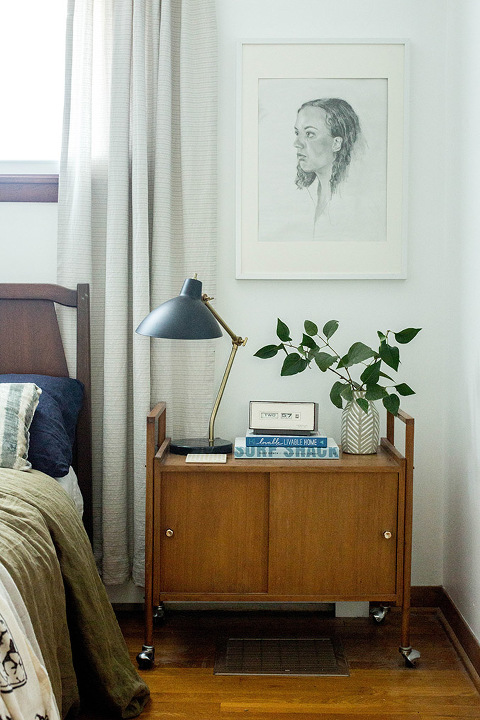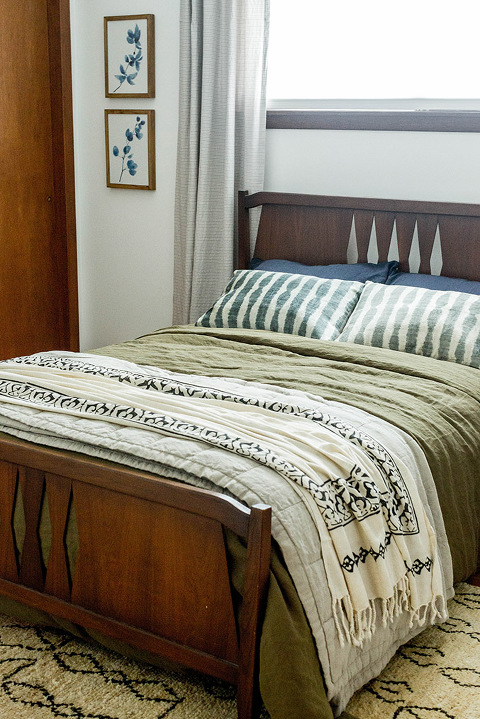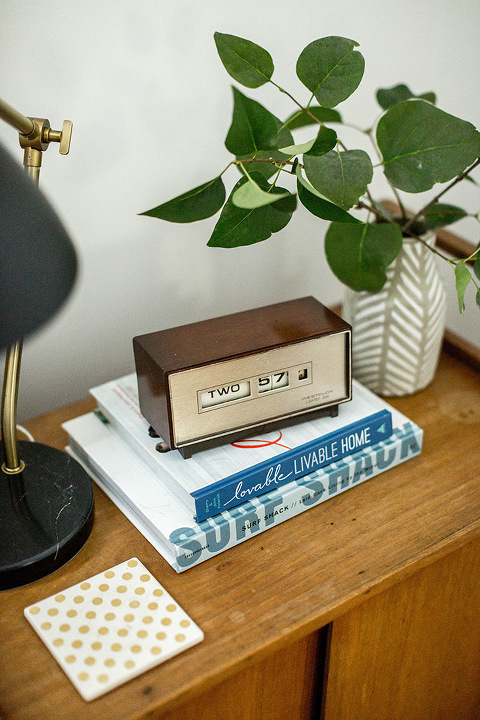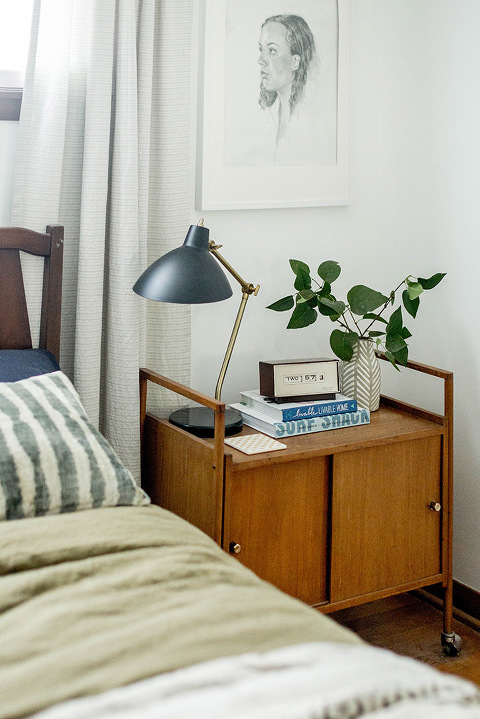 What do you think of the combination of colors, patterns, and textures that we ended up with? Would you feel cozy and relaxed staying overnight in a room like this? And are you brave enough to try mismatched bedding in your own home?
The CULTIVER site has a ton of photos to use as inspiration, so my advice is to start there and then use your chosen picture to pull together a collection of mismatched linens to recreate your dream room.